Editor's Note: Forty-one-year-old Alan Benton of McDonough, Georgia, is a salesman for Meridian Brick and says he's always worn Mossy Oak camo all his hunting life, because he thinks it's the best and most-versatile camouflage ever made. A 9-year-veteran of the Mossy Oak Pro Staff, Benton explains that, "Mossy Oak is more than a camo pattern. Mossy Oak is a lifestyle with which I associate. I like what Mossy Oak represents. Toxey Haas, the creator of Mossy Oak, and his family are hometown people. I like the conservation organizations that Mossy Oak is a part of and supports and the charitable contributions the company makes to help people and the environment. I feel if I'm going to put my time, effort and money into hunting, I need to be wearing the best camouflage on the market, and I believe Mossy Oak is that camouflage."
When Mossy Oak talked to Benton last year he was hunting a big buck with his bow. We asked recently in the fall of 2017, "Did you get him?" Benton answered, "Yes, I did. I took him about 2 weeks after I was interviewed for the Mossy Oak Pros' webpage. Last year the members of my hunting club had designated four bucks we wanted to take. We had named this particular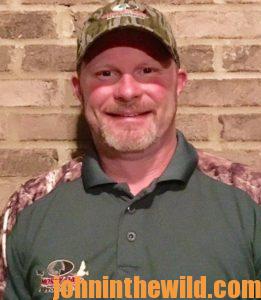 buck the Big Nine. I originally was hunting another buck named Mustafa, but I didn't harvest him last year.
"The Big Nine was a nice big buck (128 inches Boone & Crockett) with a chocolate-colored rack that ran most often with another buck we called Mangy Buck, because Mangy Buck started losing his summer coat in patches and looked as though he had the mange. After I took Big Nine, a friend of mine harvested Mangy Buck, an older age-class buck with a broken off tine. So, his antlers didn't score very well – probably only about 120 inches on Boone & Crockett.
"I was able to take Big Nine because I studied my trail-camera pictures every week. The only time we saw Big Nine at the beginning of deer season was after dark. However, then I noticed as the season progressed, Big Nine would enter the green field somewhat earlier every day. Finally when the weather was right to hunt Big Nine, and I had a day when the wind was correct to hunt him, I moved my stand closer to the green field than where I'd had it all season long. On the day I decided to hunt, Big Nine and Mangy Buck moved onto the green field together.
"The spot I hunted was where a white oak tree was dropping its acorns on the edge of a green field. When the two bucks arrived at the green field, they started sparring. Big Nine was pushing Mangy Buck around on the green field and then ran Mangy Buck out of the green field. I'd already decided I'd shoot whichever buck presented a shot. Because I was hunting with my bow, I wanted to wait until one of the two bucks came to within bow range. Big Nine committed to coming across the green field to get to the white oak acorns. As he w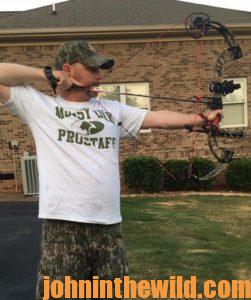 as coming in to where I waited, I was afraid he wouldn't give me the angle I needed to make a lethal shot with my bow. I was very surprised when Big Nine turned broadside to me at 23 yards from my stand. I don't know if he saw Mangy Buck trying to return to the field, or if he spotted a doe moving into the field. I was praying all the way that Big Nine was coming to me that he'd turn one way or the other and give me a shot. When Big Nine turned broadside to me, I aimed right behind his shoulder, in the lower third of him, released the arrow from my PSE Decree bow http://www.pse-archery.com/ with a 100 grain two-blade Rage broadhead http://www.ragebroadheads.com/.
"Once Big Nine took my arrow, he turned and ran out of the field and down into the swamp. Since night was approaching, I called my buddy Matthew, his son Nathan and another friend, Chris on my cell phone, told them where I was and asked them to meet me to help me search for Big Nine. Chris was trying at that time to train a beagle to be a tracking dog to trail wounded deer. Chris' beagle already had found several good bucks, and I knew that Chris wanted to get her as much experience as he could trailing wounded deer. He liked to put his dog on deer that hunters felt were really good shots they'd taken and that the deer should be dead to give her the confidence she needed to locate deer that might not have been hit as well as Big Nine. We easily could have located Big Nine without the beagle. But the advantage to having the dog was that she went straight to Big Nine, which had run less than 100 yards after taking the arrow, "When we all reached Big Nine, we made about 4,000 (grin) pictures and had a memory that would last a lifetime. Big Nine scored about 128 inches on B&C and was a mature buck."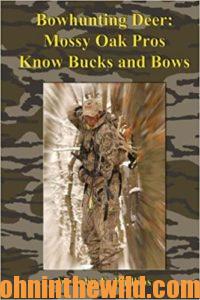 To learn more about deer hunting, check out John E. Phillips' eBook and print book, "Bowhunting Deer: Mossy Oak Pros Know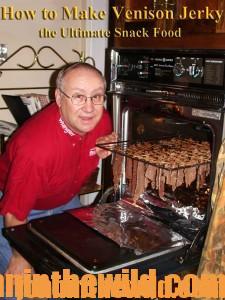 Bucks and Bows." Go to www.amazon.com/Bowhunting-Deer-Mossy-Pros-Bucks-ebook/dp/B013F0T58O. You also can download a free Kindle app that enables you to read the book on your iPad, computer or SmartPhone. For information on making jerky from your deer to provide a protein-rich snack, you can download a free book, "How to Prepare Venison Jerky: The Ultimate Snack Food," from https://johninthewild.com/free-books.
For more information on Mossy Oak, click here.
Tomorrow: Mossy Oak Pro Alan Benton Says Identify the Trees That Produce Nuts