Editor's Note: Joe Drake from Fortson, Georgia, first started hunting turkeys in 1979 and began entering turkey calling contests in 1981. He has been guiding hunters to turkeys since 1985. He won the World Turkey Calling Championship in 1987. He's won three national championships, one US Open Championship, eight Georgia State Turkey Calling Championships, seven Southern Open Titles and several other state championships.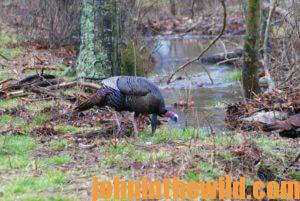 A buddy and I were hunting together on top of a ridge before daylight, and I owl hooted. We were just above Upatoi Creek, a 35.5-mile-long creek in western Georgia, just outside of Columbus. We heard turkeys gobbling all along the bank below us. My buddy whispered, "What are we going to do?" I answered, "I don't know. I've never heard so many turkeys gobble before. I guess we'd better just sit down and see what happens." After waiting a few minutes, my buddy said, "We need to make a move." I whispered back, "You go to the left, and I'll go to the right." My buddy told me, "Okay."
I could hear a turkey off to my right hammering – gobbling with almost every breath he had. Three more gobblers further up the creek were hammering just as heavily as the one on the ridge. The turkey on the ridge was approaching me, but I moved off the ridge to call to the other three gobbling turkeys. I could hear even more turkeys gobbling in the distance. As I got further into the creek, the three gobblers I'd been hunting hushed, and I took a stand. When I looked up, I spotted three, big, white heads coming toward me. I couldn't believe my luck. All three one-year-old gobblers stepped out into an old logging road and moved out of sight. The big gobbler on the ridge had stopped gobbling.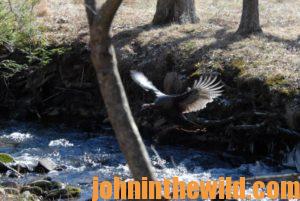 I made a big circle and returned to the top of the ridge. I heard my buddy down the ridge working a gobbler. I also heard another gobbler way on the other side of my buddy. I circled down toward my friend, and his turkey was screaming a gobble with every breath. I got back on the ridge above Upatoi Creek, and there was a beautiful hardwood bottom at the foot of the ridge. However, that bottom was the snakiest-looking place I'd ever been. I was afraid I'd step on a rattlesnake or a copperhead, as I tried to get down the ridge. Once I finally got down to the bottom, I yelped and then ate my yelp with a gobble. I said to myself, "Joe, you've got a chance to take this gobbler." I tried to scoot closer to where the turkey was gobbling, but coming out of a little thicket, I noticed the tom was across the 40-yard-wide creek.
The turkey spotted me, and started running. I walked down the edge of the creek, searching for a fallen tree. Every now and then I could see some water that appeared to be just a little over my head and some deep holes that would be well over my head if I stepped in them. I continued to call to that turkey and walk up the creek, until I reached a little sandy place about 55 yards from where I was, and where that turkey could walk across the creek. I could see that gobbler strutting and drumming as he walked back into the woods, came back, strutted, drummed and walked back into the woods again. I said to myself, "If that turkey comes back onto the sandbar, I'll try and take him."
I estimated about 20 gobblers on that creek had quit gobbling – except for this one turkey. When that turkey finally came back to the sandbar, I aimed at his wattles and squeezed the trigger. He dropped stone cold dead on the sandbar. I walked way down the creek – looking for somewhere to cross and retrieve my turkey. Finally, I stripped down to everything but my underwear and kept telling myself, "I'm not going to leave that turkey." The time was late March, so the water was very cold. I eased down into the really, really cold creek. The current coming out of the creek was moving rapidly, and my feet almost got washed out from under me. As the water came up to my armpits, I reached the sandbar and thought, "I sure hope no one sees me out here in only my underwear."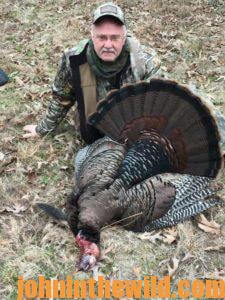 I finally reached my turkey, picked him up and then started thinking, "How am I going to get this turkey across the creek without getting his wings, tail feathers and beard wet?" I thought to myself, "If that water hits that turkey, it will tip me over, and that turkey and I will go floating down the creek." So, when I reached the creek, I put the turkey over my shoulder with his tail feathers on top of my head and his wings on top of my shoulders. I started wading back across the creek and felt the current washing my feet out from under me. I was struggling to remain standing, while keeping the turkey's fan and wings from getting in the water. I soon looked like a drowned rat. After I got across the creek, I put the turkey down, put my clothes on and met-up with my buddy. He shook his head saying, "I can't believe you waded that icy creek to get that turkey."
* What the Ice-Water Creek Turkey Taught Me:
a) Shoot a gobbler coming toward you, and don't worry about the other toms that are gobbling.
b) Realize you still may have a chance to harvest a gobbler you've spooked, if you continue to keep in contact with him after you spook him.
c) Know you're honor bound to retrieve your turkey you've shot, even if the water you must go through is cold, deep and/or wide.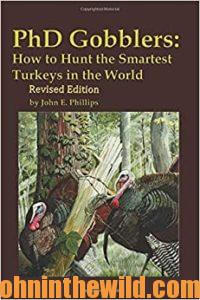 To learn more about turkey hunting, check out John E. Phillips's latest Audible book, "PhD Gobblers: How to Hunt the Smartest Turkeys in the World, Revised Edition" at https://www.amazon.com/PhD-Gobblers-Smartest-Turkeys-World-ebook/dp/B083V83RLG, and available in Kindle, print and Audible. You may have to cut and paste this link into your browser. (When you click on this book, notice on the left where Amazon says you can read 10% of this book for free and hear 10% for free). To learn about other turkey books by John E. Phillips, go to www.amazon.com/author/johnephillips
Tomorrow: Joe Drake Hunts the Horse Pen Merriam's Turkeys