Editor's Note: Bowhunters can find all types of excuses for not hunting, for why hunting is difficult, and for what keeps them from being successful. Let's look at some bowhunting situations with Bob Foulkrod, who is recognized nationwide as a master bowhunter. We've asked him to discuss how to deal with these problems, to see if we can improve our chances for taking whitetails.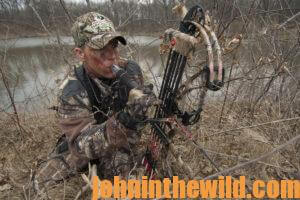 Determining the Importance of Scents, Lures and Calls:
"I believe scents, lures and calls will work, if they're utilized at the proper time and under the right conditions," Foulkrod comments. "However, most people buy some type of deer attractant or deer call and never read the instructions which tell when and/or how to use the call or the attractant. Even if the hunter plans to utilize rattling antlers, most good rattling antlers will come with a set of instructions telling the hunter when and when not to rattle. But many hunters just will buy a set of antlers, beat on them and then won't be able to understand why a deer won't come to them.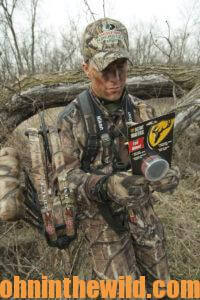 "One of the problems associated with using lures, calls and attractants is that in the East, most hunters only will have four, five or six Saturdays in which to hunt, which is the same time most other sportsmen in their areas will be hunting. Therefore instead of relying on his hunting skills, the typical hunter is looking for some type of gimmick he can use that will allow him to take his deer, before the other hunters bag their bucks. But the secret to successful hunting is there is no secret. Patience, woodsmanship and the ability to set your tree stand in the most-productive place are the keys to consistently bagging deer with a bow."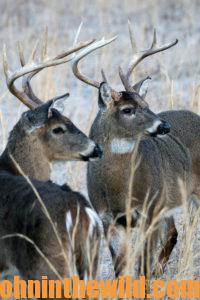 Setting-Up a Tree Stand:
"Many hunters will set-up tree stands and may see deer 50 yards from their stands all week long," Foulkrod mentions. "I'm convinced a hunter should move his tree stand – even if he has to lose a hunting day to get his stand in the right place to take a deer – rather than watching deer just out of range. I've also known other hunters, who after setting-up their tree stands, have sat in these stands for several weeks and not spotted any deer. If I set-up a tree stand, I want to see deer.
"Although I don't believe the kill is the number-one reason for bowhunting, I do go into the woods to attempt to bag a deer. If I can't take a deer, I at least want the opportunity to see deer. For all these people who say they go into the woods to observe wildlife while sitting in their tree stands, I suggest they go out on their front porches or down the road and stay out of the woods where other people are trying to hunt. Perhaps more bowhunters don't take more deer because they're reluctant to move their tree stands once they put them up."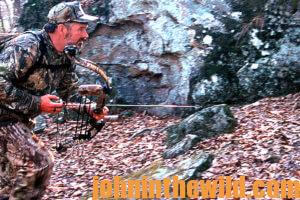 Preparing Poorly Equals Bad Luck:
"One of the most-difficult problems with taking deer from a tree stand is the noise the hunter makes when he stands to shoot, when he draws his bow, when he moves on the stand to shoot or when his clothes rustle against a bush," Foulkrod advises. "In my opinion, this is not bad luck but rather are hunting problems created by the hunter.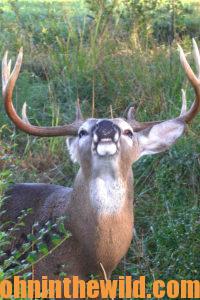 "Most bowmen believe when they put stands in trees that all that's left to do is to hunt from those tree stands. However, successful tree stand hunting involves much more than having an elevated platform from which to shoot. After I've placed a stand in a tree, I stand on that stand and practice drawing and aiming in every direction from which a deer possibly can come. If a limb or a twig may be in the way when a deer presents a shot, I eliminate it. If any branch is sticking out close to my seat, I cut it off. Then my clothes won't brush against it. If my tree stand squeaks the slightest bit, I try to locate the squeak and get rid of it. I try to eliminate all the excuses or all the problems that keep me from taking a clean shot once the deer presents that shot. This preparation is made prior to my actually hunting from that stand. When I leave a stand site, I know the next time I get in that stand, I've removed all the problems I can that will prevent me from taking a clean shot at a deer."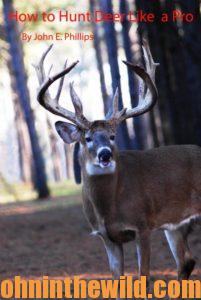 To learn more about hunting deer, check out John E. Phillips' book, "How to Hunt Deer Like a Pro," available in Kindle, Print and Audible versions, at (http://amzn.to/YpoQHA). You may have to copy and paste this link into your browser. (When you click on this book, notice on the left where Amazon says you can read 10% of the book for free, and you can hear 10% for free).
On the right side of the page and below the offer for a free Audible trial, you can click on Buy the Audible book. To see more of John's deer hunting books, visit www.amazon.com/author/johnephillips.
Tomorrow: Eliminating Holding Too Long for Deer