Editor's Note: Steve McCadams, 67 years old, from Paris, Tennessee, has been guiding duck hunters for 47 years. "I hunt Kentucky Lake on the Tennessee River, and I've got a flooded farm on the Obion River Swamp that I hunt in northwest Tennessee. When I'm hunting Kentucky Lake, that's what we call, 'big water hunting.' We're hunting backwaters off the main Tennessee River where there are mudflats, islands and sloughs. In open water, we put out fairly-big decoy spreads – usually 350-400 decoys. We take a variety of ducks on these hunts, including ringnecks, goldeneyes, buffleheads, bluebills – all diver ducks. We'll put a few of those kind of decoys on one end of the decoy spread, but then the bulk of my spread is made up of gadwalls and mallard decoys with a few wigeons. Although we don't take a lot of geese like we did in the 1970s, 1980s and 1990s, we'll still put out 30-40 Canada floater decoys in the spread and some coots. Several years ago when these areas had a lot of aquatic grass, I put out more coot decoys than I do today."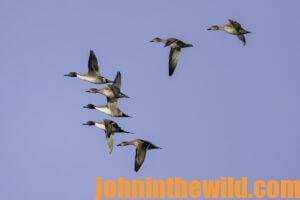 Why McCadams Uses the Call He Does: Steve McCadams uses a Mike McLemore duck call
"The late Mike McLemore was a three-time world-champion duck caller, who lived here in Tennessee, and I still use some of his old calls for several reasons," McAdams says. "These calls always have worked well for me, and I guess I have as much sentimental reason for using them as I do faith in their ability to pull ducks into gun range. I also use some Haydel duck calls (https://www.haydels.com/). That call is an inexpensive call – only $25 to $30. I'll also use a whistle when I'm calling to pintails or wigeons. I think that call causes these two species of ducks to feel more comfortable when they're getting ready to come into the blind, especially on a quiet day without much wind."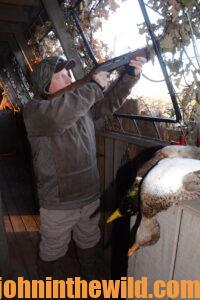 How to Learn to Read Ducks: "You can't read a book or a magazine article or watch a video to learn how to read ducks," McCadams emphasizes. "Ducks can change their minds over what they're going to do, and why they're going to do it in the blink of an eye. So, you have to have that experience that tells you what they want to do, what they're going to do, and what they're not going to do when they're in the air. When I'm using a hail call to get a flight of ducks' attention, I watch to see if they're going to turn toward the blind. If they do, I ease-up on my calling and start giving more of a feeding call or a lonesome hen call. If the ducks bank toward your blind or turn toward your decoy spread that means they like what you're doing with your call. So, you can continue to use that call to keep them coming back over your blind. If the ducks are coming toward your blind, but when you call to them, they turn away from your blind, you need to back-off your calling and call softer.
"Your ability to read the ducks' body language and understand what they're telling you are probably the most-important parts of a successful duck hunt. The worst thing you can do is call too much and call too often. Mallards, black ducks, wigeons and other puddle ducks seem to respond best to calling. Other ducks like pintails can be really finicky. Sometimes you have to back-off your calling and let your decoys do the work of bringing the ducks to within shooting range."
When to Call the Shot: "Ducks like to come into the blind with the wind in their faces," McAdams explains. "So, you've got to be conscious of wind direction when you're calling to them. If the ducks make two or three passes over your blind and still don't plop down into your decoy spread, my rule of thumb is, if the ducks make three passes over the blind and don't get any closer to the blind, then the fourth time they come over the blind, I'll usually call the shot. But if the ducks are working well and getting lower and lower every time they fly over the blind, I like to get them to within 30-40 yards of the blind before I call the shot. Now that being said, I need to explain that every flight of ducks will react differently to your calling, your decoys and your blind. You may have one or two flights that work really well early in the morning. Later in the morning, you can do the same things you've done earlier and use the same type of calling as on those first two flights, but strike out on a couple of flights of ducks. Maybe it's because they can see better in the morning. After using the same strategy of calling, more than likely, you'll have to change-up your calling as the day gets brighter."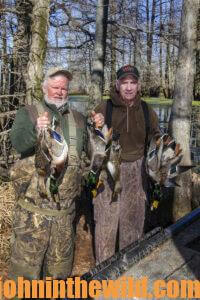 What about Duck-Hunting Equipment and Problems with Duck Hunters: McCadams recommends shooting #2's or #4's, HEVI-Shot (https://www.hevishot.com/) or Bismuth
(https://www.hevishot.com/catalog/hevi-bismuth-waterfowl/). "HEVI-shot and Bismuth are the top of the line for shot shells for ducks. They're very expensive, but I've found they perform the best. Most of the time I shoot a 12 gauge 3", or a 12 gauge 3½" shotgun. My favorite gun is a Winchester Super X (https://www.winchesterguns.com/products/shotguns/sxp.html), and I use a Remington pump shotgun as my backup gun. It's a workhorse and has been responsible for the death of many ducks over many years. In really-bad weather with ice and cold winds, I feel like a pump gun performs better than an automatic."
Every duck guide I know has at least one story, if not more, about hunters showing-up in their duck blind with a brand-new shotgun still in the box it was in when they bought at the store. McCadams comments that, "Yes, I've had some new hunters show up, and we've had to assemble their guns in the blind. Of course they don't know how the gun patterns, what shells it shoots best, or how that gun fits them.
"The other problem we have sometimes is the sky busters – primarily new hunters who take their shots before I call the shot. These hunters aren't very good at judging distance and will shoot when the ducks are too high to effectively take. But I'm judging distance every day I'm in the blind. I don't call the shot until I think the hunters have the best chances of taking ducks. I usually explain to the sky busters: 'I'm going to give you the best opportunity you'll have to take the ducks, because I see these ducks every day, and I know when they're in range and out of range. If you just don't shoot until I say to take 'em, then we'll all get more ducks.' I also explain, 'If you're shooting at ducks that are too high, you're educating those ducks, and they'll be twice as difficult to get close to the blind or into the decoy spread the next time someone tries to call to them."
To hunt with Steve McCadams you can call him at 731-676-7748; his email address is [email protected], or visit him at his Facebook page https://www.facebook.com/steve.mccadams.
.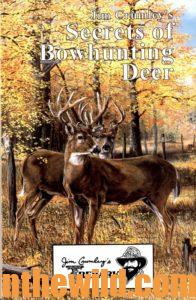 For more information about John E. Phillips' hunting books, visit www.amazon.com/author/johnephillips. To learn more about hunting deer, check out John E. Phillips' book, "How to Hunt Deer Up Close: With Bows, Rifles, Muzzleloaders and Crossbows" (http://amzn.to/11dJRu8). To learn more about hunting for deer, check out John E. Phillips' "Jim Crumley's Secrets of Bowhunting Deer", now available as of January 1, 2022 in Audible, as well as paperback and Kindle at https://www.amazon.com/. You may have to copy and paste this link into your browser. (When you click on this book, notice on the left where Amazon says you can read 10% of the book for free, and you can hear 10% for free). On the right side of the page and below the offer for a free Audible trial, you can click on Buy the Audible book. Go to https://www.amazon.com/ to learn about John and Denise Phillips' cookbook, available in Kindle and print, "The Best Wild Game and Seafood Cookbook" that includes an entire chapter on bird recipes, including recipes for their favorite duck dishes.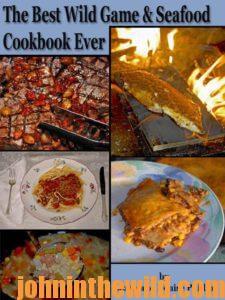 Tomorrow: The Obion River Bottom for Ducks