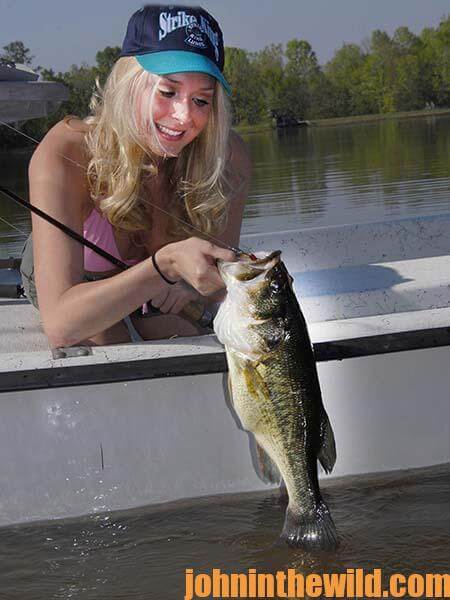 John's Note: Successful bass fishing basically involves problem-solving and decision-making. You must make decisions concerning where to fish, how to fish, what lures to fish with, what time of day to fish and where to catch the biggest fish.
Let's look at some bass-fishing situations to see how to handle them. We'll base the scoring system on 5 points for the best answer, 3 points for the second-best answer and 1 point for an answer that can work but probably won't.
These answers are based on hundreds of interviews I've had with professional bass fishermen over the last 40 years.
1) When the water rises, expect to find the bass:
a) in the mouths of coves;
b) on the front sides of bushes; or
c) against the shoreline facing the bank.
On the front sides of bushes is not a very good choice, because more than likely the bass will hold on the backside of a bush. Award yourself 3 points for this choice. If the water rises, the bass will move away from the points and mouths of creeks to the backsides of creeks where the baitfish concentrate. Give yourself 1 point for choice A.
2) When you fish a lake or a river with current running through it, in which direction will the bass most likely look?
a) up-current;
b) down-current; or
c) across the current.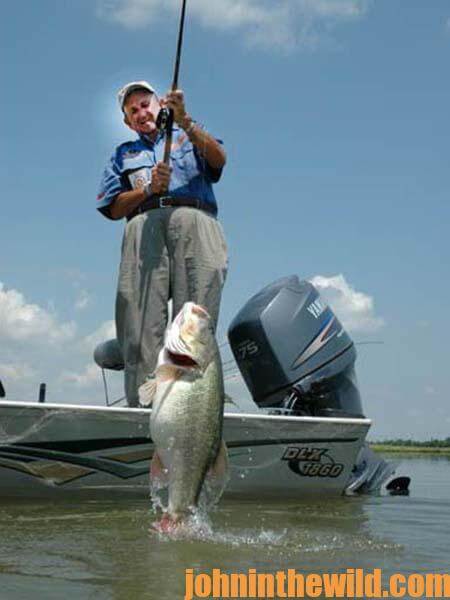 If the bass holds behind a rock, a stump or a log, the fish may look across the current to ambush bait as it passes in front. Give yourself 3 points if you've picked C. If the bass swims down-current, probably this fish has your hook in its jaw. The fish will use the force of the water to get away from you and your hook. You get 1 point for this choice.
3) To catch the most bass in any lake, will you use:
a) a flipping stick, 30-pound test line and a pig-and-jig;
b) a 1/2-ounce double-bladed spinner bait on a medium-action rod with 12-pound-test line; or
c) a 4-inch Slider-head plastic finesse worm fished on 6-pound-test line with ultralight spinning tackle?
Because you can cover more water with a spinner bait and fish more varied types of cover than with a pig-and-jig, award yourself 3 points if you've selected B. Large lines and big baits are primarily suited for heavy cover, dingy water and target fishing. You may catch a big bass using this tactic, but you probably won't take very many bass. You get 1 point for this choice.
Answers:
1) C is the best answer. As the water comes up in a lake, the baitfish move into the shallow water. You can expect the bass to move close to the shore where the baitfish often will school at the edge of the water. Under these conditions, cast with a spinner bait or a plastic worm onto the shore, and pull the bait into the water. You receive 5 points for selecting C.
2) A is the correct answer. A bass usually will have its head in the current looking for the bait to come downstream toward it. You receive 5 points if you've selected A.
3) C is the best answer. In most lakes across the nation, little baits with light lines will produce more bass than big baits with heavy lines. Give yourself 5 points if you've chosen C.
To learn more about bass fishing, get John E. Phillips' Kindle eBooks and some print books, "How to Bass Fish Like a Pro," "How to Win a Bass Tournament," "Catch the Most and Biggest Bass in Any Lake: 18 Pro Fishermen's Best Tactics, "Hot Weather Bass Tactics" and "How to Become A Tournament Bass Fisherman". Get these books here.
Share this page with a friend!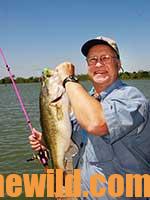 About the Author
John Phillips, winner of the 2012 Homer Circle Fishing Award for outstanding fishing writer by the American Sportfishing Association (ASA) and the Professional Outdoor Media Association (POMA), the 2008 Crossbow Communicator of the year and the 2007 Legendary Communicator chosen for induction into the National Fresh Water Hall of Fame, is a freelance writer (over 6,000 magazine articles for about 100 magazines and several thousand newspaper columns published), magazine editor, photographer for print media as well as industry catalogues (over 25,000 photos published), lecturer, outdoor consultant, marketing consultant, book author and daily internet content provider with an overview of the outdoors. Click here for more information and a list of all the books available from John E. Phillips.