Editor's Note: Michael Perry of Vinemont, Alabama, a longtime, successful public-land hunter, says, "I don't want to give the impression that I think I know everything there is to know about how to hunt and take mature public-land bucks successfully. However, my family has been hunting public lands for over 50 years and has taken some nice, older bucks. I've learned how to scout to find these mature bucks, how and when to hunt them and get older, heavy, well-racked bucks out of remote areas. Most of the big bucks I've taken on public lands, I've never even seen before until I've squeezed the trigger on my mechanical release, my muzzleloader, or my granddaddy's .30-06 Mauser.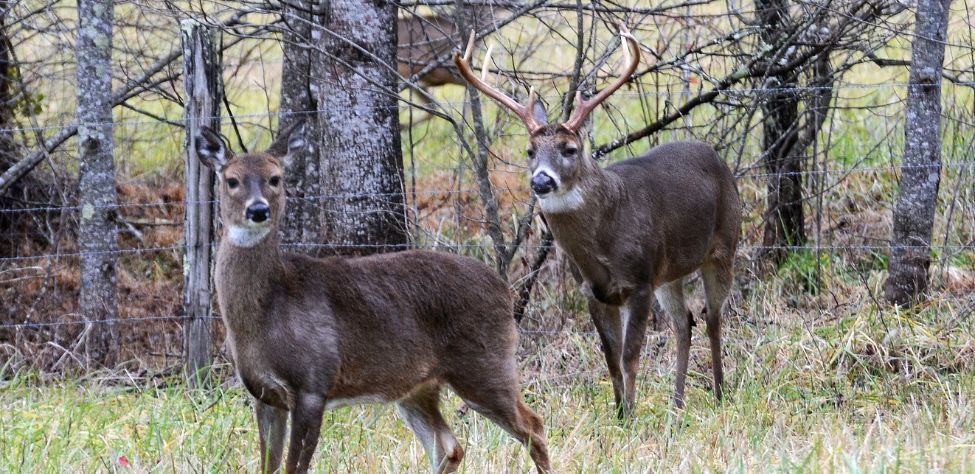 "In the 2021 deer season, I took a buck scoring 195-6/8 inches on a state WMA. In 1998, my brother Matthew had taken a 180-1/8 inch public-land buck. And a friend of my dad's took a 170-inch buck in the 1970s on public lands. Over the years, I've taken 38 public land bucks, 8 points or better. I've kept meticulous records in my journals about how we've hunted these bucks, where we've hunted, and what has made us successful in taking older-age-class bucks on public lands. I hope my information will help you learn tactics to become more successful on the public lands you hunt in any state."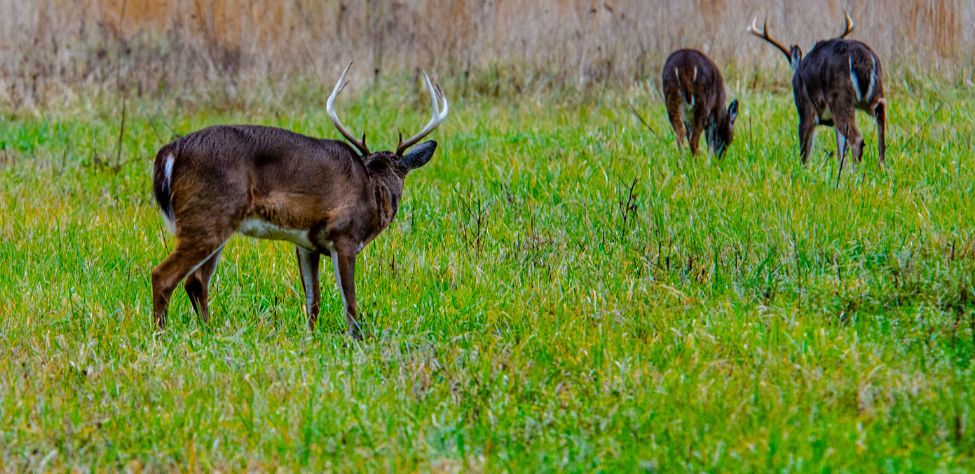 "One of the biggest advantages of hunting in my home state of Alabama is that five different ruts occur during Alabama's deer season, which for most of the state is from mid-October – February 10th, Michael Perry reports. "Many years ago, my dad Ray, my brother Matthew, and I decided that the best way to take a big buck would be to hunt three different ruts on several WMAs during deer season. We realized we needed to learn all we could about each WMA.
"Luckily, the earliest rut takes place at Black Warrior WMA, which is the closest WMA to my home. We've hunted there for most of our lives. But we've never cared particularly or thought about hunting trophy bucks on any public lands we've hunted. Then, my brother took his 180 1/8-inch buck with 18 points on December 26, 1998, at Oakmulgee WMA in central Alabama. After seeing my brother's buck, which made us even more excited about hunting public lands, I knew I wanted to learn to hunt older-age-class bucks on public lands for the rest of my life."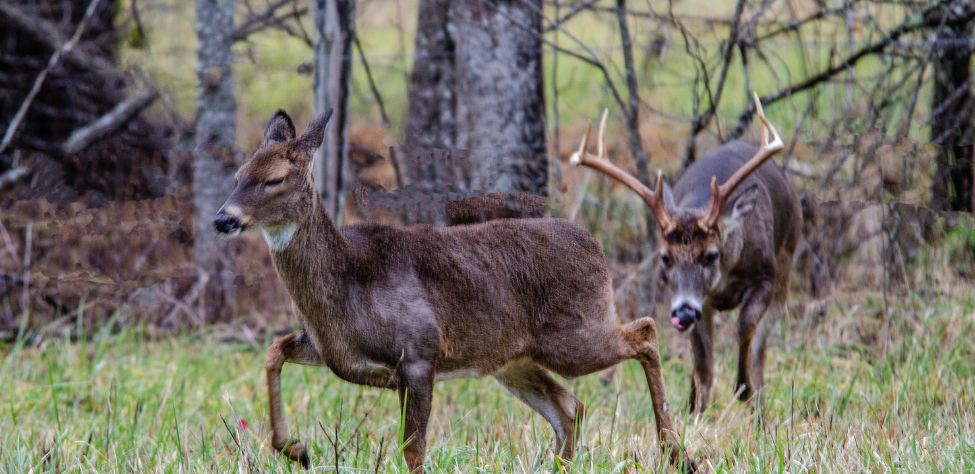 More of Michael Perry's Hunting Tips:
"I make certain that my tree stand is noiseless without squeaks or rattles by using Tool Dip and stick-on felt and/or felt tape to add cushioning and absorb any sounds.
"I use climbing tree stands, and fixed-position stands and steps and have hangers for my bow, my pack, and my other equipment.
"I make sure I've sprayed down my clothes often, including a camouflaged ScentLok suit and gear with Sawyer's Permethrin Fabric Treatment, and then allow that clothing to dry for a day or two before wearing it.
"I hunt in rainy weather with proper water-repellent clothing and an umbrella since mature bucks love to move before, during, and after nasty weather."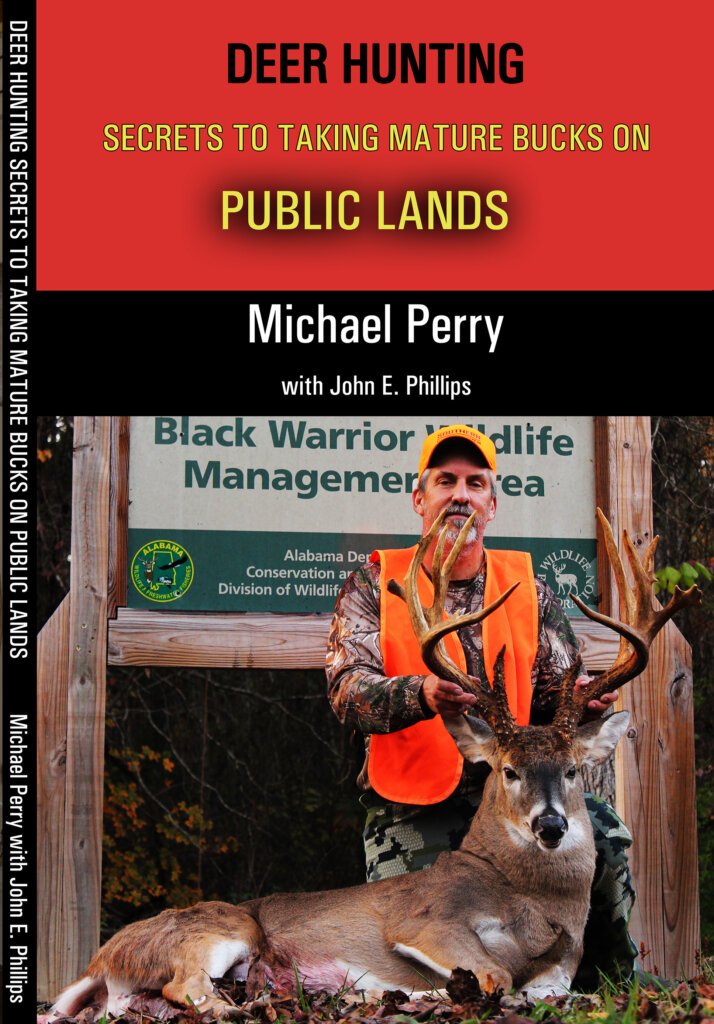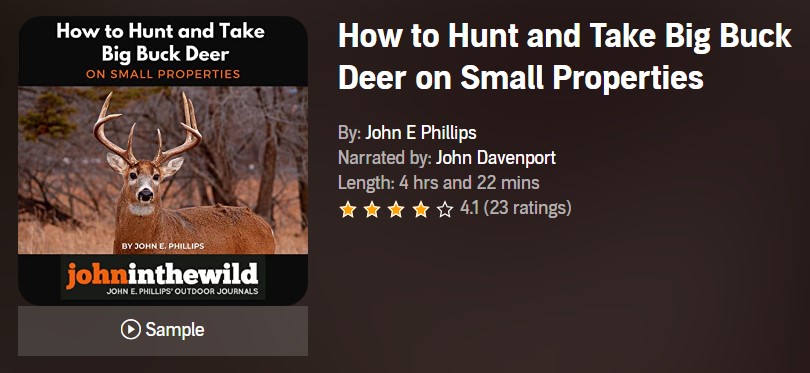 How to Hunt and Take Big Buck Deer on Small Properties
In this book, you'll hear from 14 hunters who either have gained permission or leased properties as small as six acres to as much as 250 acres, and how they consistently take older-age-class bucks off these little lands.
VERSIONS: AUDIBLE, KINDLE & PRINT
---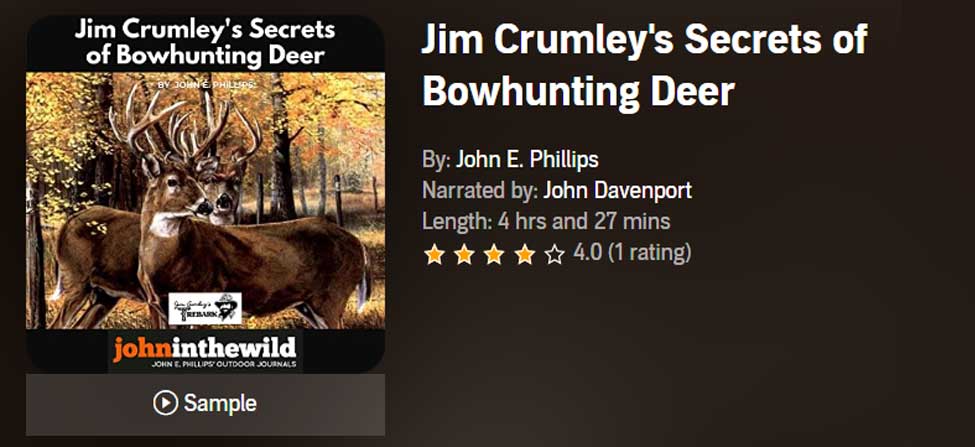 Jim Crumley's Secrets of Bowhunting Deer
Using a black magic marker and a gray work jumpsuit, Jim Crumley of Buchanan, Virginia, drastically changed the nature and purpose of hunting camouflage when he created the first sportsman's camouflage – Trebark. Crumley's love of bowhunting and his desire to be more invisible changed hunting clothing forever.
In this hunting guide, he shares the wisdom that he's learned throughout his lifetime about how to be a hunter, how to find a deer lease, how to scout for deer, and more.
Special features include how to:
Have a magic 60 acres to hunt
Decide the best equipment to use
Find deer year-round
Locate land to hunt
Know the best place to put your tree stand
Get bucks within bow range
VERSIONS: AUDIBLE, KINDLE & PRINT
---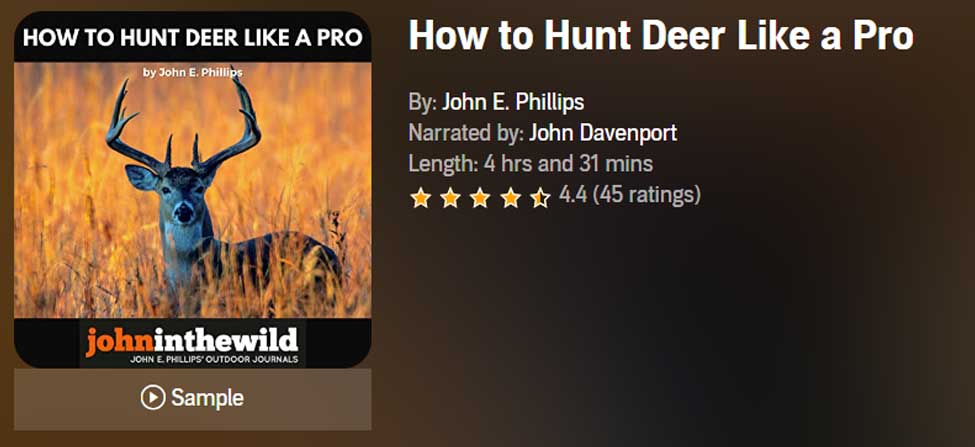 How to Hunt Deer Like a Pro
How do you know if the land you hunt has a trophy deer on it? Wildlife manager Bob Zaiglin, of Uvalde, Texas and Jim Crumley, the father of modern-day hunting camouflage, tells you how to find out. GPS can make finding and taking that trophy buck easier. This hunting guide will teach you how to hunt big bucks where no one else can find them, how to call deer, and how to become versatile as a deer hunter, so that if one deer tactic doesn't work, another one will.
In the chapter, "How to find Bucks at Scrape," Dr. Keith Causey, retired professor of Wildlife Science at Auburn University, describes the best way to hunt a scrape.
Brad Harrison of Neosho, Missouri, is a nationally-known videographer, professional deer hunter and master at calling deer. Another master is Will Primos of Primos Game Calls. These two experts will tell the best deer calls and when to use them in this book.
And for over 20 years, Bo Pitman, lodge manager of White Oak Plantation, has been studying deer movement patterns. He explains what types of conditions are best for predicting deer movement.
VERSIONS: AUDIBLE, KINDLE & PRINT
---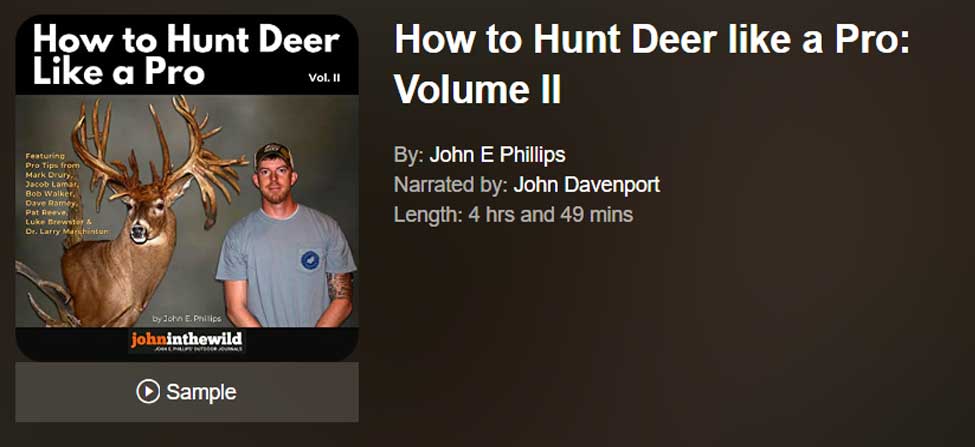 In Chapter 10, Jacob Lamar tells you his tactics for consistently taking older-age-class bucks on public lands in several states. Chapter 11, Bob Walker explains how to find places on public lands where you can hunt that 99 percent of the other hunters never have considered hunting. The Bonus Chapter with David Ramey tells you how, where, when and with what equipment to take big Kansas bucks on public lands by hunting in 100-degree weather when others won't hunt.
Chapter 13, Mark Drury, his family and his guests take mature bucks every season by having more small places to hunt rather than one large property. Drury explains the strategy of having satellite farms to hunt that only may be 50-150 acres each or less. Chapter 15, Pat Reeve, who hunts far-northern states and Canada, says, "I don't like hunting for mature bucks until the weather is 20 degrees or less." Chapter 4, Dr. Larry Marchinton says that funnels are the most-reliable stand sites to hunt for big bucks and tells why.
VERSIONS: AUDIBLE & PRINT