Editor's Note: An elk hunt, especially a mountain elk hunt, is the hunt of a lifetime for many folks. Nothing's more beautiful than getting above the clouds and looking at the beauty of a mountain range for as far as you can see. However, I wish I had known several things before I went on my first elk hunt that will help you if you're hiking and/or climbing mountains to reach your elk or mule deer to hunt.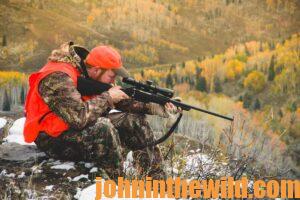 I don't believe you get as thirsty when you're elk hunting in the mountains as you do at sea level, especially when you're from the South and are accustomed to working outside in 90-100 degree weather. However, I've learned that when you are at an altitude, and you're climbing, side-hilling or walking slowly, you're sweating. That moisture evaporates quickly, even in cold weather.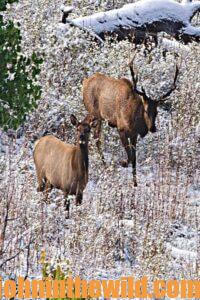 I've learned that if I carry twice as much water as I think I'll need when I'm hunting elk or mule deer at high altitudes and drink all that water, I'll feel much better than when I take one or two small bottles of water with me and become weak in the middle of the day. Most elk hunters from the East don't carry enough water to keep from becoming dehydrated and feeling weak or shaky during a full day of elk hunting. Most of us believe that the extra weight of another bottle of water will make our packs too heavy to carry all day. However, if you don't carry enough water, and you become dehydrated, you run the risk of getting altitude sickness, which is often a combination of not enough oxygen and not enough water.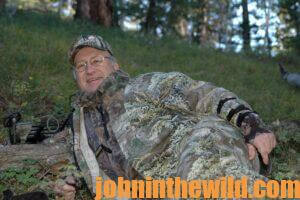 One guide told me, "I usually carry two or three extra bottles of water on the first day or two of an elk hunt. My hunters usually forget or don't believe they'll need as much water as they really will need. So, I've learned that if I don't have extra water for them, and we hear an elk, I may have to spend time helping my client recover from the climb, instead of getting him quickly to where he can take a shot at the elk."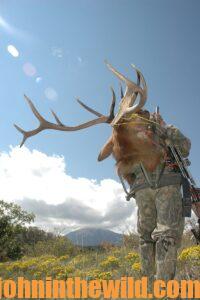 More than likely, if you're hunting with a guide, he won't have a walking stick. However, he's been doing more hunting at high altitudes than you have. I always have learned to either make me a walking stick before I go or buy a walking stick from an outdoor shop. The walking stick is your third leg when you're climbing up and down mountains, side-hilling mountains or even walking up gentle slopes. A walking stick helps you stabilize your body better and move quicker and safer, when you're walking or climbing. The walking sticks today are lightweight and strong and usually will telescope to the length you need. A walking stick can be a tremendous benefit when you're  hunting in the mountains.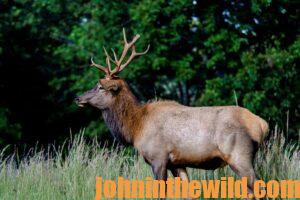 One of my friends I elk hunted with told me that, "Only sissies use walking sticks." However, after two days, he said, "John, I've gotta get me a stick like yours. You don't stumble, and your feet don't slide when you're on rocky or steep terrain."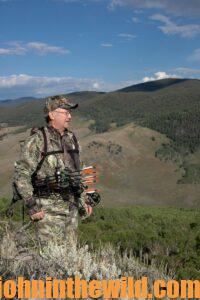 Before you think I know more than I really do, let me explain. I went on a Coues deer hunt in Arizona, a type of hunting that's strictly mountain hunting only. Many outdoorsmen define these hunts as a poor man's sheep hunt. When my guide and I reached camp, he handed me a walking stick. I said, "I don't think I'll need this thing," to which he answered, "I use a walking stick every time I go into the mountains. Where we're going, you'll be more than happy I made a walking stick for you."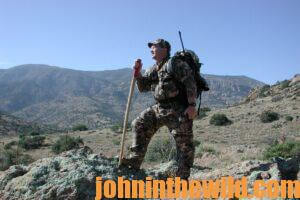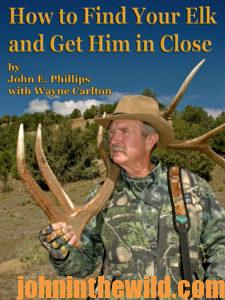 Some elk hunters prefer to use lightweight tripods, bipods or shooting sticks to function as walking sticks and a rest for your rifle.
To learn more about elk hunting, check out John E. Phillips' book, "How to Find Your Elk and Get Him in Close," available in Kindle, print and Audible versions at https://www.amazon.com/How-Find-Your-Close-ebook/dp/B00D3QSJEM/. To learn more about mule-deer hunting, look at John E. Phillips' book, "Mule Deer Hunter's Bible," available in Kindle, print and Audible at https://amzn.to/2Kg62w5. Also, check out "Bowhunting Deer: The Secrets of the PSE Pros," now available in Kindle, print and Audible at https://www.amazon.com/gp/product/B0BKBKKM9T/ref=dbs_a_def_rwt_hsch_vapi_taud_p3_i2 as of mid-October, 2022. You may have to copy and paste these clicks into your browser.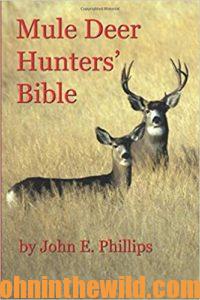 When you click on the books, notice on the left where Amazon allows you to read and hear 10% of the books for free. On the right side of the page and below the offer for a free Audible trial, you can click on Buy the Audible with one click.
Tomorrow: Wear Quality Boots for Elk & Muleys