John's Note: If you take a deer this season, don't miss out on some of the most-delicious meat ever. Researchers have proved that venison, a heart-friendly meat, contains fewer calories than the same size serving of chicken or turkey and one-half the calories of ham or ground chuck. Venison also has more protein than freshwater or saltwater fish and one-tenth as many fat grams as ground chuck. A rich source of trace minerals, including calcium, magnesium, zinc, potassium, phosphorus and iron, venison has a cholesterol content comparable to chicken and turkey.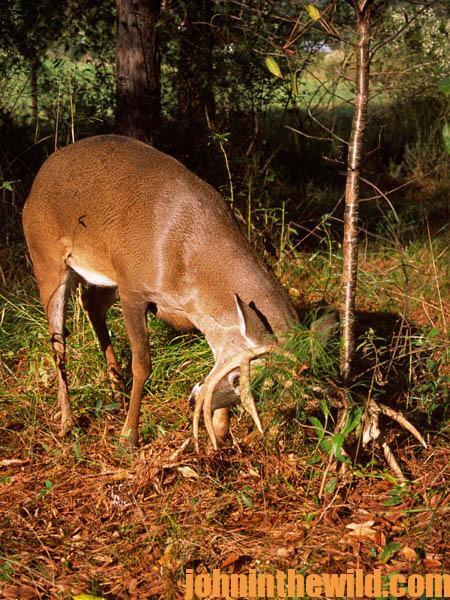 Have your equipment ready. Always carry in your daypack a deer drag, a sharp knife for field dressing, gloves and Wild Gamekeeper Spray, Hunter's Specialties' new product that helps prevent the growth of bacteria by lowering the pH on the surface of the animal, creating an acid base where bacteria can't grow. Go to www.hunterspec.com, call (319) 395-0321, or visit your sporting-goods store to learn more.
Look for a hill or a log that you can drag your deer to as soon as you recover it. Put the deer's head up and the body down to make field dressing easier. Gravity will aid the entrails in coming out easier.
Use a Hunter's Specialties' Butt Out Tool, a product that disconnects the anal alimentary canal easily.
Wear field dressing gloves to open the deer's cavity and remove the entrails.
Don't wash the open cavity with water, even after removing the entrails. Use Wild Gamekeeper Spray, and coat the cavity with it.
Wash out the cavity, and spray it again with Wild Gamekeeper Spray or a similar product once you move the deer from the woods and before you hang it in a cooler or outdoors, if the area has a below-40-degree temperature. Then the animal can cool down and age, which will mean better-tasting meat.
Let the deer hang for 2 or 3 days before removing the hide and cutting up the meat.
Use a very-sharp, clean knife and a saw to separate the meat, instead of chopping it with an axe.
Cut away all fat, connective tissue and gristle before packaging the meat for the freezer to ensure the very-best-tasting venison when you prepare it later.
Allow cuts of venison to unthaw in the refrigerator in heavily-salted water after removing the meat from the freezer for 24 – 48 hours. Be sure to wash all the salt off.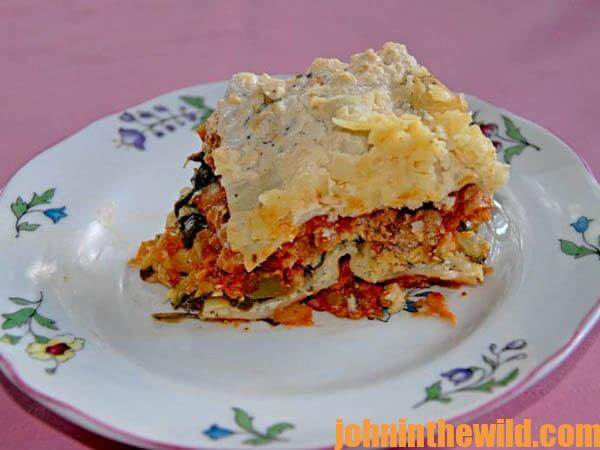 Backwoods Lasagna
This delicious recipe makes a large recipe of lasagna but freezes well. We've had numbers of non-hunters eat this dish and never realize it was prepared with venison.
Ingredients:
3 cloves garlic minced
1 (6 ounce) can tomato paste
2 #1 cans tomatoes
1 teaspoon pepper
1 #1 can tomato sauce
2 tablespoons minced parsley
5 pounds ground venison or mixture of half ground venison and half venison sausage
24 ounces Swiss cheese
2 (24 ounce) cartons cottage cheese
Grated Parmesan cheese
1 (16 ounce) box wide lasagna noodles
2 teaspoons salt
1 teaspoon oregano
2 medium onions chopped
3 tablespoons olive oil
Preparation:
Brown the ground venison with the garlic, onions and olive oil. Add the tomato paste, tomatoes, tomato sauce and seasonings. Cover, and simmer for 30 minutes. Heat the oven to 350 degrees, while boiling the lasagna noodles according to package directions. (We prefer to use the lasagna noodles that don't require cooking).  Grease two 9×13 pans, and alternate layers of cooked noodles, meat sauce, Swiss cheese, cottage cheese, etc. Top last layer with grated Parmesan cheese. Bake in the oven for 45 minutes or longer, according to taste. Allow the dish to cool for 30 minutes or so after cooking and removing from the oven to make cutting easier. Generally we eat one pan of lasagna, and then freeze the other to reheat later.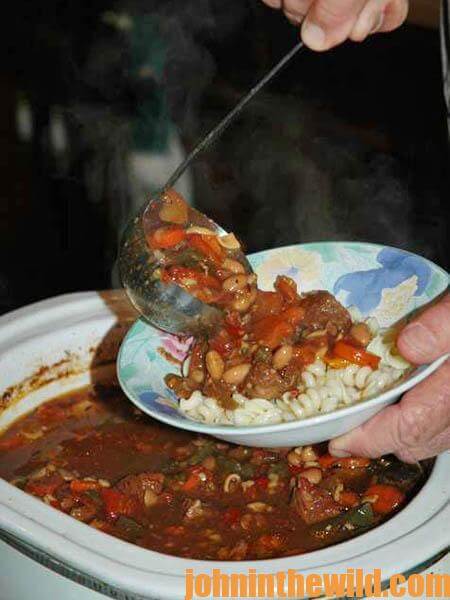 Slow-Cooker Tuscan Venison Stew
This yummy stew that's also heart-healthy will be enjoyed by people of all ages.
Ingredients:
1 can (10-3/4-ounce) tomato soup
1 can (10-3/4-ounce) condensed beef broth
1/2-cup water
2 pounds venison cut for stew meat into 1″ pieces
1 can (14-½-ounce) diced Italian-style tomatoes (for a spicier taste, use Rotel tomatoes)
3 large carrots cut into 1″ pieces or 2 cans sliced carrots (pour off liquid before using) for ease of preparation
1 teaspoon Italian seasoning
½-teaspoon garlic powder
2 cans (about 16-ounces each) white kidney beans (Cannelini), drained
Package of frozen seasonings, including onions, bell peppers and celery
Preparation:
Mix soup, broth, beef, water, tomatoes, carrots, Italian seasoning package frozen seasonings and garlic in crockpot. Cover, and cook on LOW for 8 to 9 hours or HIGH for 4 to 5 hours. Stir in beans. Turn heat to high, and cook 10 minutes. Then you can boil thick egg noodles to ladle the stew over, prepare a salad and heat the bread, and you're ready to enjoy this flavor-filled hot dish.
For more venison recipes, get the new Kindle eBooks, " The Best Wild Game & Seafood Cookbook Ever: 350 Southern Recipes for Deer, Turkey, Fish, Seafood, Small Game and Birds" and "Deer and Fixings." by John E. Phillips. "Click here to get these books."
About the Author
John Phillips, winner of the 2012 Homer Circle Fishing Award for outstanding fishing writer by the American Sportfishing Association (AMA) and the Professional Outdoor Media Association (POMA), the 2008 Crossbow Communicator of the year and the 2007 Legendary Communicator chosen for induction into the National Fresh Water Hall of Fame, is a freelance writer (over 6,000 magazine articles for about 100 magazines and several thousand newspaper columns published), magazine editor, photographer for print media as well as industry catalogues (over 25,000 photos published), lecturer, outdoor consultant, marketing consultant, book author and daily internet content provider with an overview of the outdoors. Click here for more information and a list of all the books available from John E. Phillips.