John's Note: To be a more-consistent hunter, you must know everything you can about the animals you hunt, and the other people who are trying to take those same deer. However, during the short span of time that deer season encompasses when the hunter can gather this information, his interest generally is distracted by his desire to take a buck. To gain this knowledge, the very best time of the year to scout is immediately after the season is over. The only disadvantage you'll have is you won't be able to harvest the animal after you've gained the knowledge required to find him. But what you've learned in the post-season will become extremely valuable in all the seasons to come. In my opinion, the single-most-important ingredient to a deer hunter's continued success is this wealth of knowledge he amasses about the sport in which he participates. One of the best ways to gain that knowledge is by scouting after the season for deer.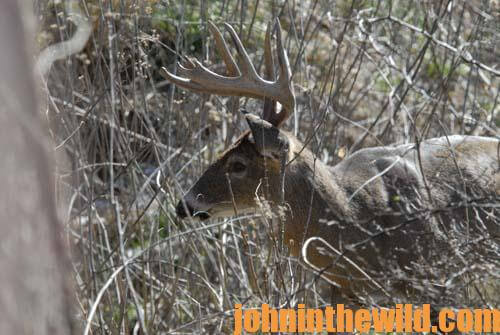 One of the most-important keys to deer-hunting success is that the hunter be confident with the tactic he's using to attempt to bag a deer.  For instance, how many times have you bought a new product and said, "I don't know whether this will work or not on a buck? But I'm going to give it a try." Many of us are reluctant to utilize new deer-hunting aids during the season in an area where we expect to see a buck for fear that these aids may spook the bucks we're hoping to bag. However, when deer season ends, you can move into the woods and experiment with new hunting techniques, products, scents, lures, rattling antlers, calls and anything you believe may help to lure in a buck.
By testing these products after the season in areas where you expect to see a buck, you can decide for yourself whether these products work or not. If you do have success with a strategy or a product, then you will develop confidence in that particular aid since you've used it effectively to bring in deer – even though you haven't taken the animal. After the season is the very best time of the year to test any or all new tactics and products. Then you don't run the risk of spooking a deer that you may have taken if you have had a gun.
Finding the Hideouts of Big Bucks:
Within 4 or 5 days after hunting season is over, the larger, trophy-size bucks will begin to come out of hiding and be more visible. Often you'll see these big bucks on the edges of agricultural fields, around food plots and/or at watering holes during daylight hours. Once you've spotted a trophy buck like this, immediately start hunting that animal. Find the trail the deer is using to travel to the place where you're seeing him. Follow that trail back into the woods and into heavy cover, because this trail will point the way to the hideout the big buck has been utilizing throughout deer season. Set up a stand, and make sure you see the buck going into that heavy cover. Later in the middle of the summer, move into the buck's hideout, cut shooting lanes, find a tree stand site, and make all the preparations needed to be able to take that buck when hunting pressure builds-up the following season.
Tell no one where your big buck hideout is. Then during the last 2 or 3 days of deer season when you have a favorable wind, go to the tree stand site you have developed months ago, and wait on your trophy to appear. Because deer are creatures of habit, often if they're undisturbed, they'll utilize the same sanctuary year after year to dodge hunting pressure. By finding that sanctuary after deer season, coming up with a hunt plan, setting-up a stand site months ahead of the season and not going into that sanctuary until the very end of the season when the trophy buck should be using it, you'll greatly increase your odds of bagging that deer.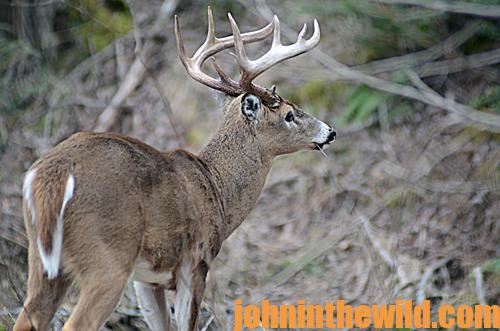 You'll learn more deer-hunting information and tips from hunters in John E. Phillips' Kindle, CreateSpace and Audible books by going to https://johninthewild.com/books/#deer to purchase and download to your Kindle, and/or download a Kindle app for your iPad, SmartPhone or computer. You also can go to Nook Books at www.barnesandnoble.com to buy. Too, you can download free books by going to https://johninthewild.com/free-books.
Next: Studying Deer Behavior and Scouting the Hunter