John's Note: One of life's bummers is having to work on opening day of dove season. Your heart and your mind are in the field watching high-flying, shell-dodging, gray ghosts zoom over a cornfield while out-of-practice gunners try to calculate speed and distance and estimate an invisible point in the sky where lead will cut feathers. But these brief remembrances of a great dove shoot must be forced out of your mind to return to the world of work and deadlines.
This past year, I didn't want to be writing an article on opening day of dove season.
I preferred to be in the field instead of in my office. But my bills had to be paid, and the disciplines of my work had to be enforced. My misery was interrupted for a moment by a telephone call from my brother, Archie, who asked why I wasn't hunting. "The same reason you aren't," was my grumbling answer. "I have to work."
"What time will you be through?" the voice on the other end of the phone questioned.
"I won't be able to wrap up this article up until about 3:30 p.m.," I told Archie. "Even if I can leave then, by the time we drive to a dove field, we won't have but about 30 minutes of shooting time left before dark."
My brother explained he had a spot about five minutes from my office where we could start shooting, bag all the doves we wanted to take and be home within 10 minutes after the shoot. "Put on your camouflage, and fill up your dove stool with shells and your ice chest with cold drinks," Archie said. "We will go dove shooting today." Birmingham, Alabama, my hometown, has been called the Pittsburgh of the South.
One of the fastest growing areas in the region, Birmingham is surrounded by suburbia. Because getting out of town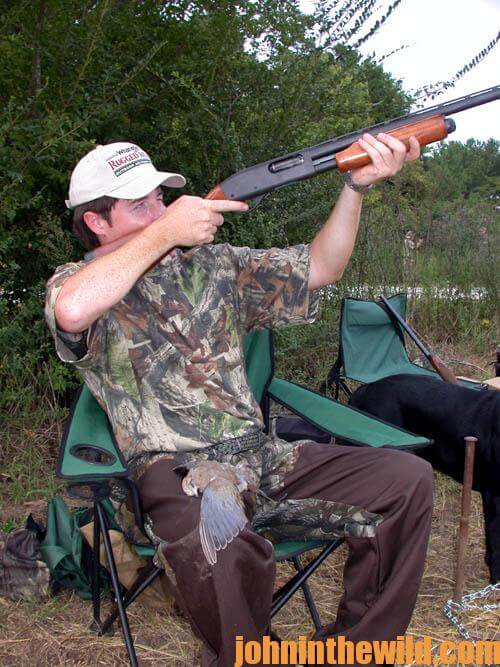 usually takes at least an hour, I couldn't imagine where a dove field was that close to my office. But one of my brother Archie's strongest characteristics is that he's very resourceful. If a dove field existed within five minutes of downtown Birmingham, I had no question that Archie would be able to find it. At 3:00 p.m., I was in front of my house wearing camouflage and holding my dove stool, two boxes of Winchester No. 8 shot and a box full of cold drinks. Archie pulled up in his truck, my gear was loaded in the back, and we were off to shoot doves. When I asked where we were going, Archie told me, "Never mind. I'll show you when we get there."