Editor's Note: In many southern states, deer season is still continuing through February, which means hunters will have to deal with the problem of recovering wounded deer. A growing number of hunters in each state are training tracking and trailing dogs to find and recover wounded deer. More states are opening their doors to allow hunters to use tracking dogs – even sometimes on public lands. Who are these folks? Why are they buying and/or teaching dogs to become tracking dogs? What tools are they using to teach keen-nosed dogs to find deer when the blood trail has run out? If you live in a state where hunters are permitted to use tracking and trailing dogs, you may want to consider getting a young dog now and training him to track deer for next year's deer season. (Be sure to check your state's regulations). I met Patrick Jones of McCalla, Alabama, who's in the construction business at the Department of Conservation's Adult Mentoring program for bowhunting deer. Jones told me about how a tracking and trailing dog could make a huge difference in your enjoying deer hunting.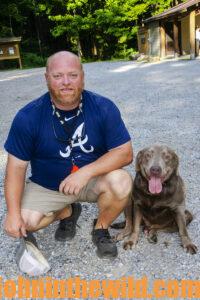 After learning how awesome tracking and trailing dogs are, I talked with Patrick Jones, who told me, "I work with the Alabama Blood Trailing Network (https://www.facebook.com/groups/alabamabloodtrailingnetwork/), and my Facebook page is called, 'Nose to the Ground Alabama: Wounded Game Recovery (https://www.facebook.com/groups/1595373710759426).' One of the advantages that we have at the Alabama Blood Trailing Network is that we have hunters in different counties with tracking dogs. You can look on this list and call people who live in your county or near your county when you've shot a deer and can't find him. These folks can bring a tracking dog out, put the dog on the scent of the deer and hopefully find that deer for you. I hunt in Jefferson, Bibb and Green counties. This page will help you find folks with tracking dogs in north and south Alabama who may be close to you."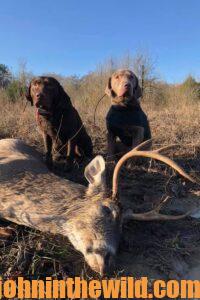 Like many-other hunters, Jones had a buck one time that had been shot and called a man to bring his dog to help find the deer. As Jones explains, "I owned a deer enclosure at that time, and one of our hunters had shot a deer and couldn't locate it. I watched this man work his dog and discover the deer that we couldn't. That was 7-years ago. I got that man to sell me a dog and became very involved in finding wounded and dead deer when hunters and landowners couldn't locate them.
"The dog that I'm hunting now is a 6-year-old named Tiger, and I bought him when he was 3-years old. I first had one of his brothers that died, and I immediately bought Tiger. We've been on a lot of tracks and trails searching for deer during those three years. I train my own dogs now, but I don't train for other people. I just enjoy being able to help hunters find deer that they've shot and can't locate. But I've got the names and phone numbers of dog men who do and will train dogs for hunters who want to have tracking dogs. I can be reached at 205-602-7262. My partner, Joseph Dunn has a dog he's training. He's bred him to my dog to get pups. I'll be getting one of those first pups, because as I mentioned earlier, Tiger is six years old, and I want to use Tiger to help train a younger dog."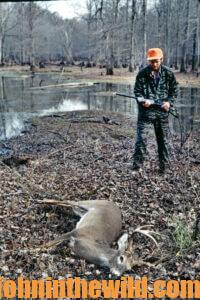 Jones says the longest track he and his first tracking dog, Amos, went on was a deer they tracked for 1.7 miles. The deer was shot in the hip and was inside a 3,000-acre enclosure. According to Jones, "We started tracking this deer at 8:00 pm and didn't find a sign of him until 10:00 pm. When we did locate fresh blood, I knew the best thing for us to do was to stop tracking where we found that fresh blood and let the buck succumb to his injury. The hunter didn't want to stop. But I have a saying about finding wounded deer – 'Time is your friend; time is on your side; and dead is dead.' You're better off to give the deer plenty of time after you've tracked it for a good ways and haven't found it. So, Amos and I came back the next morning and discovered the buck about 700-yards from where we'd stopped searching the night before."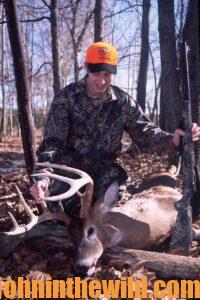 Several years ago, when Jones owned a deer enclosure that he's since sold, he had a hunter shoot a nice buck that he hit in the lower leg. "We tracked that deer for awhile the night of the shot, but couldn't find him," Jones remembers. "We started tracking again the next morning and discovered the deer beside a lake in the enclosure. The buck jumped in the water, and Amos went in the water right after the deer. Once the deer came out on the other side, he went down in a hole where the water drained out of the overflow pipe in the lake. Amos went right after him. I shot at the buck with my pistol but missed him. Well, the buck sank, and that hole was about 10-12 feet deep. I had to go in the water – which was really cold – up to my waist to pull the dead buck up on the bank. However, my dog did find the buck."
Another unique recovery happened when a buck was shot in the enclosure, and the creek there was flooded. The water had come up 4-feet higher than its normal pool. Once the water went down, the dog was able to trail the deer on land that had been underwater. As Jones remembers, "When he got to the buck, all that was above water was the tip of the buck's main beam. We got a boat, and I went over to the other side of the creek, took a stick and pushed the buck out in the creek away from the object on which he was hung. The current was still strong in the creek, and the deer floated downstream to where we could reach him with a boat. I've had some really-strange tracking assignments like that one I'll never forget.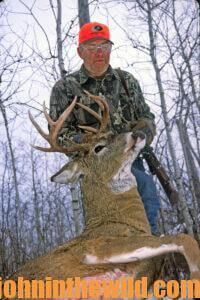 "I'm often asked, 'What do you charge when you take your dog and look for a deer that a hunter's shot but can't find?' Truthfully, I've been on a lot of hunts where I haven't charged anything. If a youngster shoots a deer on a youth hunt, I'll usually help that youngster locate his deer for nothing. So, I don't really have a set fee as to what I charge.
"Some people who have tracking dogs use their dogs to make extra income. They may travel all over the state during hunting season finding deer for hunters. I've been to enclosures where a hunter may have paid $8,500 to take a deer he's shot but can't find him. When I've taken my dog into that enclosure and located a deer, that man may pay me $500. Sometimes, though, people can't afford to pay me very much, and I ask them, 'What do you think I should get paid for driving from my home, bringing my dogs and spending an hour or two to find your deer" People who have tracking dogs spend a lot of time and money to buy a good tracking dog to work with him and train him, and then they've got travel expenses plus their time that's required to find the deer."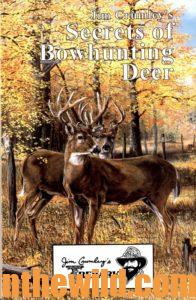 To learn more about hunting deer, check out John E. Phillips' book, available in Kindle, print and Audible versions, "How to Hunt Deer Up Close: With Bows, Rifles, Muzzleloaders and Crossbows" (http://amzn.to/11dJRu8). For more information about hunting for deer, check out John E. Phillips' "Jim Crumley's Secrets of Bowhunting Deer," now available as of January 1, 2022, in Audible, as well as paperback and Kindle at https://www.amazon.com/.
You may have to copy and paste these links into your browser. (When you click on either book, notice on the left where Amazon says you can read 10% of this book for free and hear 10% for free). On the right side of the page and below the offer for a free Audible trial, you can click on Buy the Audible book. To see many of John E. Phillips' books, go to https://www.amazon.com/John-E.-Phillips/e/B001HP7K6O.
Tomorrow: Deer Tracking Dogs' Breeds & Adventures