John's Note: Ken Cook quit his job as a fisheries biologist in 1983 to become a professional bass angler. The Oklahoma resident participated in a multitude of tournaments, including BASS and FLW events, for many years, staying on the water fishing for bass about 200 days a year. After retirement from his long career as a professional bass angler, he now has devoted his life efforts to making Tarbone Ranch in southwest Oklahoma a destination for others who share his passion for all things wild, offering a limited number of hunting and photographic safari opportunities for trophy game animals – deer, elk and bison. Cook still remains a consummate student of fish and their behavior.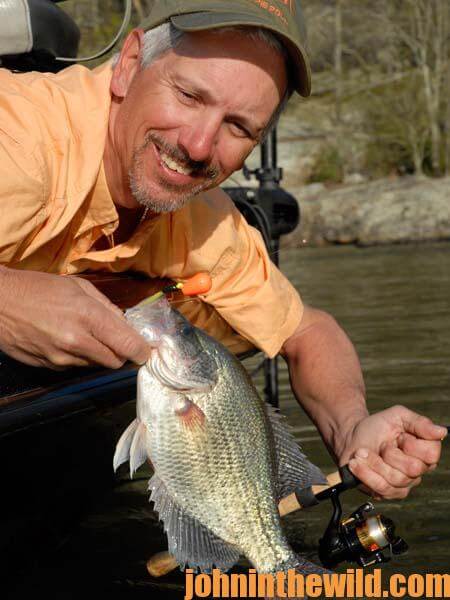 Probably the number-one tool of the summertime crappie angler is the depth finder, which shows an angler the bottom breaks he can follow until he sees the cover and locates schools of crappie holding under the cover. However, depth finders often cause as many people not to catch crappie as they enable fishermen to take crappie. Some anglers won't fish a piece of cover if the depth finder doesn't show crappie holding on that cover. But during the summer months, crappie may be holding in and under cover and won't show up on the depth finder. The angler who doesn't stop to fish that cover may be missing an opportunity to take papermouths home to the skillet. That's why anglers like Ken Cook fish cover – whether they see fish or not – because as Cook mentions, "Crappie tend to school at a particular depth, according to water temperature and dissolved oxygen content. So, many times if the crappie aren't in the cover, they'll be schooled-up above or under the cover or off to the side of it."
Another key to finding crappie in the hot summer months is using the bass fisherman for a birddog. Many times when bass anglers are fishing points, ledges, drop-offs, deep cover and structure, they'll have numbers of small pecks on their plastic worms or crankbaits but won't catch the fish. More than likely these strikes are either crappie or bluegills. I believe crappie must have large egos, because often they'll try to kill and eat a bait that's too big for them to swallow – like those used by the bass fisherman. Therefore talk to bass fishermen, and ask about places where they've had numbers of light bites. Then go to that same area with your light line and crappie lures or live minnows, and you may come home with a limit of crappie.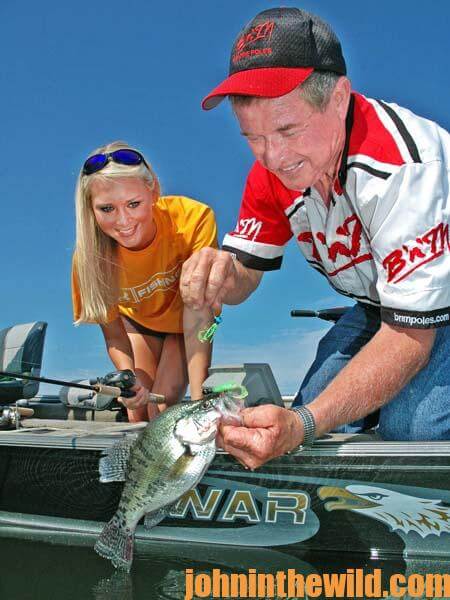 Once you've found the crappie, you next must determine how to catch them. Using small jigs from 1/16- to 1/32-ounce is Cook's favorite tactic. "I like 4- to 6-pound-test line, and I fish the little jigs on a slow, steady retrieve," Ken Cook reports. "Crappie, unlike bass, don't like a hopping or a jerking type of retrieve but prefer a slower, easier-to-catch bait. Of course in hot weather, crappie may be ornery about hitting any bait. If I can see the fish but can't catch them, I'll try adding fish scent to my jigs. If this doesn't work, the bait of last resort is the live minnow. Even a crappie that doesn't want to feed and isn't hungry just has to hit a live minnow swimming in front of its nose.
"Setting the hook correctly is important too in catching crappie. I'll set the hook as soon as I feel the bite on the line. Crappie are like bass in that they too inhale the baits. As soon as you feel the slightest twitch on the line, set the hook. However, since crappie have tender mouths, don't set the hook too hard, or you'll lose the fish. Most of the time when you feel the bite, the crappie's already taken the bait."
To learn much more about crappie fishing, get John E. Phillips' Kindle eBooks and some print books, "Crappie: How to Catch Them Fall & Winter," "Crappie: How to Catch Them Spring and Summer," "Catch Crappie All Year" and "Catch Cold Water Crappie Now." Click here to get these books. You also can download for free John and Denise Phillips' "The Crappie Catcher's Cookbook" here.
Next: Fishing for Summertime Crappie