Editor's Note: With most game seasons closed across the U.S., except for hunting predators, I was very interested to talk with Lynn Worwood of Nephi, Utah, a Mossy Oak Pro (www.mossyoak.com) who hunts mountain lions. A very avid hunter of all species, especially turkeys, Worwood and his friends have fun hunting mountain lions from October until June each year. Other hunters chase predators year-round.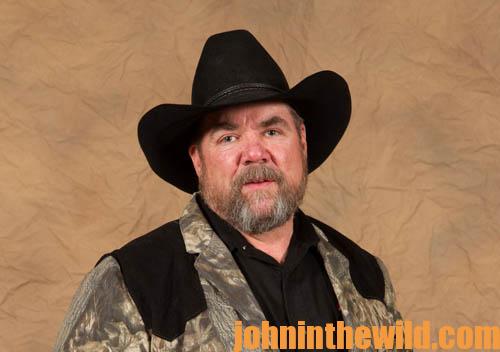 I worked with an older gentleman who hunted lions, and I thought that was an intriguing idea. I really thought that would be something cool to do. When I was invited by my future father-in-law to go on my first mountain lion hunt, I was about 20-years old then. I invited the the guy I worked with – Doug York – and we went with my future father-in-law to the mountains. Doug had Walker hounds. On that first hunt, we rode horses and covered a lot of country, but we never cut a lion track. Because I had hunted most of my life, I wasn't disappointed. Most people I knew never even had seen a mountain lion or its track at that time.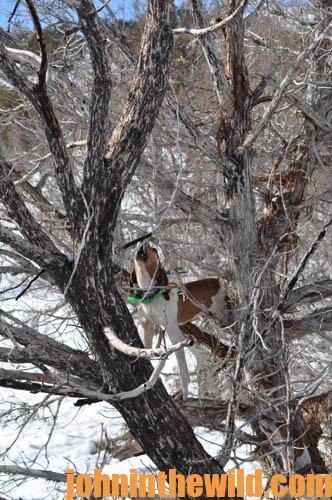 On my second hunt at Layton, UT, we treed a lion. None of us had a tag on that hunt, and we weren't hunting to try and take a lion. But I shot him about 30 times with my camera before we pulled the dogs off and let the lion go on his way. For me and the people I hunt with, we like to see the dogs work a track, tree a lion and then take pictures of the lions and the dogs. Another advantage to hunting mountain lions is we can hunt from the end of October to the first of June. Some parts of the state allow a somewhat longer hunting season.
After that second hunt where I got to photograph a lion, I decided lion hunting was something I really wanted to do. I had a friend who had a hound he didn't want.  He said that the hound already had been hunting lions. I had a pair of snowshoes that I didn't wear very often, so I traded him the snowshoes for the hound. The dog's name was Annie, and she was 2-years old when I got her. I was able to acquire two more dogs that summer, and when lion season arrived, I started hunting with Doug York, the friend that I'd worked with before.
Doug and I became really good friends and spent a lot of time hunting together. Back then we only could hunt 2 days a week because we had to work 5 days. We would go out into the mountains early in the morning and start hunting when there was light enough to see a mountain lion track in the snow. If we found a track, we'd try to determine how fresh the track was. Then we'd turn the dogs loose and let them run the track. Once I got some better hounds we could hunt, and we'd just start walking when there wasn't snow in the mountains. We'd let the dogs see if they could find a track and we'd either strike a cat, or we wouldn't. We don't ride horses anymore. Most of the time we take ATVs, or we walk to keep up with the dogs.
To learn more about hunting and fishing, check out John E. Phillips' print, Kindle and audiobooks at johninthewild.com/books.
Tomorrow: What Was One of Lynn Worwood's Most Exiting Lion Hunts