John's Note: Dr. Robert Sheppard has been hunting and studying deer for more than 40 years and actually conducted a study of 35,000 deer hunters over 20 years at Bent Creek Lodge www.bentcreeklodge.com in Jachin, Alabama. He's a total believer in the first-strike approach for trophy bucks. He'll only hunt from a stand site once during deer season, because, in his opinion, deer are better able to pattern hunters than hunters can pattern deer. Today, Sheppard tells us how deer pattern hunters, and how to prevent older-age-class bucks from knowing where you're hunting.
Earlier in my hunting career, I'd spend hours and hours and days and days attempting to pattern a trophy buck.
Then, I'd go to my stand and try to take that buck. I might see him on the first day I hunted and not be able to get a shot, or for some unknown reason the deer just wouldn't show-up. So, I realized I had to develop a different hunting strategy.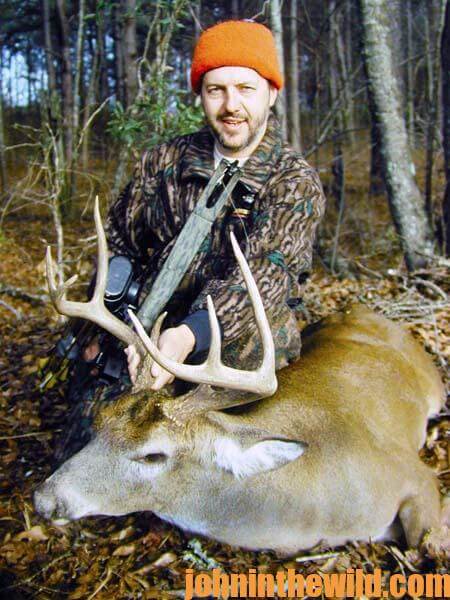 I believe that deer pattern bowhunters with their noses. They can determine where we've come into the woods, where we we've last been on the ground, and which direction we've walked as we've left the woods. We walk to our tree stand sites, we set up our tree stands, and we leave human odor at the bases of trees. As a bowhunter starts to climb the tree, some of the bark and the dust on the side of the tree falls to the ground, and maybe the wind carries some of that bark and dust with our human odor in it out past the tree. That night, when deer come through the area, the deer will smell where you've been, and I'm convinced they remember where they've smelled that human odor and therefore avoid that particular spot. During the daytime, they may not change their route and still may go to the same places, but usually an older-age-class buck will travel 100- to 200-yards from where he's smelled that odor. So with this information, like the older-age-class bucks, I tend to avoid the places that I've hunted that same season. I don't hunt from a bow stand but once a season. I won't return to that same stand site until the next season. Also, if I know where other hunters are hunting, I'll avoid those places during that season.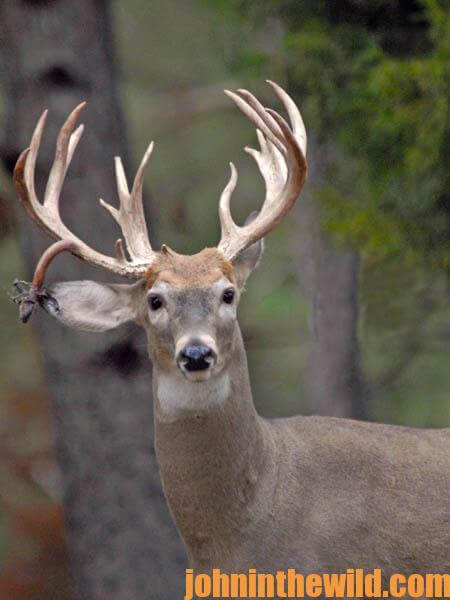 I think deer put more emphasis on where you've been, than they do on where you are now. I believe that deer know that hunters are creatures of habit. All of us like to hunt places where we've hunted during other seasons. If a buck avoids a spot where he's smelled human odor, his chances of survival are much greater.
Many of the hunters in our study didn't believe that the noise that the hunter made going to his or her stand, coming from his stand or while in his stand was nearly as important as what the deer smelled at night, after the hunter had left the woods. Deer are nocturnal by nature. They get up and walk around a lot at night, especially older-age-class bucks. After you've left the woods, these older, bigger bucks are trying to learn where you've been during daylight hours. Then they avoid those areas. That's why: not overhunting a region is so important; I believe that your best chance of taking an older-age-class deer will be the first time you hunt from any stand; and I only hunt from the same stand site once every season.
To learn more about Dr. Sheppard's research findings and hunting tactics and to order his book, "Whitetails," go to his webpage www.bobsheppard.com.
You'll learn deer hunting information and tips in the Kindle eBooks, "Bowhunting Deer: The Secrets of the PSE Pros," "Jim Crumley's Secrets of Bowhunting Deer," "Deer and Fixings,""How to Hunt Deer Up Close: With Bows, Rifles, Muzzleloaders and Crossbows," " PhD Whitetails: How to Hunt and Take the Smartest Deer on Any Property" and " How to Hunt Deer Like a Pro" by John E. Phillips. "Click here to get these books."
About the Author
John Phillips, winner of the 2012 Homer Circle Fishing Award for outstanding fishing writer by the American Sportfishing Association (AMA) and the Professional Outdoor Media Association (POMA), the 2008 Crossbow Communicator of the year and the 2007 Legendary Communicator chosen for induction into the National Fresh Water Hall of Fame, is a freelance writer (over 6,000 magazine articles for about 100 magazines and several thousand newspaper columns published), magazine editor, photographer for print media as well as industry catalogues (over 25,000 photos published), lecturer, outdoor consultant, marketing consultant, book author and daily internet content provider with an overview of the outdoors. Click here for more information and a list of all the books available from John E. Phillips.