Editor's Note: Bob Walker of Livingston, Alabama, hunts turkeys every day of the season as a guide at Bent Creek Lodge (http://www.bentcreeklodge.com/ – 205-398-3040) in Jachin, Ala. This week Walker will tell us the most-productive ways to hunt turkeys.
First we'll look for the best place to set-up by taking a stand where we can see and shoot turkeys. The spot we choose to set-up is often critically important as to whether or not we'll bag a tom.  I don't want the turkey to be 100 yards from me and possibly be able to see me or not see the hen he's heard calling to him. I want to be on the opposite side of a little rise from where I think the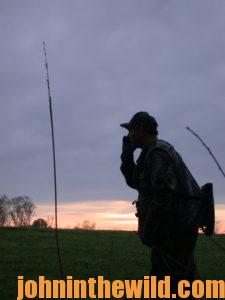 turkey is, or I want to be on the other side of a fallen tree from the gobbler, that the turkey can't see through. For the gobbler to see the hen that's been calling to him, I want him to have to walk within gun range of me and my hunter.
Now you don't want to pick a spot to set-up that will create a barrier that the turkey doesn't want to come around to see the hen. For instance, you don't want to be behind a cane thicket that's 30-50 yards long or behind a 30-50 yard blackberry patch that will stop the turkey from coming to you. Remember, a turkey's not that tall, so even a little rise that a turkey has to walk up and over to see the hen and be within gun range is the kind of place you need to set-up. But don't set-up too close to the turkey, so that when you see him, he's only 10 yards from you. You want him to be 30-40 yards from your stand when you first see him. If the turkey's too close to you, you'll spook him when you try and take the shot. Another good set-up area is a little curve a tom must come around to see a hen when a turkey's walking down the top of a ridge. Just make sure that the turkey can't see you, and you can't see him until he's in gun range, or almost in gun range.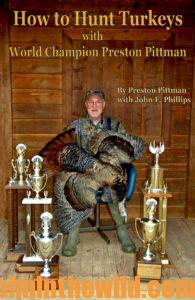 To learn more about turkey hunting, check out John E. Phillips's book, "How to Hunt Turkeys with World Champion Preston Pittman," at http://amzn.to/144Irn5 for Kindle and print versions. Click here for Audible version.
Tomorrow: How to Get Ready to Shoot When a Turkey's Closing Ground