John's Note: Jonathan Phillips of Wetumpka, Alabama, and his partner, who's also his wife, Alicia, fish crappie tournaments all over the nation, including a wide range of rivers in the North, the South, the East and the West and have learned river tactics that work to catch crappie. Jonathan Phillips tells all.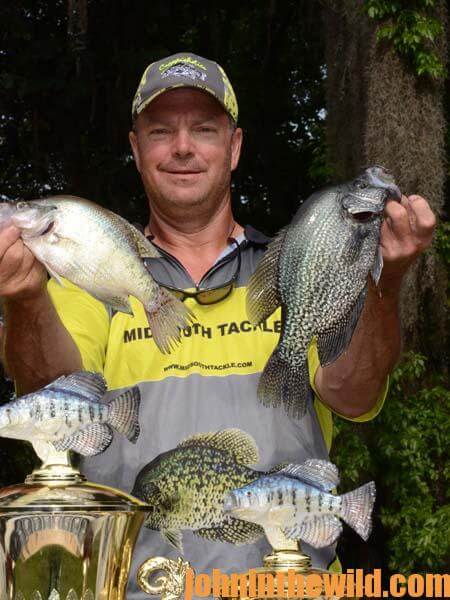 Rivers are constantly changing. A river may be low one day and high and muddy the next day. To be a good river fisherman, you've got to be able to change as the river does and know how changes in river conditions can affect the crappie. My two home rivers are the Alabama River and the Coosa River in Alabama, and both of these rivers have hydroelectric plants in the northernmost parts of each river. So, besides changing from clear to muddy in a matter of hours, these rivers can switch from no current, to little current or to a strong current. Too, if you're fishing in 6 feet of water one day and return to the river the second day, the river may have come up 4 feet.
One of the things that's really helped river fisherman be more successful is side-scanning sonar. You may have good structure one day like brush piles where you've caught a lot of crappie. But then if the river comes up 4 feet overnight, and the current blows your brush pile away, you'll think you're in trouble. What I've found on those days is there will be new brush piles created as well as new holes in the river. We've had so much rain in Alabama in the spring of 2016 that some of the underwater sandbars I normally fish have been moved by the current, and new sandbars have been created. So, the river is constantly changing, but that's what I like about river fishing.
I do a lot of scouting with my depth finder and know I can pinpoint new places to fish. If I constantly switch baits, I can catch crappie. Because I fish tournaments, and I guide crappie anglers on both the Alabama and the Coosa rivers, I'll catch the biggest crappie during tournaments and when I'm guiding my clients. What I've learned over the years is that the big crappie tend to stay in deep water until they spawn, and as soon as they spawn they want to return to deep water. For this reason, I can narrow my search down from trying to find crappie in shallow water to concentrating my fishing in looking for structure and brush in deep water. In most rivers, there is much more of the river that will be in shallow water than deep water. The term, deep water, is relative to the river you fish. For instance on the Coosa River near Lake Jordan, I can find crappie in 25-foot deep water, however, many crappie fishermen consider deep water as any water that's 5-8-feet deep. Crappie don't have to always be in the deep water in the river system. For instance, this past winter, I went to a hole in the Coosa River that I knew was 50-feet deep and found crappie and catfish suspended 20-feet deep there. So, I let my minnows and jigs down to 20 feet, caught a limit of crappie and filled the cooler up with catfish.
The biggest secret for catching crappie when they're deep in the river is, don't be afraid to use a bigger weight than you generally will when you find crappie suspended above a deep hole or holding close to the bottom in a deep hole. You've got to make sure when you're fishing deep holes and rivers that you're presenting your bait straight down the pole to the crappie. If you don't use enough weight to keep your line straight when you present your bait to the crappie, you'll get a bow in your line. Then your bait will be higher in the water than where the fish are holding. You won't catch as many fish. I'm not afraid to fish a 3/4-ounce weight or even a 1-ounce weight, if I'm fishing deep, and there's a lot of current, wind or chop on the water.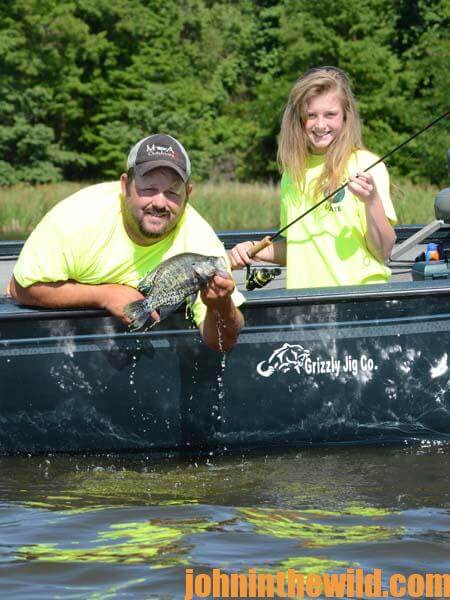 When I'm fishing deep in the summer or the winter, I like to fish with very-small minnows. The crappie I'm fishing for are big crappie, and they don't eat as much in either the summer or the winter or spend very much energy finding bait fish to eat. When I'm fishing 25-50 feet deep, I like to use as light a jig as I can – perhaps a 1/8- or a 1/4-ounce jig to get down that deep. Two other secrets will catch crappie in rivers. Remember crappie move from deep water into shallow water before the spawn and they from deep water into shallow water as the surface temperature of the water begins to cool down. The crappie move from the shallow water to the deep water as the weather becomes colder (into and out of the deep water before and after the spawn). However, not all crappie follow these same patterns at the same time.
One time on the Alabama River during a Crappie Masters' tournament, we caught pre-spawn crappie, spawning crappie and post-spawn crappie all in the same day. Crappie often will go to the bank and move away from the bank more than one time in the spring and the fall. River crappie for the most part can be caught most consistently in the deeper water, especially the big ones. Although we've talked about crappie holding on brush and structure, crappie will concentrate too anywhere there are large balls of shad. So, always look for large balls of shad. Drop your baits down in and around those shad balls, and many times you'll catch crappie.
Another thing I've discovered is that when a river is very muddy, most crappie fishermen won't go fishing, but I love to fish in muddy water. I've found that the crappie don't get spooked as easily in muddy water, and I consistently catch bigger crappie when the water's muddy. When Alicia and I fished a tournament once on Lake Logan Martin in Alabama, the river was so muddy it looked like you just about could walk across it. The river was up 12-feet from where it had been the week before. All we could see of many boathouses was their roofs out of the water. However, we caught 2-pound crappie all day long.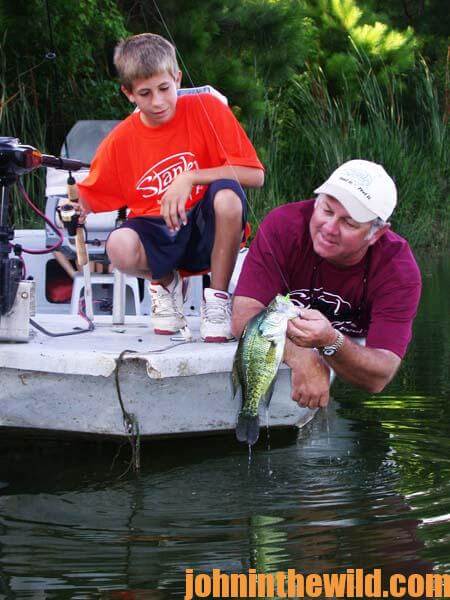 In muddy water, I prefer to fish really-bright colored jigs and bigger crappie tubes on my jigs than I do when the water's not high and muddy. I tip my jigs with minnows, because I think that a bright-colored big jig with a minnow on the end of the hook is much easier for the crappie to see and eat. So, the moral of this story is, "Don't be afraid to fish rivers when the river's high, and the water looks like a chocolate milkshake." Actually never be afraid to fish rivers under any weather condition, because there always are big crappie in rivers. I enjoy the challenge of trying to unlock the secret of finding and catching river crappie – no matter the time of year, weather conditions or river conditions. Generally I'll catch more big crappie on the days that most crappie fishermen won't go to the river to try and catch crappie.
To learn more about river crappie or to fish with Jonathan Phillips, call 334-391-9735; or write jphillips10482@yahoo.com.
John's Note: I met Steve Brown at the Bass Pro Shops' (www.basspro.com) Crappie Masters' (www.crappiemasters.net) Alabama Championship where the sponsors included: www.bobbygarlandcrappie.com; Black River Tools (www.blackrivertools.com); www.purefishing.com including Johnson Fishing and others; B'n'M Poles (www.bnmpoles.com); TTI Companies' Fishing Group (www.tticompanies.com); Hampton Inn and Suites (http://hamptoninn3.hilton.com/en/hotels/alabama/hampton-inn-and-suites-prattville-MGMCFHX/index.html); www.elmoreco.org; www.gammafishing.com; and www.prattvilleal.com.
To learn much more about crappie fishing, get John E. Phillips' Kindle eBooks and some print books, "Crappie: How to Catch Them Fall & Winter," "Crappie: How to Catch Them Spring and Summer," "Catch Cold Water Crappie Now" and "Catch Crappie All Year: Fishing a Single Pole, Using No Boat and Farming Crappie" by clicking on each, or go to www.barnesandnoble.com.
To receive and download for free "The Crappie Catchers' Cookbook," by John and Denise Phillips that offers free recipes, go to http://johninthewild.com/free-books.