Editor's Note: Dudley McGarity is the general manager of BPI Outdoors, which owns CVA Muzzleloaders, Bergara Rifles and several other outdoor brands. McGarity has taken several elk with a muzzleloader as well as a custom rifle. But like many of us, McGarity always has had a dream of hunting a different way. He's hunted in many states as well as in Africa, but his dream has been to one day hunt a bull elk on public lands with his longbow.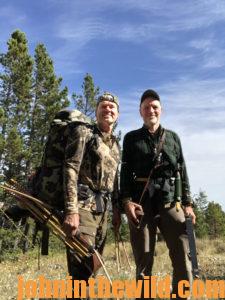 "I've always dreamed of hunting public lands without a guide and taking a bull elk with my bow," McGarity explains. "I've gone to Montana for four years and hunted whatever public land where I could draw a bull elk tag. I've been into archery hunting ever since I was 10-years old, and my dad bought me a J.C. Higgins recurve bow. Archery hunting has been a love of mine all my life, although my work has been in the gun industry. The bow that I shoot was made for me by a friend of mine and is a takedown longbow. I shoot cedar shafts and do the finish work on the shafts myself. The Trailmaker 3 fixed-blade broadhead I shoot is made by Kustom King. It's a glue-on point that you can screw right on to your cedar shaft (https://www.kustomkingarchery.com/KK-Trailmaker-Broadhad-145-gr-Screw)."
According to McGarity, in the 2019 elk season he hunted for 10 days, but most of that time was spent scouting with Matt Schuster, a traditional archery friend of his and president of PBS, the Professional Bowhunters Society (https://www.professionalbowhunters.org). "We backpacked into another location in that same area, slept in a tent, and ate freeze-dried food and power bars. We set our camp up about 4 miles, as the crow flies, to the spot where we wanted to hunt. I'd drawn this unit in the Big Snowy Mountains, south of Lewiston, Montana, five years ago. That was the first year that I decided to finally take my bucket list elk hunt. For those not familiar, a bucket list is a list of the things people make that they want to do and places they want to visit before they die. Once time and circumstance provide the opportunity to go to these places and do these things, then they can take them off their bucket lists. The goal is to be able to complete your list before you kick the bucket – die.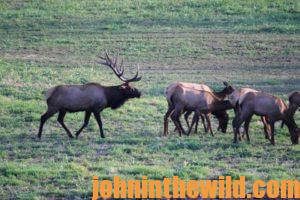 "I went on that first elk hunt five years ago without having any knowledge of where to go, and what to do, but I saw lots of elk. Although I didn't harvest an elk, because I had seen so many, I really wanted to return to that same unit. So, I put in for that unit every year, and finally in 2018, I drew a tag to go back to the spot where I had seen so many elk five years earlier. Once you've drawn this unit, often you won't draw it again for several years. That's what happened to me. I had great success five years ago hunting and finding elk there, but I never was able to close the deal and take a bull. So, for five years I waited anxiously for another chance to get back into that country."
To learn more about hunting elk, check out John E. Phillips' book, "Elk: Keys to 25 Hunters' Success," available in Kindle, print and Audible at https://amzn.to/2IDszQk.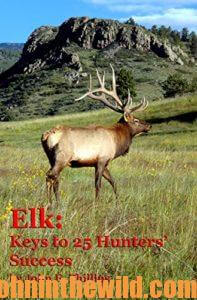 Tomorrow: Finding a Public Lands' Bull Elk to Hunt with a Longbow