Editor's Note: Dudley McGarity is the general manager of BPI Outdoors, which owns CVA Muzzleloaders, Bergara Rifles and several other outdoor brands. McGarity has taken several elk with a muzzleloader as well as a custom rifle. But like many of us, McGarity always has had a dream of hunting a different way. He's hunted in many states as well as in Africa, but his dream has been to one day hunt a bull elk on public lands with his longbow.
"The first four days of the hunt, the weather was terrible," Dudley McGarity recalls. "Finally on September 17, 2019, a cold front moved in, and apparently that cold weather had turned on this bull elk. I had heard him bugle several times from my camp, but I never could catch up to him. We left camp in the dark and got on the same mountain where I had heard the bull bugling. Matt and I didn't hear any sound of elk for the first hour.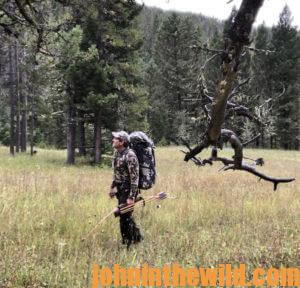 "Then at 7:45 am, this bull bugled. Matt and I decided to cut the distance we were from the bull and get close enough to try and call him. Since the bulls weren't responding very well to calling, we felt the closer we could get to the bull before we started calling, the better our chances would be to take that bull. Once we heard the bull bugle the second time, we realized we were within about 60 yards of the animal. We had predetermined that this day would be Matt's opportunity to shoot, and I would stay behind Matt and try to call the bull to him. That way the bull should pass within archery range and would be searching for the cow he'd heard calling and not be looking for Matt.
"Many times, public-land bulls won't come in all the way to a caller. So, by setting up 40-50 yards behind Matt, if the elk stopped short of the call, Matt should have a good shot to take the bull. So, that was our plan on how we would take this bull. Matt suggested that I set up 40-yards behind him and slightly uphill, because he thought this was an older bull, and that the bull might circle him and try and come up behind the caller. We set-up Matt in a place where we felt confident that he could get a shot. Then I went 40-yards back and slightly uphill from Matt.
"I called twice on my Primos Cow call (https://www.primos.com), and the bull bugled right in front of Matt. I waited a few minutes, hoping that the bull would come on in and pass by Matt. Then he could get a good shot. But after a few minutes, I decided I would call really softly. I made one, more single, soft, moo on the cow call. Much to my surprise, a second bull bugled behind me, about 30-yards uphill. The bull that we were trying to take either had circled Matt and me, or this was a second bull that we hadn't heard up until now.
"If the bulls aren't bugling much, if there are two bulls in the area, often they will be trying to get to the same cow. Having a second bull come in silent until he is so close to the cow that the cow either will come to him or the two bulls will have a fight isn't unusual. But what we believed happened was that Matt and I had set-up in between two different bulls.
"When that bull bugled behind me, I was shocked. I didn't have any cover, and I was out in the open. I was set-up right on the edge of a little meadow. Apparently the bull behind me had pushed a cow elk out of thick cover and into that little meadow where I was on its edge. I froze. I looked in the direction the cow had come from and spotted antlers coming out of the thick brush. I knew the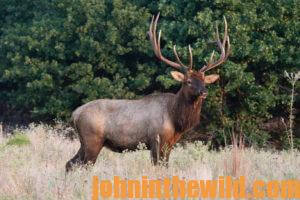 elk couldn't see me. I got over behind some pine limbs to break-up my silhouette. The bull now was about 20 yards from me, looking straight at me. I couldn't move or breathe. That facedown seemed like it lasted for an eternity. However, once I saw the antlers turn sideways, I knew the bull was looking at the cow and not at me. I drew my bow.
"After the bull elk saw the cow, he took two or three steps out of the brush and gave me a perfect broadside shot at 22 yards. My arrow went right behind his shoulder and all the way into the bull and stuck in the off-shoulder side of the bull. Immediately the bull and the cow ran back up the hill and went out of sight. However, as soon as I saw the arrow go into the bull, I started cow calling immediately in hopes of stopping him, so I might get another shot. When Matt heard me doing that loud cow calling right after the shot, he knew I must either have shot the bull or missed him. Matt came to me, and we began to strategize as to what we should do next. We decided that the best plan of action was to wait 30 minutes before we started the stalk to try and recover my bull."
To learn more about hunting elk, check out John E. Phillips' book, "How to Find Your Elk and Get Him in Close," available in Kindle, print and Audible versions at http://amzn.to/17ENNqK.
Tomorrow: Tracking and Trailing a Longbow Hit Public Lands' Bull Elk