Editor's Note: Financial advisor Trey Dorman of Birmingham, Alabama, has hunted turkeys since he was 12-years old and guided for 24 years at the Lakes of Leavellwood in West Greene, Alabama (https://leavellwood.com/ – 205-372-2323). Leavellwood offers outstanding turkey hunting, trophy deer hunting and trophy bass fishing.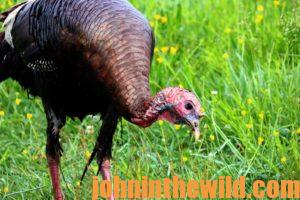 When I was in school at Troy University in Alabama, a friend of mine had a farm right outside of town. He let me hunt that farm for three years while I was in school, beginning in 1998. I called in two turkeys, and the mosquitos were so bad that they were eating my hands up. I couldn't hold my shot any longer because the mosquitos were driving me nuts, so I took a shot at a turkey that was too far away. But after I shot him, I rolled him over, and the turkey got back on his feet and flew away.
About a week later, I hunted that farm again, and I spotted the turkey I'd shot and rolled. The reason I knew this was the same turkey was because he had three feathers that stood straight-up. For the next three years, I hunted that same turkey, and those same three feathers always stood straight-up on his wings. Every time I hunted him, all I had to do was make a turkey sound, and that turkey would gobble. He was staying in 400 acres, and about 300 of those acres were a hay field. I could see him every time I went to this farm. His head was always red from daylight to dark, so we started calling him Fire Truck. Everybody I knew at Troy would share stories about hunting Fire Truck, and they'd always ask me if I was still hunting Fire Truck.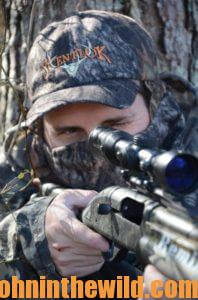 After hunting him for three years, I decided that on the last day of turkey season, I'd try one more time to take Fire Truck. I went to the hayfield where I'd always seen him, and he wasn't in the hayfield. The farmer had apparently cut and rolled the hay into big, round bales, and he had lined the fence row with those bales. There were two rows of hay bales along the edges of the field. I thought that if I could walk between those hay bales, go about 200 yards into the middle of the field and get between two hay bales, then the turkey wouldn't be able to see me. I'd have a chance to take Fire Truck.
When I arrived in the middle of the field, I moved into position to see the entire field. I spotted Fire Truck coming straight to me at about 50 yards. I hadn't called to him at all, so I eased back down, got my gun on my knee and said to myself, "I can't believe that after three years of hunting this crazy bird, I'm going to have a chance to take him like this." Five minutes after that thought went through my head, Fire Truck was standing 30 yards in front of me, right at the end of my gun barrel, and I squeezed the trigger.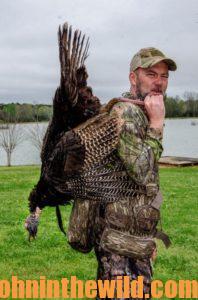 What I Learned from Hunting Fire Truck:
* You need to be where a turkey wants to be. Then you don't need to call, and you'll have a successful hunt.
* Turkeys are smarter than we are. If that statement wasn't true, you'd take one every time you hunted them.
* A turkey that gobbles every time you call to him is very helpful.
* You need to make sure a tom is absolutely, stone-cold dead, before you grab a turkey's leg to pick him up.
The Rest of the Story:
I was so excited after I shot Fire Truck because I knew he was at least four years old, and I was anxious to see how long his spurs were. When I reached down to grab his legs while he was still flopping, Fire Truck's needle-sharp spur spurred me in the little web of skin between my index finger and my thumb. Two days later, I had to go to the hospital because my hand had started to turn green. So, Fire Truck almost got the last laugh on me. He's a gobbler I'll never forget.
To learn more about turkey hunting, check out John E. Phillips's book, "The Turkey Hunting Guides' Bible," at
https://www.amazon.com/gp/product/B01ITWYY2K/ref=dbs_a_def_rwt_hsch_vapi_taft_p2_i11and available in Kindle, print and Audible versions. You may have to cut and paste this link into your browser. (When you click on this book, notice on the left where Amazon says you can read 10% of the books for free and hear 10% for free). To learn more about other turkey books by John E. Phillips, go to www.amazon.com/author/johnephillips.
Tomorrow: You Still Can Take Turkeys on Windy Days with Trey Dorman
EXPLORE MORE: you'll love these stories from John too