Editor's Note: As a passionate and focused deer hunter, when I hunt a buck, I concentrate on trying to locate a buck or find a place to take a shot at one. I listen for squirrels barking, which often signals that a buck's approaching, twigs breaking or a buck's grunting. I look at everything that moves to spot the inside white of a deer's ear as it twitches, the black circle of a deer's eye or possibly a deer's leg sticking out from behind a tree. Often I've focused so intently on finding and taking a buck that I've lost my way back to my vehicle, failed to recognize weather changes, made serious errors in judgment and placed myself in harm's way. If any of these problems sound familiar, then you'll understand why I've developed a system of deer hunting I call Positive Negativism, where I plan ahead for the mistakes I know I'll make. Then I know for sure I'll have the equipment I need when I do something stupid afield. Besides always wearing a Hunter Safety System tree stand harness (http://www.huntersafetysystem.com/), here are some items on my list of what I consider essential deer-hunting equipment.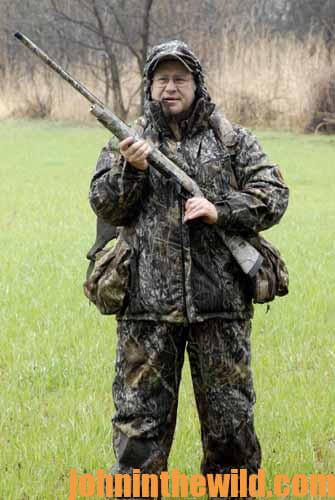 1) A hand-held global positioning system (GPS) receiver – When you're following a deer trail to a feeding or a bedding area, a creek crossing, scrapes and/or rubs or through travel corridors, you can become so intent on the trail and what you're learning about the deer that you fail to remember landmarks and how to return to your vehicle. I've often found myself 2-3-miles away from my car with no idea of how to return to it, until I started using a GPS. Also, sometimes when you take note of landmarks and directions, a rainstorm or a snowstorm may blow in, which will make seeing your landmarks difficult. For those reasons, I carry a GPS with me whenever I hunt to mark the location of my vehicle as a waypoint before I start. Then my GPS will show me the way to my vehicle. I also use my GPS to mark where I find deer sign and possible stand sites; show me how to travel to my stand site before daylight and back to my vehicle after dark; give me a way to get into and out of thick cover; and show me how to move from one stand site to another, if the wind changes or another hunter walks into my area and disrupts my hunt.
2) A compass – Although I carry extra batteries for my GPS that has a built-in compass, I still like the confident feeling of knowing that regardless of what happens, as long as I know from which direction I've walked into the woods and which direction the road runs, I can rely on my compass to get me out of the woods.
3) Flashlights – I carry a minimum of two and sometimes as many as three flashlights with me. When I hunt deer I've always got two Surefire flashlights (http://www.surefire.com/) because they're waterproof, produce bright lights and can run in two different modes – battery-saving or full-power. I also always carry extra batteries for these flashlights because if one of the flashlights goes out, I'll need the second flashlight to find the batteries for the first flashlight. Also, when I'm hunting in the woods after dark with a buddy, a guide or a family member, no one ever seems to have a flashlight, and I'll need an extra one for them.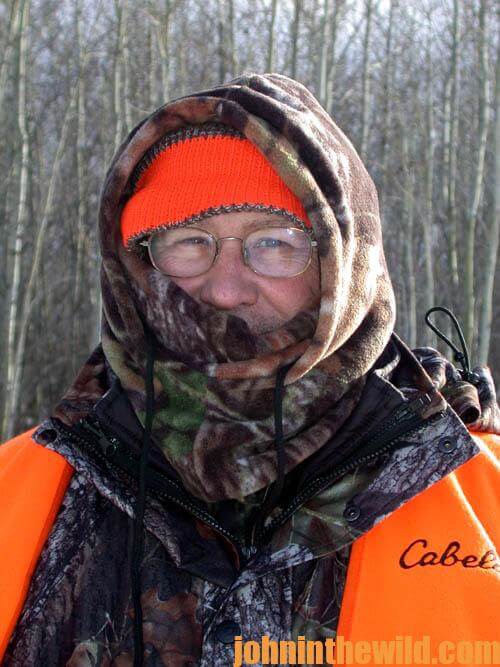 4) Lightweight rain suit – I like a lightweight and compactable rain suit that I can put in a daypack to act as a wind-blocker and keep me dry, even in the worst rainstorm. If I have to pick only one piece of hunting apparel to have with me on every hunt, I'll choose this rain suit, regardless of where, what or when I'm hunting.
5) Head and Neck Gaiter – You can fold a fuzzy hood under to provide a double layer of fleece around your neck, as well as a soft-fleece head covering. Even though my rain suit and my Gore-Tex https://www.gore-tex.com/) jacket both have hoods, adding that extra layer of fleece warmth and comfort can keep me from getting really cold when a cold front moves in unexpectedly. I'll also put a Hot Hands Hand Warmer in the back fold of the gaiter when I find myself in sub-zero weather and need to keep my head as warm as possible.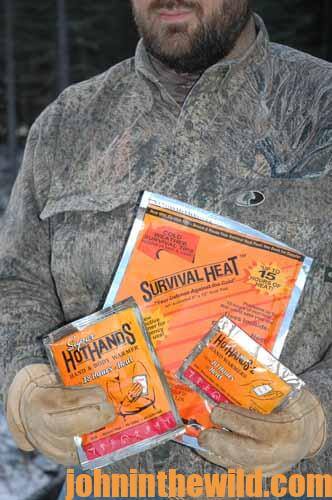 6) Hot Hands Hand and Body Warmers – These chemical hand and body warmers (https://hothands.com/) have kept me from freezing to death on more than one deer-hunting trip. Lightweight and compact, they produce a tremendous amount of heat when I put them between layers of clothing to trap the most heat possible. Being from the South, I seem to get colder quicker than northern deer hunters do. Since staying alert, concentrating and seeing and taking a deer coincide with my comfort, these hand warmers ensure that I won't shake too much from the cold.
7) Camo Paint – Even though I often wear a headnet and gloves when I hunt deer, I've had occasions where I've felt a deer can see through the eyeholes in my camo netting, a portion of my hand or other exposed skin. Having that camo paint gives me the ability to camouflage any area of my body quickly. A Hunter's Specialties' Camo Compact will solve this problem.
To learn more about hunting deer with John E. Phillips' Amazon Kindle eBooks, print books and Audible books (latest Audible is "How to Hunt Deer Like a Pro") and Nook books, click here at  http://johninthewild.com/books/#deer.
Tomorrow: What Other Items You Need to Successfully Hunt Deer
EXPLORE MORE: you'll love these stories from John too