Editor's Note: The Rokon motorcycle (www.rokon.com) can go where no other vehicle dares through sifting sand, water more than waist high, gumbo mud, high rocky terrain and woods with no paths, trails or firebreaks. This all-wheel drive, all-terrain, go-anywhere, do-anything motorcycle with its 3-year warranty can provide hours and days of fun for riders who trick their Rokons out in limitless ways. Handbuilt to exact standards, the Rokon uses a combination of a belt, chains and shaft drives coupled to gear boxes to drive both the front and rear wheels and features its patent on front suspension in all-wheel drive vehicles for enhanced comfort.
Rokon owners are wildly enthusiastic about their rides and gather twice a year for several days to enjoy Rokons and the various ways they've tricked them out at the annual April and October get togethers in the Ocala National Forest with its 156 miles of motorbike trails. Rokon owners too appreciate the fact that they can get parts for their bikes anywhere in the U.S.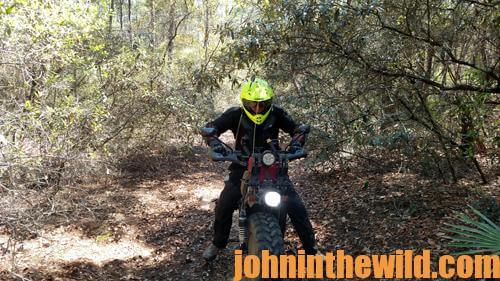 Eric Harting of Florida, originally bought a 2014 Rokon Ranger, with a 4-stroke engine. "I decided I wanted to buy a second Rokon with a 2-stroke engine. My friend Ernie Audino had three Rokons and sold me his completely rebuilt 2-stroke Rokon. "I was familiar with a 2-stroke engine and wanted to enjoy that same explosive response, since I once rode motocross bikes. The power band on this engine was less peaky than a motocross bike's 2-stroke engine and was much smaller and lighter than a 4-stroke. The 2-stroke engine Rokon had a wheel base about 2-3 inches shorter than the wheel base on a 4-stroke Rokon, making the 2-stroke very nimble. But I missed the torque of the 4-stroke engine, which was where the Rokon was king. Riding a 4-stroke Rokon is easier in deep sand."
Geoff Richardson, who travels the world for Rokon, mentions that the 2017 Rokons with four models also will handle more accessories than the older Rokons. King Abdullah of Jordan owns a Rokon, and the Jordanian army has 300. Other people who love their Rokons include James Cameron, the producer of the movie, "Titanic," and actors Goldie Hawn and James Earl Jones.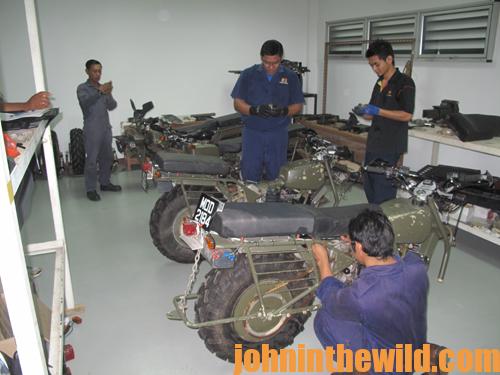 "Rokon motorcycle riding groups are very active in Japan and Chile," Tom Blais, the president of Rokon, reports. "I've ridden into the Chilean Andes Mountains with this group of folks, who have told stories about riding their Rokons to the tops of mountains where they've met meet border guards on horses, who have asked, 'How did you guys get up here?' Today, the American-made Rokon motorcycle – 30,000 to 40,000 total – are being used in more than 50 different countries for a wide variety of applications, from special ops to plowing small gardens to skidding logs to fighting wildfires and being ridden by missionaries. Hunters, farmers and ranchers are also driving Rokons to remote areas to check on livestock or to carry out a hunter's meat and trophy."
If you're looking for a wild but consistent ride that can be configured as street legal, travel 35-40 mph, go far on a small amount of gas, cross water barriers that many ATVs can't, climb mountains other vehicles can't, move deep into the wilderness away from the asphalt jungle and take all your gear with you, whether you're hunting, fishing, camping or fighting forest fires, the Rokon is the wheels for you.
https://www.youtube.com/user/Rokon2x2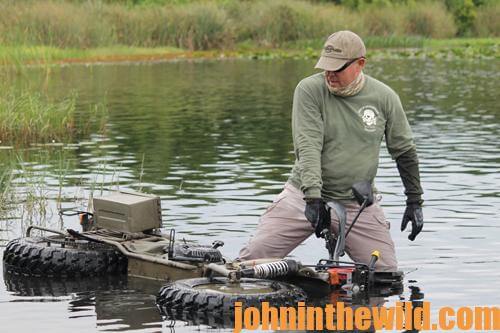 Free Rokon Test Drives:
By visiting www.rokon.com, you can learn of new adaptations, sign up for a newsletter and find a list of dealers you can contact to take a free test drive. Go to Facebook at https://www.facebook.com/groups/145824455583343/?fref=nf to learn more about new ways to trick out a Rokon ride.
To learn more about a wide variety of outdoor subjects, in Kindle eBooks and print and Audible books including hunting, fishing and cooking, go to www.amazon.com/author/johnephillips.
Tomorrow: The Rokon Motorcycle Can be Rigged for Fighting Wildfires
EXPLORE MORE: you'll love these stories from John too