Editor's Note: Many years ago, I met a man named John Demp Grace, when I was turkey hunting at Bent Creek Lodge www.bentcreeklodge.com in Jachin, Alabama. Grace had built a turkey blind, and he was the first person I ever had met at that time who was taking turkeys with a bow. The evolution of that hunting blind and the skills required to harvest wild turkeys with a bow were passed down to his son, Steve Grace, who's obsessed with taking turkeys with a bow and arrow. Fifty-year-old Steve Grace from Pennington, Alabama, has been turkey hunting for 35 years and has taken 250 wild turkeys with his bow – mainly on public lands.
I like to get to public land a day or two before the season opens. If there's little wind, I'll climb to a high point and listen for turkeys to gobble right at daylight. As soon as I feel like I've heard all the turkeys gobble that I can hear from that point, I'll use my compass or GPS and a topomap of the spot where I'm standing. Next I'll draw a straight line in the direction from where I've heard the turkeys gobbling. Then I'll move to another high point that's close to where I've heard the turkeys gobble and listen again. From that point, I'll draw a line to where I hear the turkeys gobble. The point where each line intersects on my map is where I know the turkeys are. When most people hear a turkey gobble, they'll immediately go straight to that turkey, even if they don't know exactly from where that turkey is gobbling. But by hearing turkeys from two different directions and drawing intersecting lines, I can better pinpoint a gobbler, know exactly where he is and understand the type of terrain I'll have to cross to get to him. I may want to go to him from the backside of where he's gobbling. I can look at the woods roads to determine how to get to that gobbler from a different direction than most people probably will go to the turkey.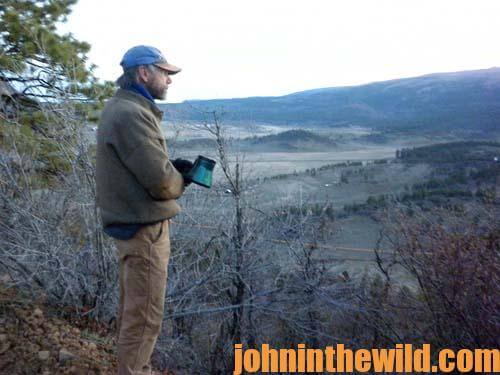 As soon as I pinpoint where those gobblers are, I move to another high point well away from where I've located those turkeys, start listening and use the same triangulation formula that I've used to pinpoint that first group of gobblers I've found. In one morning before, I've found and pinpointed 20-different gobblers that I can hunt on opening morning of the season. Once I have my turkeys marked, many times if the turkeys aren't gobbling on opening morning, or if other hunters have spooked the turkeys on opening morning, and they've shut up, I'll go set-up on one of those places where I've heard turkeys gobbling. Then I'll cold-call (sit down, set-up and call in an area where I haven't heard any turkeys gobbling). Once I set-up and cold-call, I look at my watch to see the time I first start. If I don't hear a turkey gobble, hear one drum or see a gobbler, I'll leave in 20 or 30 minutes and go about 1/4-mile or more to another place where I've marked a spot that I've heard a turkey gobble before the season's opened.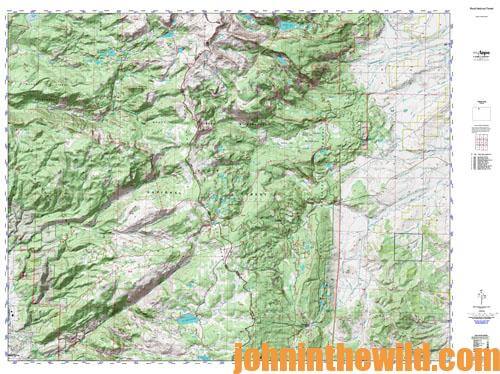 You can use maps that you can download into your phone; however, I prefer to use a paper map or a waterproof topomap. With this scouting system and pinpointing two different directions where I've heard a turkey gobble, I know about where every gobbler is that I want to hunt. Using this system, even if turkeys aren't gobbling, I often can call them in and be able to take them.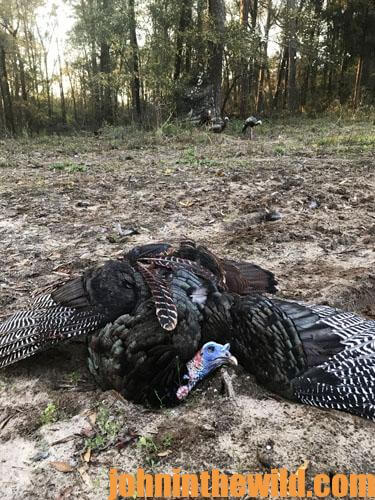 The place that you set-up may be a little bit off from where you've heard the turkey gobble, but you won't be too far for the turkey to hear you when you start calling. Years ago when I was gun hunting for turkeys, if I heard a turkey gobble, I'd go straight to him. But two things can go wrong when you walk straight to a turkey once you've heard him gobble in the morning. If you:
* go too far, you'll spook that turkey; and
* don't go far enough, you probably won't be able to call the tom up.
If you go straight to a turkey that you hear gobble in the morning, you don't really have any way to judge the distance you are from the turkey other than the volume of his gobbling. Many times the turkey will gobble straight to you when you first hear him gobble, and then turn around on the limb and gobble away from you. This means you don't really know whether the turkey is closer to you or farther away from you. So, instead of walking straight to the turkey, I'll either go to the left or the right from where I've heard the gobbling. If I've misjudged the turkey, I'll be on the side of him, rather than spooking him by walking straight to him. The angle you're moving to the turkey can help you judge the distance you are from the gobbler much better than if you're walking straight to him.
To learn more about turkey hunting, check out John E. Phillips's books, "The 10 Sins of Turkey Hunting with Preston Pittman," available in Kindle at http://amzn.to/14BdFMY, and "How to Hunt Turkeys with World Champion Preston Pittman," available in Kindle and print at http://amzn.to/144Irn5 and from Audible at https://www.audible.com/pd/B01N39E8NT/?source_code=AUDFPWS0223189MWT-BK-ACX0-079067.
Tomorrow: What Equipment Steve Grace Prefers for Public-Land Turkey Hunting