John's Note: Jeff Lindsey of southern Iowa has been a bowhunter for 20 years and shots PSE bows (http://pse-archery.com/). Jeff and his dad, David Lindsey, hunt and film for Drury Outdoors (https://www.druryoutdoors.com/). You can use Jeff's tactics no matter what your weapon is.
The farther north you hunt in the U.S., the colder the weather will be in the late season. So, if you are going to hunt bucks, you have to prepare your stand, your body, your clothing and your mental attitude. When I am hunting in extremely-cold weather, I eat a lot of carbohydrates, just like I will if I'm planning to run a marathon. You burn a lot of energy, and you really get tired sitting in cold weather. You also need to plan to hunt from a ground blind or a box blind, since you need some type of protection to stop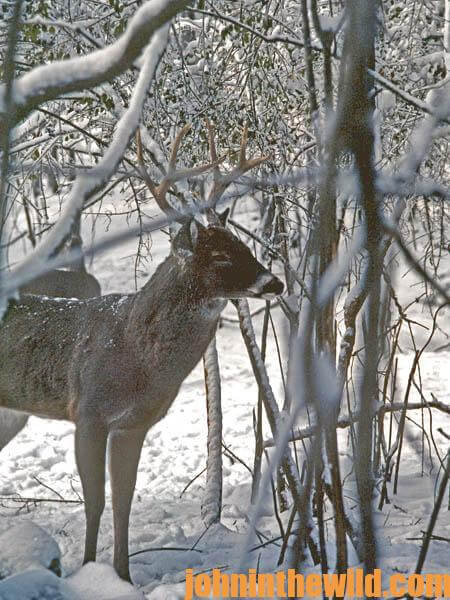 the wind and to make your stand site more comfortable. If you know that the wind is blowing your human odor away from the direction you expect to see the buck, you can use a heater to help keep your warm. About once an hour, I draw my bow to stay loose and know that I can draw my bow comfortably, even though the weather may be really, really cold. I also check to make sure my arrow will clear the opening in the blind. I like to get as close to the window as I can without the deer seeing me and sitting there when I am going to take the shot. But when I'm looking for deer, I like to sit at the back side of the blind with the window shut. When I spot the buck I want to take, I move closer to the window, and I want my broadhead to be about a foot from the window. This way I know when I release the arrow, the shaft won't come in contact with the window.
I'm from Iowa. So, I'm accustomed to cold weather. But one of the coldest late-season bowhunts that I went on was at Tara Wildlife (http://www.tarawildlife.com/) in Mississippi one year. Although Mississippi didn't get much snow on this particular day, we had rain and a cold wind. We were set-up on a trail between two food plots. My dad had shot a buck that morning. This was our last day in camp, and my dad was filming me. We were set-up on an old scrape line between two fields. This hunt was also memorable not because it was so cold, but this was the first hunt when my dad ever had filmed me. We saw this buck coming in from our left. He stopped 17-yards from our tree stand, stood broadside and sniffed around an old scrape. When my pin sight settled behind this buck's front shoulder, I released the arrow. The buck only went about 75 yards and went down. He was an 8 pointer that scored 130 on Pope & Young.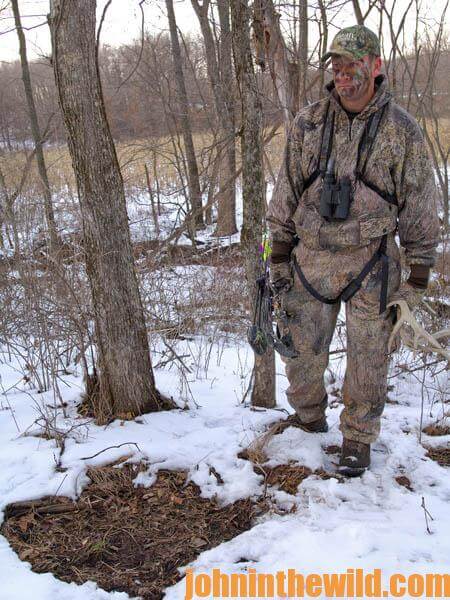 One of the things to remember, if you are hunting in the late season and wearing a rain suit, you'll need an arm guard or some other type of compression device to keep your sleeve pushed down against your arm. Then, your bow string won't hit it when you release. I use a compression sock anytime I'm hunting in cold or rainy weather. One of the biggest secrets to taking late-season bucks is to practice shooting in the clothes that you'll wear hunting. Most of us begin our practice in the summer months and early fall. We build-up a lot of confidence in our shooting ability, but when the weather starts to get cold, and we wear more bulky clothing, often, we forget to practice in that bulkier clothing. Not practicing with warm clothing may cause you to miss.
I enjoy hunting late-season bucks with my bow in extremely-cold weather. I know that's when the mature bucks will be moving. I like to use my Reconyx Trail Cameras (http://www.trailcampro.com) to give me the best chance for finding a buck that I want to take. Then, when I go to the blind to hunt, I want to try to stay as comfortable as possible. So, if that mature buck does step out, I'll know I can take the shot.
You'll learn more-intensive deer-hunting information and tips from hunters in John E. Phillips' Kindle, CreateSpace and Audible books. Go to http://johninthewild.com/books/#deer to purchase and download to your Kindle, and/or download a Kindle app for your iPad, SmartPhone or computer. You also can go to Nook Books at www.barnesandnoble.com to buy.
EXPLORE MORE: you'll love these stories from John too