Editor's Note: One of the hottest new guns in the world of turkey hunting in the last few years has been the .410 shotgun. Many gun manufacturers have tooled-up to make these new turkey shotguns because the demand has been so high from consumers to purchase these guns. Although, the little, lightweight shotgun never has been intended to be a shotgun for hunting turkeys, but primarily used in the past to shoot clay targets, upland birds and squirrels, many of its features have been modified for hunting turkeys. This little gun has had a lot of publicity and promotion in the past few years and has changed the way many turkey hunters are now harvesting turkeys.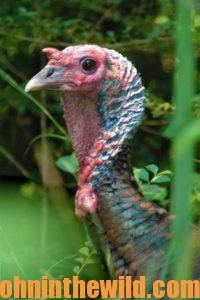 In early March of 2021, I went to a new shooting range, the Combat Marksmanship Park in Talladega, Alabama, (https://thecmp.org/ranges/talladega-marksmanship-park/ – 256-474-4408) to a Shooting Sports Showcase where many companies in the shooting industry were demonstrating their new products. I was extremely interested in seeing and learning about the new Connecticut Valley Arms CVA Scout .410 shotgun (https://cva.com/product/scout-410-shotgun-compact-blued-black/).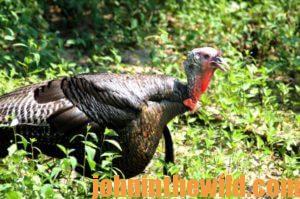 According to Tony Smotherman, spokesman for CVA and Bergara, "The new .410 shotgun shells like TSS drastically have improved the effective range of the .410 shotgun for taking turkeys. By adding a custom choke that's designed to shoot TSS shot to the end of the barrel of the Scout .410, you can increase the effective killing range of the .410 and produce a denser pattern. The new CVA .410 Scout Brake Action single-shot shotgun comes with a choke already screwed into the barrel. Most turkey hunters usually buy some type of choke to screw into the barrel of a .410, however, not all chokes will produce the pattern down-range that the .410 turkey hunter hopes to get. For this reason, CVA has worked hand-in- hand with the folks at JEBS Choke Tubes (https://www.jebschokes.com/turkey-choke-tubes/) to develop a product just for the CVA Scout .410 shotgun."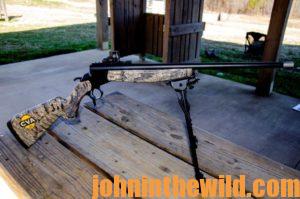 I got to see just how effective the new CVA Scout could be with the JEBS Choke Tube. Along with this feature, CVA also has included a Picatinny rail that fits on top of the barrel, so that the hunter can use any type of turkey scope that he may want to mount on his .410.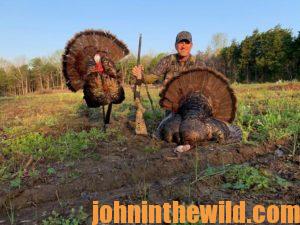 In the 2020 turkey season, Smotherman hunted all over the nation with the CVA Scout .410 and took eight turkeys. The farthest distance he harvested a gobbler was at 44 yards. "I know that imagining taking a turkey with a .410 over 30 yards is hard, but the barrel on the CVA Scout along with shooting the tungsten super steel shotshells (TSS) makes a big difference," Smotherman reports. "At 30–40 yards, the combination of the barrel, the No. 9 or the No. 9-1/2 shot and the JEBS Choke Tube will produce a very-dense pattern of about 18–20 inches. If you shoot a turkey-head target with this same combination, you'll be impressed with the number of shots that land in the turkey-head and neck kill zone. One of the biggest advantages of using the TSS is that you can shoot a smaller-size shot and get a tremendous number of pellets in a turkey's head and neck, while still having the same knock-down power as if you were shooting No. 4 shot out of a 12-gauge shotgun."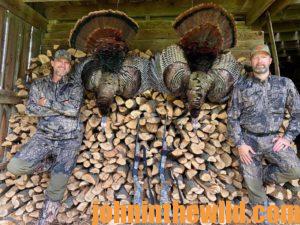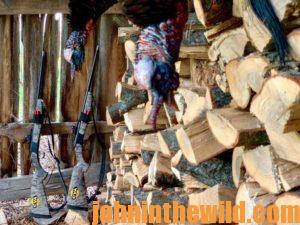 Like many of us, Smotherman first thought that shooting a .410 shotgun was a fad. In the beginning, that might be why few ammunition companies and even fewer gun factories built .410 shotguns for the turkey-hunting market. However, Smotherman explains that, "Currently, the .410 CVA Scout is being snatched-up by turkey hunters faster than we can put them on the dealers' shelves. It's not a secret that demand for these little shotguns that pack a powerful punch seems to be consistently increasing. Another advantage that the new CVA Scout .410 offers is an adjustable trigger pull that allows youngsters as well as adults to shoot this gun comfortably and accurately. Since this gun is so light and maneuverable, we're seeing many hunters lay-down their 12 gauge shotguns and pick-up the .410s to hunt turkeys. For more information on the CVA Scout .410 turkey shotgun, go to https://cva.com/product/scout-410-shotgun-compact-blued-black/."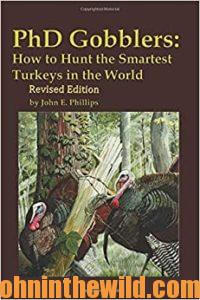 To learn more about turkey hunting, check out John E. Phillips's latest Audible book, "PhD Gobblers: How to Hunt the Smartest Turkeys in the World, Revised Edition" at https://www.amazon.com/PhD-Gobblers-Smartest-Turkeys-World-ebook/dp/B083V83RLG, and available in Kindle, print and Audible. You may have to cut and paste this link into your browser. (When you click on this book, notice on the left where Amazon says you can read 10% of this book for free and hear 10% for free). To learn about other turkey books by John E. Phillips, go to www.amazon.com/author/johnephillips.
Tomorrow: Longtime, Avid Turkey Hunter Rick Taylor Shares His .410 Turkey Gun Experiences