Editor's Note: One of the hottest new guns in the world of turkey hunting in the last few years has been the .410 shotgun. Many gun manufacturers have tooled-up to make these new turkey shotguns because the demand has been so high from consumers to purchase these guns. Although, the little, lightweight shotgun never has been intended to be a shotgun for hunting turkeys, but primarily used in the past to shoot clay targets, upland birds and squirrels, many of its features have been modified for hunting turkeys. This little gun has had a lot of publicity and promotion in the past few years and has changed the way that many turkey hunters are now harvesting turkeys. This week we'll look at using the .410 to hunt turkeys.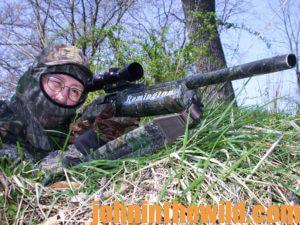 *How I Learned That a Lightweight Low-Recoil Shotgun Like the .410 Could Have a Future in the Turkey-Hunting World: Like many older hunters I began hunting turkeys with a 2-3/4 inch 12-gauge shotgun shooting No. 4, 5, and 6 shot. Next, I hunted with a 3-inch Magnum although the gun was heavier and had more recoil than my 2-3/4 inch. I hunted in Missouri with Mark Drury when we had a gobbler coming in at 50 yards. Mark told me to "Shoot." I whispered to Mark that I wasn't sure my 3-inch Magnum could kill that turkey at 50 yards. Mark said, "Take my gun, and shoot the gobbler." I refused twice. Finally, he took my gun, handed me his and instructed me to, "Aim about an inch above that gobbler's head." I couldn't believe those instructions, but I aimed as Drury told me I should. When I squeezed the trigger on Mark's shotgun, I felt like all the fillings in my teeth had come loose. "Lord goodness, what in the world kind of shotgun is that?" I asked. Mark laughed and said it was a 3-1/2 inch Magnum. Sure enough, the gobbler was dead, but my shoulder was discolored that night with shades of blue and yellow, after I'd shot that young cannon.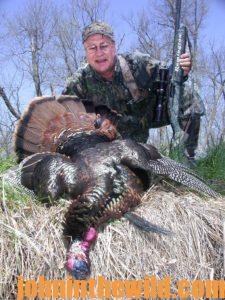 Several years before the little .410 turkey gun jumped into prominence, and I was still hunting with a 3-1.2 inch Magnum I was invited to go on an Osceola turkey hunt in south Florida to hunt with the new Thompson/Center 20-gauge single-shot turkey gun (https://www.tcarms.com/firearms/). I'd used my dads' 20-gauge double-barrel shotgun to take quail. But at that time I'd never considered hunting turkeys with a 20 gauge gun. However, when we arrived in Florida and patterned these new Thompson/Center 20-gauge single shots with a Hunters Specialties' Undertaker choke (https://www.hsstrut.com/product/undertaker-turkey-choke-tubes/), that's when I got my first education on how effective small-gauge shotguns could be for harvesting turkeys with improved shotshells and chokes designed for taking turkeys. These Undertaker chokes were full, and when I went to the pattern board at that time to shoot new No. 5 Winchester shells (https://winchester.com/Products/Ammunition/Shotshell)that had been developed for these 20-gauge shotguns, I was thoroughly impressed. After shooting turkey-head targets at 30-40 yards, I couldn't believe the patterns I got – even shooting up to 50 yards. My 12-gauge 3-inch Magnum wouldn't produce a pattern that good as the 20 gauge did at 50 yards.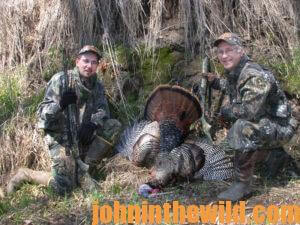 The next morning, we went out hunting with our guides. My guide called in a longbeard that was walking down the edge of a pasture straight for us. But then for some reason, the gobbler decided to turn and instead head for some tall grass. I had my shotgun on my knee and was aiming through the gun's open rifle sight. Since I knew how the gun patterned, I squeezed the trigger on the 20 gauge just before the gobbler reached the tall grass. The first thing I noticed was that the gobbler went straight down and didn't even twitch. When we stepped-off the yardage, I'd made the shot at 52 yards. Normally I wouldn't take a shot at that distance, but because I knew how the gun patterned, I didn't hesitate. The next year, I took the same 20 gauge and harvested two Rio Grande turkeys in Texas and one eastern gobbler in Alabama.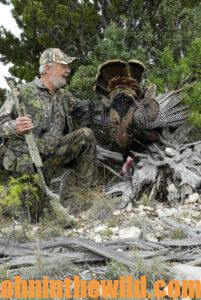 But not until 2021 did I have an opportunity to shoot a CVA Scout .410 shotgun at a turkey-head target and realized how effective a .410 could be for taking turkeys.
*What I Learned Next about the .410 from Another Trusted Friend: In my quest to learn more about the .410, I talked to my hunting buddy and mentor J. Wayne Fears, who had done extensive research on the .410 for hunting turkeys. He told me, "I wanted to know if the .410 really was a spring gobbler shotgun with the new loads and chokes. I also wanted to know whether the .410 would be a 40-yard turkey gun or not. I tried to answer these questions based on range testing."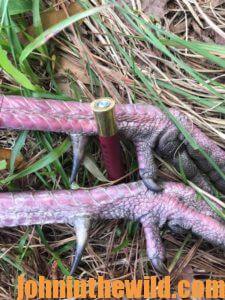 Fears took some premium heavy weight TSS No. 9 ammo to his range to shoot at 40 yards and three of the new .410 shotguns designed for turkey hunting. "The TSS is an alloy companies primarily make of tungsten," Fears explains. "It has the density of 18 grams per cubic centimeter, is 56% denser than lead and is the hardness of steel. This increased density retains velocity, and its hardness prevents pellet deformation, which results in down-range pattern deficiency and penetration. Due to the density, smaller TSS pellets can deliver the same amount of energy of a much-larger pellet and increase the number of pellets in a load, resulting in more hits on targets down-range." Fears reports that a 13- and a 16-ounce load of No. 9 TSS has about 278 pellets. "When engineers tested the loads at the Federal premium factory (https://www.federalpremium.com/news/custom-shop-turkey-loads-in-season.html) using a shotgun with a 24.5-inch barrel and a fixed full choke, they averaged 125-150 pellets in a 10-inch circle at 40 yards. These numbers even rivaled the number produced by some 12-gauge turkey shotguns, using No. 4 and No. 5 lead loads."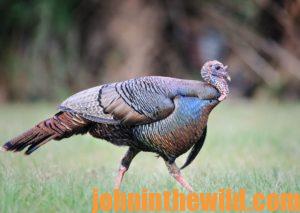 Fears' penetration test results also showed more than 3 inches of penetration in ballistic gel and deep density, with a few pellets even bursting completely through a thin sheet of steel at 40 yards. All these tests were done from a stable shooting bench using a Caldwell Lead Sled 3 rifle shooting rest. Fears also tested three .410 shotguns that had been developed for shooting this TSS shot and found that the TSS .410 shotgun shells shooting No. 9 shot produced different patterns when shot from different guns.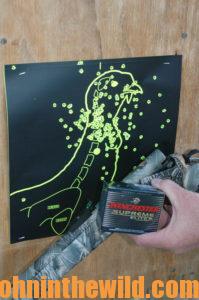 Another factor that determines the pattern that turkey hunters can expect to get from a .410 is the sighting system used. According to Fears, "Keep in mind that each shotgun has its own personality, and that can change with various chokes, tubes and loads. Time spent on a pattern board range makes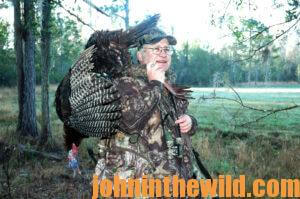 for the most-accurate shooting." Shooting a .410 shotgun with reliable sighting that's adjusted for the densest part of the pattern, the gun can shoot consistently at 40 yards. Also, shooting from a steady rest helps improve the pattern, so you may want to consider carrying shooting sticks with you if you want to take shots over 30 yards. While 40-yard shots may be possible under the best conditions, shooters using a .410 shotgun still should consider it a 30-yard shotgun and also think about the challenge of calling a gobbler into that range."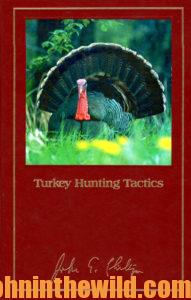 To learn more about turkey hunting, check out John E. Phillips's book, "Turkey Hunting Tactics," at https://www.amazon.com/gp/product/B007PK9B2G/ref=dbs_a_def_rwt_hsch_vapi_taft_p2_i9
that's available in Kindle, print and Audible versions. You may have to cut and paste this link into your browser. (When you click on this book, notice on the left where Amazon says you can read 10% of this book for free and hear 10% for free). To learn more about other turkey books by John E. Phillips, go to www.amazon.com/author/johnephillips.
Tomorrow: The CVA Scout – One of the Newest .410 Turkey Shotguns