Editor's Note: One of the hottest new guns in the world of turkey hunting in the last few years has been the .410 shotgun. Many gun manufacturers have tooled-up to make these new turkey shotguns because the demand has been so high from consumers to purchase these guns. Although, the little, lightweight shotgun never has been intended to be a shotgun for hunting turkeys, but primarily used in the past to shoot clay targets, upland birds and squirrels, many of its features have been modified for hunting turkeys. This little gun has had a lot of publicity and promotion in the past few years and has changed the way that many turkey hunters are now harvesting turkeys. This week we'll look at using the .410 to hunt turkeys.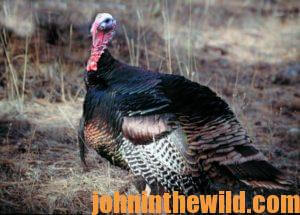 Several years ago I learned that my longtime friend Barry Smith of Pike Road, Alabama, had spent an entire season and travelled all over the nation harvesting turkeys with his .410 shotgun. I wanted to know why. Here's what Smith told me. "After spending a season hunting turkeys exclusively with a .410, I've learned that this particular shotgun makes turkey hunting much-more challenging – even more so than shooting a 3- or a 3-1/2 inch Magnum 12 gauge that enabled me to harvest a turkey gobbler out to 50 yards or more with the improved turkey shells. The .410 allows me to step back into the past when I've hunted turkeys with a modified choke and shot 2-3/4 inch 12-gauge shotgun shells with either No. 4, No. 5 or No. 6 shot. Back then I knew I had to call a tom turkey within 30–35 yards to harvest him.
Like many turkey hunters who had hunted turkeys for a long time, I was fortunate to take lots of turkey gobblers back then when I used a modified choke and before the days of the screw-in chokes. I remember the joy I felt when I called a turkey in to a 30–35-yard range before I took the shot. Although I have taken turkeys out to 35 yards with my .410, I really prefer to take them at 30 yards or less with this gun. I guess I'm just old school. I like to know I've fooled a turkey when I've called him within 30 yards and haven't been so bent on killing the turkey that I've had to use a larger-gauge shotgun.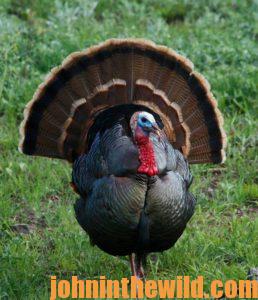 The .410 is a very-light gun and has little to no recoil. I can carry the .410 all day without becoming fatigued. I think that many of us now older-age turkey hunters may not be as strong as we once were when we carried heavier shotguns. These small, lighter guns will enable me and other veteran hunters to hunt turkeys longer as we get older.
When I first started shooting a .410, I was amazed at how tight the patterns these new .410s with specialty chokes and new ammunition could produce. At first, I was shooting handloads with TSS (Tungsten Super Shot), but I know that now many of the new .410s are shooting factory-made TSS shells. I also learned that I could harvest a turkey stone cold dead by shooting a No. 9 TSS shot in my .410. These No. 9 TSS shots were equivalent to about No. 6 lead shots in weight. Because the No. 9 shot was much smaller in size than the No. 6 shot, the manufacturer could put more No. 9 shot in a .410 shell than No. 6 shot. Also, the TSS shot was much heavier than lead and had the same knockdown power of No. 4, No. 5 and No. 6 shot at the same distance.
My hunting partner and I, at the time of this writing, have hunted with new .410s for two years now. He's taken 12 gobblers from all over the country with his .410 and has harvested all four of the North American wild turkey subspecies with that gun, shells and choke. I've found that this smaller, lighter little gun is much more fun to hunt with than the 12 gauge shotguns with which I once hunted.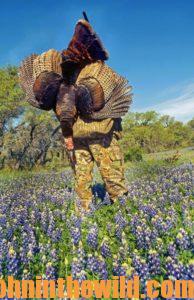 I first discovered the efficiency of the .410 while hunting marsh hens with a friend of mine from Sea Island, Georgia. I was hunting with a 20 gauge, and my friend asked, "Why don't you try this little .410?" I had seen how efficient his .410 was on marsh hens. My friend told me, "I think you'll like it because it's plenty of gun for these marsh hens. You're not going to have to shoot very far to harvest them, and this little gun will provide the punch you need to take them down." I also wanted to use the .410 to shoot some pen-raised quail to see how it would perform.
I was having so much fun shooting this little gun, I bought me a less-expensive – about $500 – .410 over-and-under that was made for taking turkeys. My buddy, Captain Terry Elrod from Georgia, handloaded the TSS shotshells I used, and that's when he got me started shooting a .410 for marsh hens.
With more turkey hunters using scopes and scope mounts for hunting turkeys, I'm often asked what type of scopes I use. I use the bead on the end of my barrel, and I've only missed one turkey and that wasn't the gun or the shells' fault. Another thing I like about the .410 and shooting the TSS shot is that I know the gobblers I shoot won't flop.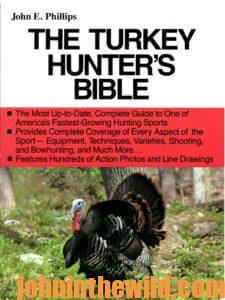 To learn more about turkey hunting, check out John E. Phillips's book "The Turkey Hunter's Bible," available in print, Kindle and Audible versions at https://www.amazon.com/gp/product/B007HT1IUS/ref=dbs_a_def_rwt_hsch_vapi_taft_p1_i7. You may have to cut and paste this link into your browser. (When you click on this book, notice on the left where Amazon says you can read 10% of this book for free and hear 10% for free). To learn more about other turkey books by John E. Phillips, go to www.amazon.com/author/johnephillips.
Tomorrow: Better Sighting Systems, Tighter Chokes and More Effective Shells for Taking Turkeys