John's Note: Cindi Richardson has been hunting almost 30 years and is considered one of the most-outstanding women hunters of our day. The Arizona Department of Conservation has a record that's known as the Big 10, consisting of the 10 Arizona big game species. Cindi was the first person to accomplish taking Arizona's Big 10, which now has become the Big 11, due to the Rocky Mountain bighorn sheep expanding its range into Arizona and having a viable population there. The Big 10 consists of the Coues deer, mule deer, antelope, black bear, mountain lion, elk, desert sheep, bison (buffalo), javelina and wild turkey. Cindi took all these animals with PSE bows, particularly the PSE Fire Flight, Mach 6 and Vendetta XS (http://pse-archery.com/). Cindi helps her husband, Corky Richardson, also a well-known Western hunter, guide for elk, buffalo and mule deer. At one time, they guided as many as 12 elk hunters a season, but now they're taking fewer hunters than in the past, and they mainly concentrate on bison and elk. Usually, Cindi does the logistics of the hunt, including cooking and picking up and dropping off hunters at the airport. On her own, Cindi has taken 14 elk with her bow, she holds the Arizona wild turkey record with a bow, and she has taken over 75 animals with her bow, with 40 of those classified as trophy animals.
On another Arizona Unit 9 hunt, my father-in-law, George, my son, Russell, and I all had elk tags.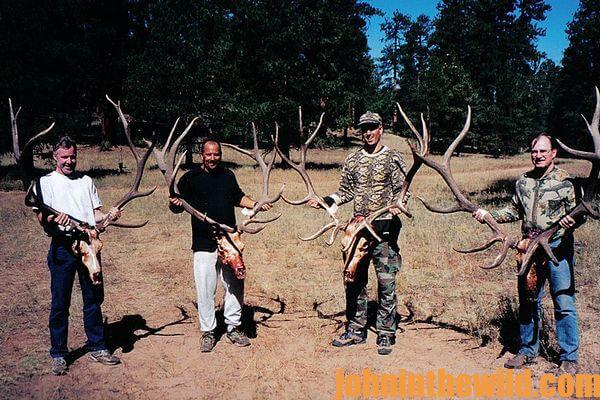 This hunt was a family affair. Unit 9 is a great unit to hunt from tree stands. Usually, we hunt on the ground in the mornings and in the afternoons in the tree stands. At this time, Russell was only 10-years old. We all went with him to make sure he was safe and secure in his tree stand. Then, George went to his tree stand, and I went to mine. This unit is the one that borders the Grand Canyon on the south side. Later that afternoon, I had a big elk come in that I thought would score between 350 and 375 Pope and Young.
The elk was at 30 yards, down in a hole drinking and angling away from me.
I put a great shot on him with my PSE bow. Soon the woods were dark. I hiked back to camp to get the men to come back with flashlights, find the elk, get him out and back to camp. This was about my 10th elk. When I got back to camp, before I could say a word, Corky and George started saying, "Russell got an elk! Russell got an elk!"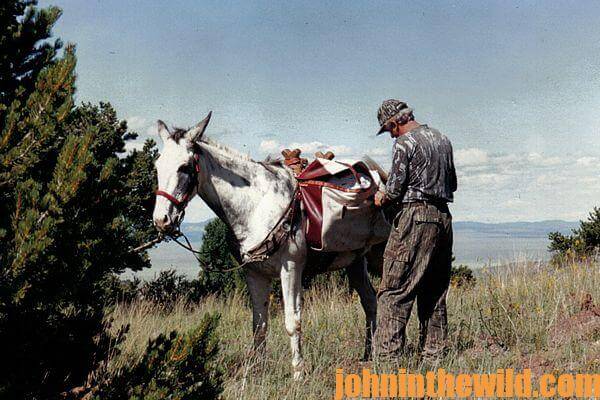 We piled into the truck and drove down to Russell's tree stand. His elk scored 370 P&Y – a giant elk. We were very excited, made some pictures and loaded the elk up. Once we got back into the truck, George told us, "Let's go back to my tree stand. I got one too." He had shot the elk early enough in the afternoon, had field-dressed the elk and used his truck to pull it up in the tree to hang and cool the meat down. We were all laughing and excited about George's elk.
Then I announced "I have one down too." We went to the spot where I had shot the elk. We found two of the three blades off my Thunderhead broadhead (www.newarchery.com) lying on the ground. Apparently, two of the blades had come out of the broadhead. Instantly, I knew that only one blade had gone into the elk. I was really concerned. Had I had made a lethal shot or not? But the elk only had gone about 150-yards from where I'd shot him. This bull was a 350 class P&Y bull. This was a memorable hunt, because all three of us took an elk on the same day, and all three of us had taken an elk that scored 350 or better. We had to clean all the elk and cut them all up. We finally finished at 4:00 am.
We didn't get to go to bed that night.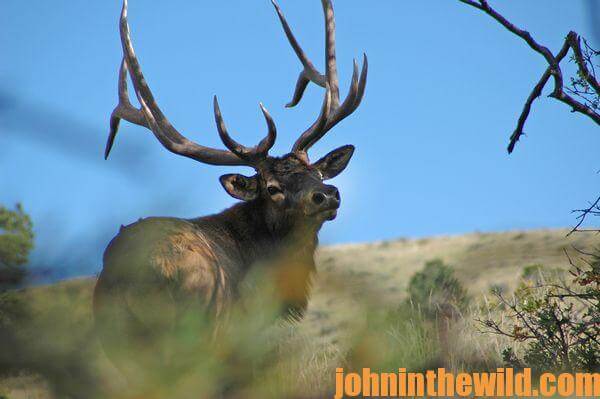 To get John E. Phillips' Kindle eBooks, "Bowhunting Deer: The Secrets of the PSE Pros," "The Most Dangerous Game with a Bow: Secrets of the PSE Pros," "Bowhunting the Dangerous Bears of Alaska," "PhD Elk," "Secrets for Hunting Elk", and "How to Find Your Elk and Get Him in Close," click here.
About the Author
John Phillips, winner of the 2012 Homer Circle Fishing Award for outstanding fishing writer by the American Sportfishing Association (ASA) and the Professional Outdoor Media Association (POMA), the 2008 Crossbow Communicator of the year and the 2007 Legendary Communicator chosen for induction into the National Fresh Water Hall of Fame, is a freelance writer (over 6,000 magazine articles for about 100 magazines and several thousand newspaper columns published), magazine editor, photographer for print media as well as industry catalogues (over 25,000 photos published), lecturer, outdoor consultant, marketing consultant, book author and daily internet content provider with an overview of the outdoors.