John's Note: As soon as a person starts hunting deer, he or she wants to go into the woods and try to take a trophy buck. However, after 40 years as a hunter and a hunting instructor, Dr. Robert Sheppard of Tuscaloosa, Alabama, explains, "When you first start hunting, you need to make a lot of mistakes before you start hunting trophy bucks."
When hunters first get their bows or new guns, they usually spend a lot of time shooting to become accurate.

Once they've learned to shoot accurately, they believe they are ready to take trophy bucks. But they still may not have learned how and when to take their shots. I always tell people who attend the hunting schools I teach, "You need to spook and run off about a dozen deer to get that out of your system, before you start seriously thinking about hunting a trophy buck."
In the beginning, you'll scare-off more deer than you harvest, but you'll learn when to move and when to sit still, once you have deer at close range. Gradually over time, you'll begin to learn when you can move, and why you can't move, when a deer is in close. One rule of thumb is to watch the deer's head – not the deer's antlers. When the deer's head and eyes are looking away from me, his head is behind a brush or tree, and his head's down and feeding, those times are generally when I know I can move. If the deer is moving and not looking at you, you usually can move. When the deer is still and stopped, you need to stop moving also.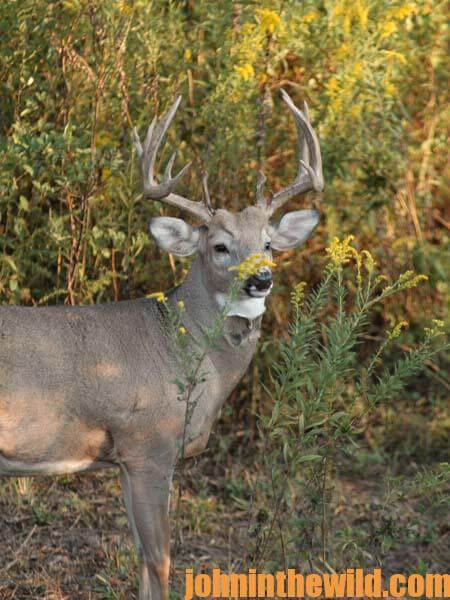 One of the best methods to learn when you can't and can move to take a shot is to hunt does. Often does are far-more sensitive to movement than bucks are. The does are always looking for danger, because, most often, they'll have fawns or a buck with them. Therefore, a doe is much-more sensitive to seeing, hearing and smelling anything in her environment that she hasn't seen, heard or smelled the previous day. My advice to the beginning bowhunter is to hone your skills on when to move and when to take the shot, by hunting does, before you start hunting bucks. The good news is that most states have more-liberal seasons and bag limits on does than on bucks. By the time you've taken 12 to 15 does with you PSE bow, you will have learned enough about when to move and when not to move to then go after a trophy buck with your bow. By developing your skills as a hunter and shooter at the very beginning of your hunting career, you'll be much-more successful at finding and taking trophy bucks later. You actually will take more trophy bucks, than if you try to hunt older-age-class deer the first couple of years you go to the woods and hunt.
To learn more about Dr. Sheppard's research findings and hunting tactics and to order his book, "Whitetails," go to his webpage www.bobsheppard.com.
You'll learn deer hunting information and tips in the Kindle eBooks, "Bowhunting Deer: The Secrets of the PSE Pros," "Jim Crumley's Secrets of Bowhunting Deer," "Deer and Fixings,""How to Hunt Deer Up Close: With Bows, Rifles, Muzzleloaders and Crossbows," " PhD Whitetails: How to Hunt and Take the Smartest Deer on Any Property" and " How to Hunt Deer Like a Pro" by John E. Phillips. "Click here to get these books."
About the Author
John Phillips, winner of the 2012 Homer Circle Fishing Award for outstanding fishing writer by the American Sportfishing Association (AMA) and the Professional Outdoor Media Association (POMA), the 2008 Crossbow Communicator of the year and the 2007 Legendary Communicator chosen for induction into the National Fresh Water Hall of Fame, is a freelance writer (over 6,000 magazine articles for about 100 magazines and several thousand newspaper columns published), magazine editor, photographer for print media as well as industry catalogues (over 25,000 photos published), lecturer, outdoor consultant, marketing consultant, book author and daily internet content provider with an overview of the outdoors. Click here for more information and a list of all the books available from John E. Phillips.