John's Note: Steve Brown from Millbrook, Alabama, fishes the Alabama River as his home lake. But as a professional crappie fisherman, Steve Brown fishes rivers and lakes all over the United States and shares what he's learned that will help each of us be better anglers in rivers. He defines himself as a crappieholic.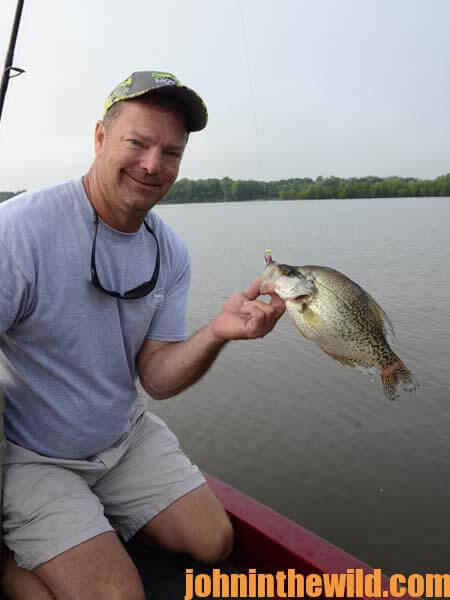 Another question I'm often asked is, "What's the toughest river to fish that you've ever fished?" I have to answer, the Alabama River near Prattville, Alabama, but in my opinion, the Alabama River is one of the top crappie-fishing rivers in the nation. When you travel to a new crappie river not only do you want to catch a lot crappie, and preferably big crappie, but you want to have a nice motel/hotel to stay in and good food to eat. We've got all that here at Prattville. But I think one of the elements that intimidates many crappie fishermen not only on the Alabama River but also on many other rivers, is that during the spring and summer, there'll often be a vast amount of current running though the river. You won't see much visible structure, and you need to know how to find bottom breaks, stumps, drop-offs, brush piles and all the other structures that make river fishing different from lake fishing. You also have to know how the current affects crappie in the river and those creeks, sloughs and flats just off the main river.
The next question I'm often asked is, "What do you think is the easiest river to fish?" The St. Johns River in northeast Florida has very-little current, it's a beautiful river, and a lot of black crappie live there. Many of the locals call black crappie, "Specks." The water in the St. Johns River is usually clear. One of the hottest tactics in crappie fishing is called spider rigging, which is simply slow trolling with 4 to 8 rods (poles) in rod holders on the front of the boat. When a river floods or a lot of current is coming through a river, most of the times there will be logs, sticks and debris moving downriver, making controlling your boat difficult. However, just because a current is coming through a river doesn't mean the crappie have packed their bags and moved. They'll be holding behind any current break – whether above or below the surface. That's when I put heavier leads on my poles to get my baits down quickly below or behind those eddy breaks. I'll position my boat on the downcurrent side from those eddy breaks and run my trolling motor as fast as I need to run it to keep my minnows and/or jigs in the brush behind or below the current or along the edge of a drop-off or a ledge. By doing so, you still can catch crappie and oftentimes more crappie, than you will catch if there isn't a fast current coming down the river.
Many times crappie fishermen are afraid to put 1-ounce weights on the ends of their lines to hold their minnows or jigs right up against deep brush in a stiff-running current. When I'm fishing in a heavy current like this, I'll be fishing a 12-14 foot pole spider rigged. Then I can keep my poles closer to the boat and control my boat better than if I'm using 16-foot poles. If you'll watch your lines as you push your lines up against the brush, you'll see that your lines bend back toward the boat when they hit that deep brush. Because we have dropper lines coming off our main line, the minnows and/or jigs are about 6-8-inches from the brush. We can push our spider rigs right into that deep brush where the crappie are holding without getting hung as much as you'd expect to get hung-up with that many lines and hooks against the brush.
Once I know the depth of a brush pile, I'll start fishing my baits just above the brush and hope to pull the crappie out of the brush to come up and take my minnows or jigs. If we don't get any bites above the brush, I'll allow the boat to drift back and let the lines down another foot. Then I'll push the lines into the brush. If we don't get any bites, I'll let the boat drift back, put our lines down another foot and push into the brush again. I want to fish every segment of that brush from the top to the middle and down to the bottom to try and catch the crappie holding on that brush pile. If the current's strong, I'll look for bigger brush instead of limbs to fish. You may be pushing your baits against a stump, a log or a rock, since bigger structure in a fast current will hold more crappie than spindly structure like small limbs and smaller brush will.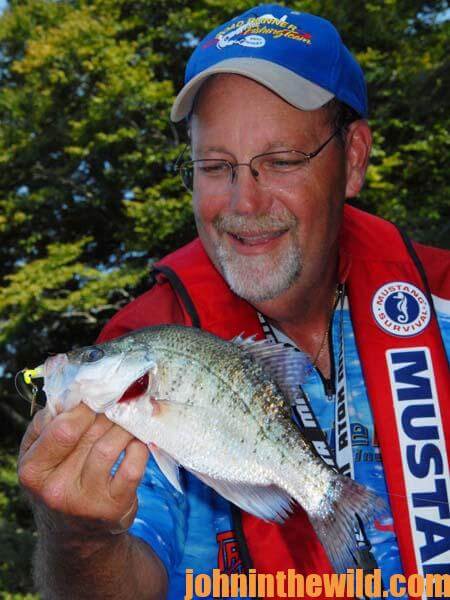 Bonus Videos with Steve Brown
"Don't Fish Visible Brush Piles:" https://youtu.be/ywAwyAH_M9A
"How to Catch Non Biting Crappie:" https://youtu.be/wab8OzPFw0M
John's Note: I met Steve Brown at the Bass Pro Shops' (www.basspro.com) Crappie Masters' (www.crappiemasters.net) Alabama Championship where the sponsors included: www.bobbygarlandcrappie.com; Black River Tools (www.blackrivertools.com); www.purefishing.com including Johnson Fishing and others; B'n'M Poles (www.bnmpoles.com); TTI Companies' Fishing Group (www.tticompanies.com); Hampton Inn and Suites (http://hamptoninn3.hilton.com/en/hotels/alabama/hampton-inn-and-suites-prattville-MGMCFHX/index.html); www.elmoreco.org; www.gammafishing.com; and www.prattvilleal.com.
To learn much more about crappie fishing, get John E. Phillips' Kindle eBooks and some print books, "Crappie: How to Catch Them Fall & Winter," "Crappie: How to Catch Them Spring and Summer," "Catch Cold Water Crappie Now" and "Catch Crappie All Year: Fishing a Single Pole, Using No Boat and Farming Crappie" by clicking on each, or go to www.barnesandnoble.com.
To receive and download for free "The Crappie Catchers' Cookbook," by John and Denise Phillips that offers free recipes, go to https://johninthewild.com/free-books.
Next: Don't Give Up the Brush Yet When Fishing for River Crappie