John's Note: Mississippi's marine biologist Jill Zednick holds three World Records. In the next few days, she's going to tell us about taking her three World Record saltwater fish, why she takes crab with a bow and how to eat them, and how to know when back bay and estuary areas are best for shooting.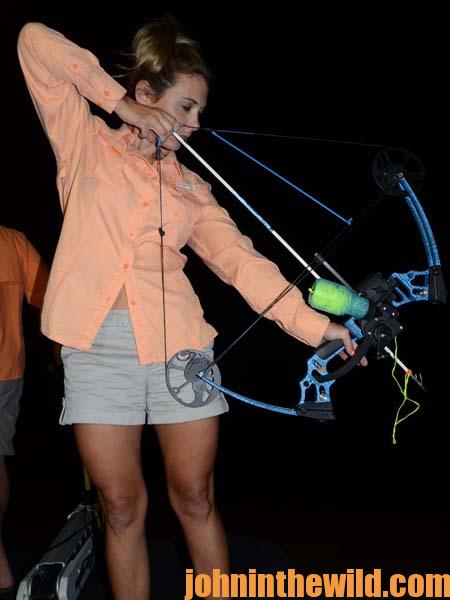 We were bowfishing on Tuesday evening, June 21, 2016, in the Pascagoula River drainage in Jackson County, Mississippi, during a neap tide. This area had had a lot of thunderstorms the previous week. My friend Josh Delancey and I don't usually bowfish during the week because both of us have fulltime jobs. However, due to all the rain we both had cabin fever and wanted to get out on the water and bowfish. The water was high by about 2 feet above the normal tidal range for that area. The visibility was poor, and the night was overcast. Josh and I were with our friend Shorty.
I noticed something right on the edge of the water that looked like a burlap bag or a piece of brown carpet. I thought that brown spot was a little odd because there were no houses where we were hunting and no oystering in this area. The lights on the boat suddenly showed the flounder's eyes as it turned to look at me. His two eyes were out of the water, as was a third of his body. Little trickles of water in the marsh grass were bringing bait fish and small crabs to the flounder as it waited in ambush. The bottom was less than a foot deep, and the bank sloped off to about 3 feet. Flounder will feed on a wide variety of various fish, crustaceans and insects. Realizing that this was one of the biggest flounder I'd ever seen, instead of aiming at the head of the fish or the stomach area (so I wouldn't destroy any edible meat) I aimed center mass. Once my arrow hit the flounder, the fish made a huge splash. Once Shorty saw how big the flounder was, he started hollering, "Get the net! Get the net!" Josh said, "We don't need the net. We can just pull in this fish." But I screamed, "No, no, just get the net!" I knew the flounder was heavy enough to either break the arrow or pull off the barbs. Shorty netted the flounder.
Two days before I took this flounder, Josh had shot a flounder that weighed 4.38 pounds and received a certificate saying that the flounder was a State Bowfishing Record flounder taken with a bow. I think he was really bummed-out, because he knew my flounder was bigger than his and realized it would be a new state record for taking flounder with a bow. When we officially weighed the fish, I learned that not only had I broken the state flounder record for bowfishing but this fish was also a World Record with a bow. The previous World's Record was taken in 1999 in New Orleans, and that flounder weighed 5.34 pounds. I was really excited when I found out I'd shot a World Record flounder! My 6.44 pound fish was certified by the Bowfishing Association of America (http://www.bowfishingassociation.com/).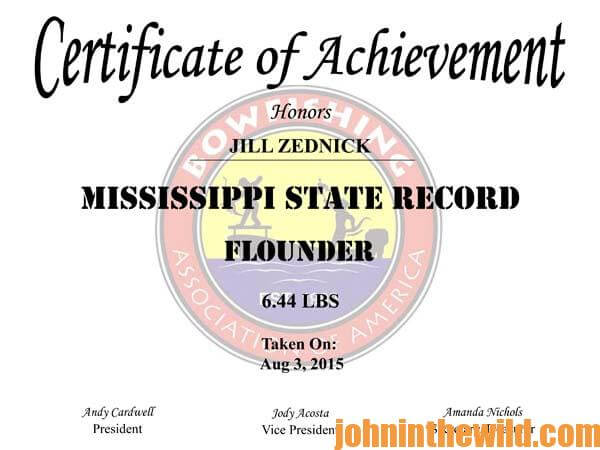 To learn more about saltwater fishing, check out "Alabama's Inshore Saltwater Fishing: A Year-Round Guide for Catching More Than 15 Species," "Alabama's Offshore Saltwater Fishing: A Year-Round Guide for Catching Over 15 Species of Fish," "Fishing Mississippi's Gulf Coast and Visitor's Guide," "How to Fish Mississippi's Gulf Coast in June" and "13 Saltwater Fish Recipes You Can't Live Without," available in Kindle eBooks and some print books.
Next: Bowfishing for Jill Zednick's Second World Record – Black Drum