John's Note:  The last weekend in June, 2016, I went bowfishing with Jill Zednick, a marine biologist for the State of Mississippi, and Josh Delancey, a welding inspector, in Biloxi, Mississippi, with Mike Moore of the "Strictly Business" charter boat. Zednick and Delancey they now hold three state and world records for bowfishing. Zednick only started bowfishing in April, 2015, and Delancey just set a new World's Record for taking cobia – a 42-pounder – with his bow on June 22, 2016.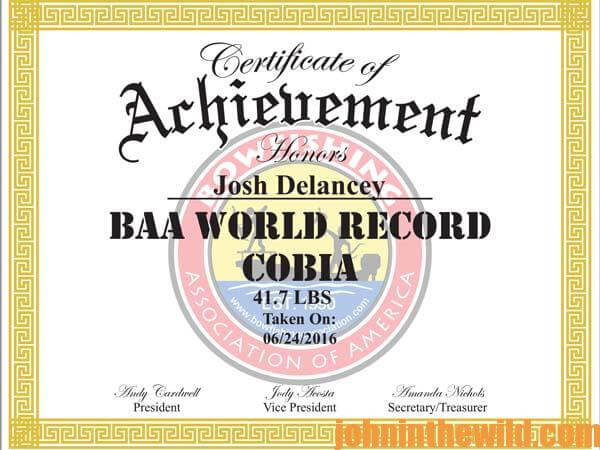 Several of us were snapper fishing about 20-miles offshore of Biloxi. We were using a Chum Churn to chop up pogeys to go into the water and hopefully bring red snapper up from the bottom. We hoped to get them close enough to the surface for Delancey and Zednick to get shots with their bows at taking big red snapper. We also had some frozen chum that had been ground twice and placed in a chum bag that we hung overboard to release a steady stream of chum out into the water. Too, we cut-up larger pieces of pogeys and threw that into the water to try and get the snapper to come to the surface.
We'd caught several snapper on rod and reels that weighed 10-20+pounds, when Mike Moore, captain of the "Strictly Business," screamed "Cobia, cobia! Get the bow!" Josh Delancey made three long jumps across the back deck of the boat, grabbed his PSE bow, came back across the deck, nocked his fish arrow and came to full draw just as the cobia came within 4 feet of the stern. Later Moore said, "I was expecting Josh to be excited and nervous when he got to the back of the boat, but he was cool as a cucumber as he aimed and released the arrow." The fish arrow entered the cobia right behind its pectoral fin and exited on the opposite side of the fish. Delancey only had 30 yards of heavy braided line on his fish reel, but luckily with the amount of pressure Delancey was putting on his line attached to his fish arrow, he kept the cobia close enough to the surface. Then Captain Graham Compton, who was acting as first mate on this trip, was able to get his long-handled gaff into the cobia. With one huge jerk and pull, Compton gaffed the fish and brought it out of the water, over the rail and into the boat.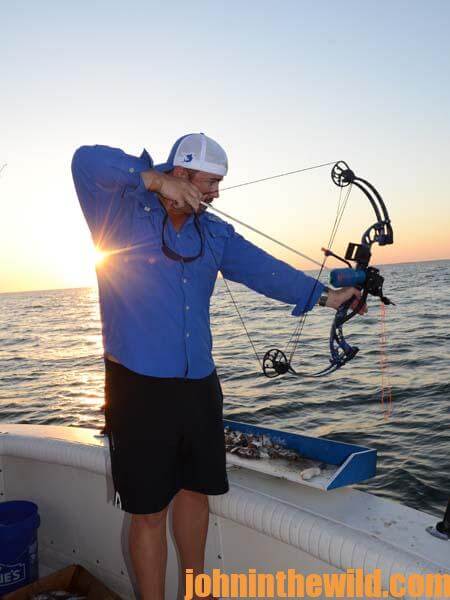 The cobia is a major league home run for any saltwater bowfisherman. "I felt confident if we kept chumming, we'd get big snapper up to the stern of the boat where Josh and Jill could get shots at them with their bows," Moore explains. "I also knew we had an outside chance of bringing a cobia up, but to be honest the cobia was a long shot. I don't believe that a full minute passed after I yelled, 'Cobia, cobia! Get the bow!' before Josh got his arrow into that fish. I'm almost certain this cobia will be a State of Mississippi record fish taken with a bow, and there's a very good chance this cobia will be a World Record with a bow."
When our boat returned to port at Biloxi, the cobia was taken to the Marine Resources Department and officially weighed on certified scales. Today it's the new World's Record cobia taken with a bow. Delancey was as excited as he could be because he'd been bowfishing for quite a while, and this was the first time he'd ever had the opportunity to take a cobia and establish a new world's record with a bow.
"I operate Back Bay Bowfishing Charters out of Biloxi," Delancey explains. "We mainly take redfish, black drum, sheepshead and crabs; however, this year we've partnered with Mike Moore and the "Strictly Business" charters to offer a combination bowfishing and rig-fishing trip where an archer can take his bow. If he or she has an opportunity to take a fish close to the boat when they're in season, like red snapper, gray snapper, cobia, sharks or mackerel, he can take those fish with his bow. While he's waiting on fish to come up from the bottom, he can be fishing, and when the fish get close enough to the surface, he can take them with his bow."
An open-water trip that Delancey guides is bowfishing the backs of shrimp boats. When a shrimp boat has finished dragging for shrimp at night, the crew will go through their catch, picking out the shrimp and throwing the bycatch overboard. Then the boat uses the bycatch to chum up shark, redfish and jack crevalle. "We can hold our boat off the stern of the shrimp boat and start chumming and often get these fish into bow range," Delancey explains.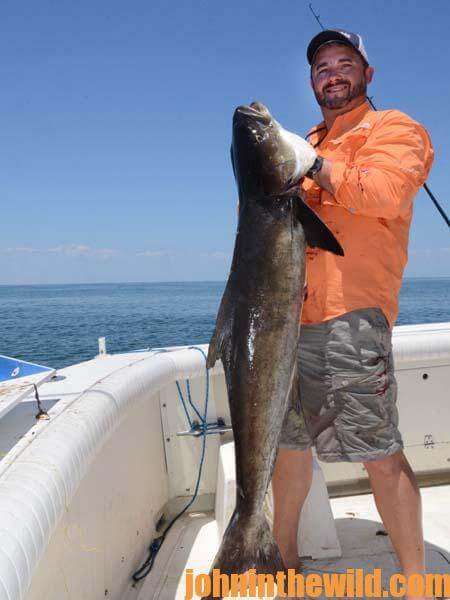 To learn more about bowfishing the Mississippi Gulf Coast, phone Back Bay Bowfishing Charters, 228-217-6215; go to Facebook: Josh Delancey; email: [email protected]. To contact Mike Moore of Strictly Business Charters, call 228-257-8357 or go to the website: www.biloxifishing.com.
To learn more about saltwater fishing, check out "Alabama's Inshore Saltwater Fishing: A Year-Round Guide for Catching More Than 15 Species," "Alabama's Offshore Saltwater Fishing: A Year-Round Guide for Catching Over 15 Species of Fish," "Fishing Mississippi's Gulf Coast and Visitor's Guide," "How to Fish Mississippi's Gulf Coast in June" and "13 Saltwater Fish Recipes You Can't Live Without," available in Kindle eBooks and some print books.
Next: Taking the World's Record Flounder with a Bow