Editor's Note: For the most part, feral hogs are destructive. They'll tear-up culverts, roads and green fields and root-up wildlife plantings and agriculture. Many people enjoy eating wild pigs. In the South, you generally can fill-up your freezer with all the wild pork you want to eat. In most areas with wild hogs, the hogs reproduce faster than hunters can take them, eat them and/or give away the meat. Female feral pigs can reach sexual maturity at 3-4 months of age and have two litters per year of up to 12 piglets each. Male feral hogs are sexually mature at 4-5 months. Slade Johnston of Tuscaloosa, Alabama, has found a way to enjoy more free hunting and fishing trips by using hunting hogs as a trade item. People who have game that Johnston wants to hunt can trade him a hunting trip to their areas to hunt the game he's interested in, and in exchange, he hosts them on an Alabama wild-hog hunting trip. Whether you want to take meat hogs to eat or a trophy boar with long teeth to mount, Johnston may have a trip to offer you. Johnston has access to private hunting lands that have been passed down through his family in the game-rich section of the state known as the Black Belt. Due to the rich soil there, this family-owned land produces a good number of turkeys and deer and outstanding numbers of feral hogs. To learn more, visit https://trips4trade.com/ and the Facebook page https://www.facebook.com/trips4trade/.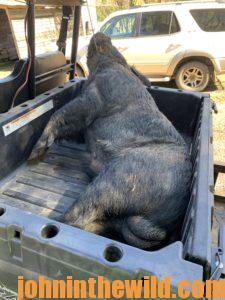 I've often been asked, "From where do most of your trips to trade hunters and anglers come?" We've hosted hunters participating in Trips4Trade from Colorado, Kansas, Florida, Idaho and many other states. We pulled up some numbers last month, and we've connected more than 1,000 people to different hunts all over the country, and in about every state. Another question I'm often asked is, "Why do hunters want to come to Alabama and shoot wild hogs?" I think the answer is real simple: in many of the northern states, hunters have very little, if any, access to hunting feral pigs. In many of the western states, sportsmen don't have opportunities to take feral hogs. Hogs are considered an exotic species in many states, just like elk and mule deer are somewhat-exotic species for people in the South.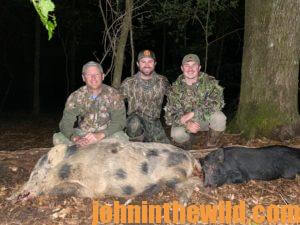 Too, hunters seem to like that we give them the green light to shoot as many hogs as they want to shoot, which helps us out with our feral-hog population. They really enjoy the opportunity to take more than one hog, and feral hogs are delicious to eat. They aren't nearly as fatty as domestic hogs are, and they are 100% organic. The only thing they eat comes from the wild and occasional trips to nearby agricultural fields. They don't have steroids or any other type of growth hormone in them. We cook many of the hogs that we and our hunters eat. If a surplus of wild hogs are killed that we don't have room in our freezers to keep and eat later, or that our hunters don't want to take home with them, we donate those hogs to some of people who live around our property.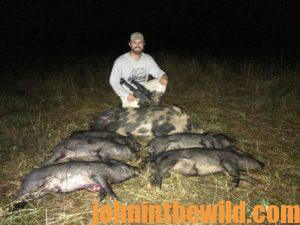 Some of our hunters want to take a trophy hog with large teeth. Other hunters may prefer to harvest young hogs that will produce plenty of delicious meat for their tables. Most of our swap hunters will harvest between five and 15 hogs each when they come to hunt with us. If these hunters visit during deer season, then we only can hunt during daylight hours. They'll probably take fewer hogs then they will before or after deer season. If visit us in the summertime, and we're hunting with thermal riflescopes and monoculars, each hunter may take 5+ hogs in one night. Some of our hunts we offer are combo hunts, where the hunter gets to take deer and hogs or turkeys and hogs. If somebody just wants to specifically hunt hogs, the best time to come is right at the end of turkey season in early May each year or just before deer season starts in mid-October. During those times of the year, the nights are usually still fairly cool, and the hogs will come out early in the evening. However, we'll continue to hunt them until well after dark.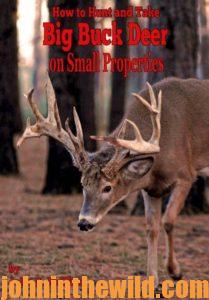 Wild pigs love to eat deer food, especially green plants and dry deer food from feeders. To learn more about hunting deer, check out John E. Phillips' book, "How to Hunt and Take Big Buck Deer on Small Properties," available in Kindle, print and Audible versions at (http://amzn.to/1vIcj4m). You may have to copy and paste this click into your browser. (When you click on this book, notice on the left where Amazon allows you to read 10% of the book for free, and you can listen to 10% of the books for free and hear 10% for free). To learn more about other deer books by John E. Phillips, go to www.amazon.com/author/johnephillips.