Editor's Note: Hogs were first brought into Alabama by the explorer Ferdinand de Soto in the 1500s when he was exploring this new world. He brought his army with him and hogs to feed his men. The hogs moved with de Soto as he traveled and explored throughout the South. Because of the vast reproductive ability of hogs, de Soto's men had plenty of meat to eat. However, not all hogs stayed together and could be herded with the soldiers. Some of them escaped, and de Soto's first point of debarkation in Alabama is at the furthest tip of the state at Fort Morgan on Mobile Bay. Hogs have been plentiful in south Alabama for many years, and as the sounders have grown, the hogs have moved up all the river and creek systems running through the state. Then once hog hunting became popular, people caught hogs in Alabama and surrounding states and moved them to their Alabama hunting lands. Today, the moving and releasing of feral hogs is illegal. Slade Johnston is helping rid his family properties in the Black Belt of Alabama of feral hogs.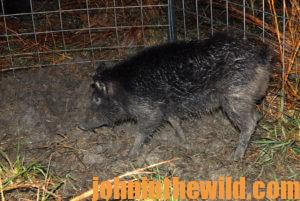 We clean and butcher some of the small hogs for us and/or for our clients. Any time we have too-many hogs, we have several families near our property that will take all the hogs we give them. One of the main reasons our land has so-many hogs that continue to replenish themselves on our land is because we have Kinterbish Creek running right through the middle of our property. Since we also have several little ponds on our land, we have everything a hog wants to survive and raise its young on: water, food, thick-bedding places, green fields and acreage. We've inadvertently created an ideal habitat for these feral hogs. Research tends to indicate that feral hogs will move up river system, creeks and waterways to expand their home ranges.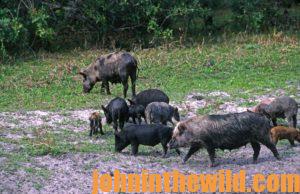 Unfortunately wild hogs have picked our farm as one of their favorite places to reproduce. We started seeing hogs on our property in 2005, and today I can just about guarantee you that if you come visit our farm, you will see feral hogs. I believe the future of hog hunting on our farm is going to continue to grow because we are swapping more trips. Too, we're participating in governmental programs that help reduce the number of hogs we have. I don't see that the future of hunting hogs here in Alabama ever will be with a diminished hog population. We will continue to have hogs – even if we use all the information available to reduce their numbers.
To learn more about the program for help trapping wild hogs, contact your local Department of Conservation.
Feral hogs eat the deer's food from fields and even their dry food from feeders. To learn more about hunting deer, check out John E. Phillips' book, available in Kindle, print and Audible versions, "How to Hunt Deer Up Close: With Bows, Rifles, Muzzleloaders and Crossbows" (http://amzn.to/11dJRu8). You may have to copy and paste this link into your browser. (When you click on this book, notice on the left where Amazon says you can read 10% of the book for free, and you can listen to 10% for free). To learn more about other deer books by John E. Phillips, go to www.amazon.com/author/johnephillips.