John's Note: Some years ago I'd met my longtime friend Brad Harris of Neosho, Missouri, the well-known outdoorsman and TV personality, and his friend Scott Bennett, to hunt the big Kansas corn-fed bucks. For several years, Harris had hunted Kansas and had bagged some monster-sized whitetails there.  He'd invited me to come and try my luck on this area's trophy bucks.
My hunting trip to Kansas hadn't gone too well, since I missed the first buck at which I'd shot. The next afternoon we returned to the tree stand where we'd hunted in the morning after leaving Harris. Once again my hunting friend, Scott Bennett spotted a couple of bucks. However, each time I turned to face the direction where Bennett had seen the bucks, the deer went into thick cover, before I could get off a shot.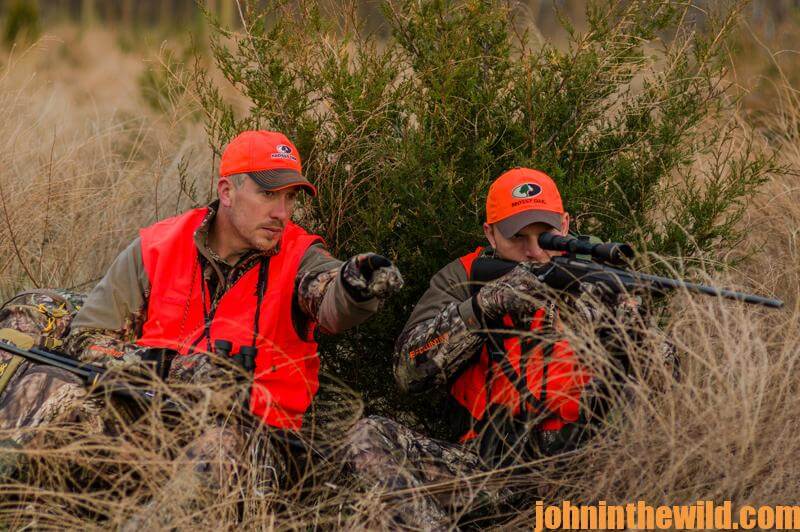 Finally late in the afternoon with only about 1-1/2-hours of daylight left, Bennett whispered to me, "Okay, John. I see a buck way out in front of me. He's coming from my right to my left. You've got plenty of time to set-up." Quietly I stood in my tree stand and turned around to face the direction where Bennett looked. I had a large limb on which to rest my rifle. An old logging road about 20-yards wide provided a clear shooting lane. Then the really-nice 8 point buck passed through an opening in the cover.
"This shot will be a piece of cake, John," Bennett whispered. "I'm betting the buck will come through that thick cover on the edge of the road and then step out into the old logging road. I'll blow my grunt call, he'll be broadside to you, and you'll have about a 40-yard shot. Take your time, and get comfortable while we wait on the deer." I told myself that I could make this easy shot at a very-nice buck. I felt this buck would make-up for the one I'd missed at lunchtime.
"He's going into the thicket," Bennett whispered to me. "Get ready." I had my 3-9X Nikon (www.nikonusa.com) riflescope set on 6X to enable me to see the entire deer when he stepped into the road. I spotted antlers in the thicket on the edge of the road, put my cheek on the stock and looked into my scope. "Oh, no!" I thought. All the sun in the world seemed concentrated in my riflescope. I had total sun blast. Then Bennett coached, "Get ready, John. That buck is ready to step out." When I whispered back, "I can't see," Bennett asked, "What do you mean you can't see? You're looking down a clean road, and there's nothing in your way." "I've got sun blast in my scope," I explained quietly. "Well, get rid of it, because that buck's stepping out," Bennett informed me.
Next I heard Bennett blow his grunt call as I frantically tried to clear my scope to see the buck. "Take the shot, John," Bennett said quietly. "That buck's not going to stand there forever." But I only could see white light as I desperately looked through my scope. "He's walking away, John, and you've got to take the shot," Bennett pleaded with me. When the deer reached the far side of the road, he headed into the brush. I then saw his antlers and his back. Just as I brought the crosshairs down to where I thought I'd find his shoulder, I took the shot. Immediately, the buck vanished. I told Bennett I didn't think I'd hit the buck. "Just as I squeezed off, I only saw brush where the buck had been. But let's go check the place, and see if we can locate any blood."
Bennett and I waited about 10 minutes before moving to the area where I'd spotted the buck last. As we both had suspected, we found no blood, no hair or any indication at all that I'd in any way caused that buck any irritation. Quietly we walked back to our tree stand. I felt about as low as a hunter could. I'd missed the buck of a lifetime at lunch, and now I'd missed a wall-hanger. I knew everyone in camp would think that I just couldn't shoot. I attempted to explain to Bennett about my scope having sun blast. But I realized he'd heard that excuse before when he said once again, "I just don't see how you missed that buck since he was standing right in the middle of the road." Dejected and upset with myself, I replayed in my mind the two misses of the day. Although I had a legitimate excuse for both of them, I still felt terrible. I floundered in the bowels of depression that only a hunter who'd missed a deer before would understand.
To get John E. Phillips' eBooks and print books on hunting deer, including his newest deer-hunting book, "Whitetail Deer and the Hunters Who Take Big Bucks," available at http://amzn.to/2bYwYOK/, click on these books to learn more, "How to Hunt and Take Big Buck Deer on Small Properties," "How to Hunt Deer Up Close: With Bows, Rifles, Muzzleloaders and Crossbows," "PhD Whitetails: How to Hunt and Take the Smartest Deer on Any Property," "How to Take Monster Bucks," "How to Hunt Deer Like a Pro," and "Bowhunting Deer: Mossy Oak Pros Know Bucks and Bows," or to prepare venison, "Deer & Fixings." Or, go to www.amazon.com/kindle-ebooks, type in the name of the book, and download it to your Kindle, and/or download a Kindle app for your iPad, SmartPhone or computer. You also can find John's books on Nook at www.barnesandnoble.com.
For free information on making jerky from your deer to provide a protein-rich snack, you can download a free book from https://johninthewild.com/free-books.
Next: Hoping for a Successful Deer Hunt after Missing Two Bucks