Editor's Note: Jamie Spencer from Brentwood, Tennessee, wanted more than just to harvest an elk. He wanted a backcountry adventure. So, he chose Mile High Outfitters in Challis, Idaho
(https://www.milehighoutfitters.com/) and ([email protected]), 208-879-4500.
One of the advantages of this backcountry elk hunt was we had five, different animal tags that we could harvest on this trip, including elk, mule deer, bears,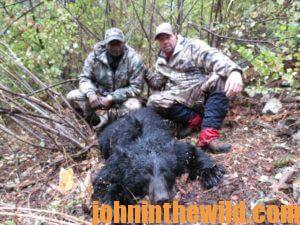 mountain lions and wolves. We had decided that Janay would get the first shot at whatever critter we saw, and after Janay had filled his tag, then I would take the next animal. So, as we rode out, we rode above a small creek and looked for black bear down in the ravine. We understood that if we saw a bear, we would tie our horses and mules up on the opposite side of the mountain from where we spotted the bear and then make the stalk to harvest the bear on foot. I took a stand closer to the top of the hill, and Janay went down below me and started stalking up the creek to where he had spotted the bear. We agreed that whoever got a shot at the bear should take the bruin. Janay and Cowboy Matt would go down the mountain and stalk up to the creek to the spot where we had seen the bear.
As they began to go up the creek, they were able to get within 30 yards of the bear before Janay fired his .300 Weatherby Magnum (https://weatherby.com/store/300-weatherby-magnum/) and toppled the black bear. Janay and Cowboy Matt were somewhat surprised by the bear because they couldn't see him until they were about 30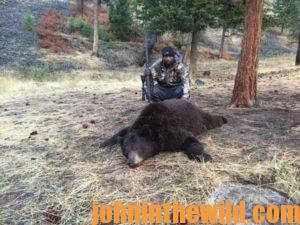 yards from him. That's why Janay took that close of a shot. The bear weighed somewhere between 300 – 400 pounds, and Janay was really excited.
This was the second day of the hunt. We skinned the bear out just above the creek, and after loading the bear on the mules, we finished hunting that day and then rode back to camp that afternoon. On the third day, we rode out. I didn't have an opportunity to take an animal, but I knew that we still had three more days to hunt. I was so excited for Janay, and we enjoyed talking about the hunt after dinner and before we went to bed.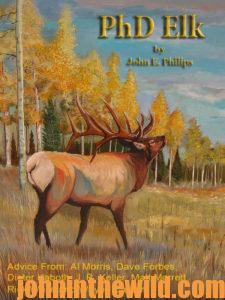 To learn more about elk hunting, check out John E. Phillips' books, "PhD Elk: How to Hunt the Smartest Elk in Any State" and "Secrets for Hunting Elk," both available at
http://amzn.to/WkbAWa and http://amzn.to/WGb9le.
Tomorrow: Having a Miss and a Chance for an Elk on a Backcountry Hunt