Editor's Note: "This the most fish I've ever caught in my life," are words that guide Tony Adams of Eufaula, Alabama, hears every time he takes anglers out on Lake Eufaula, formed by the Chattahoochee River in southeast Alabama on the Georgia/Alabama line. Catching 30 crappie per person with Adams and two customers in the boat happens often there. What makes this trip even better is if you count the throwbacks, Adams and his two anglers often will catch more than 120 crappie in 4 hours. And, here's the secret of taking a youngster or a novice angler fishing and creating a lifetime fishing partner in just four hours. Children may not enjoy fishing, but they love to go catching. So, to create a lifetime fishing buddy, take your children, grandchildren, nieces, nephews or any young person on a fishing trip of a lifetime where they can catch more fish than they've ever believed possible and have stories to tell all their friends when they return home. Even today, when I talk to my son, who is in his late 40s, he talks about all the fish we've caught on various trips when he was a youngster.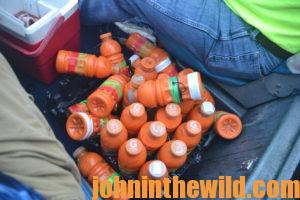 "What do you want to do after you catch your limit of crappie?" Mayor Jack Tibbs of Eufaula, Alabama, asked me one time. Dumbfounded, I asked, "What do you mean?" Tibbs smiled and said, "Tony Adams can help you catch a limit of crappie in 2 hours, and if he puts out some jugs, he may be able to produce 100 or 200 pounds of catfish." I replied, "I've been to two world fairs and one goat roping, and I've never heard of catching that many fish in 4 hours. I've got to come see this." True to Tibbs' prediction, we took a youngster with us and caught three limits of crappie and 200 pounds of catfish in a 4-hour trip.
"I'm sorry we didn't catch more catfish," Adams explained after the trip, "But to catch the most catfish, we need to jug fish and not crappie fish. We're fishing on the old river channel in 20-60 foot deep water, and although we'll catch some catfish that'll weigh 1.5 – 3 pounds each, we'll mainly be fishing for cats that'll weigh from 10 – 30 pounds or more. When you're fishing for big cats like this, you're fishing for some of the smartest catfish in a lake. These catfish know where every brush top, logjam or other types of structures are on an old creek bank. So, if catfish bite while we're crappie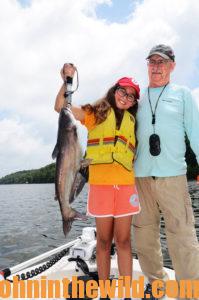 fishing, they'll have a chance to get down in that structure and break the line. However, if we just fish for catfish, I'll try to put my jugs out in a straight line. As soon as I put out 75-100 jugs, we'll turn the boat around and go back down that line of jugs to see if there's a jug that's outside the line of jugs, or that's bobbing up and down. Then, we'll go to that jug, pull it up and catch the catfish."
Jug fishing in the summer months is a really fun and exciting way, not only to teach a youngster how to fish, but to build the thrill of landing a big fish. "I usually advise the youngster and his parents to sit at the front of the boat and look for a jug that's moving or bouncing, which lets us know there's a cat on the line," Adams reports. "Once I pick up the jug and feel what size cat we've caught, I'll let the youngster help me pull that cat to the side of the boat where I dip the fish up, take the hook out and put it in the livewell; my new friend will get so excited about seeing the fish we've just caught. I'll quickly rebait the jug and put it back in line with the other jugs. Then we'll continue looking for ones that are moving and bouncing. Each time one of those jugs is spotted, the child gets really excited and looks forward to pulling it up to see what we've caught. Once we catch-up to the jug, if it feels like a heavy catfish, I'll often let the parent pull in the fish. One of the reasons jug fishing is so much fun is because we're always on the move catching cats and rebaiting jugs. We usually have nonstop action during the entire trip."
You can contact my guide, Tony Adams at 334-695-3003 and see photos of his fish on his Facebook page (https://www.facebook.com/tony.adams.5477) or visit
(https://www.facebook.com/pages/category/Sports/Gone-Fishing-With-Tony-133709770592006/).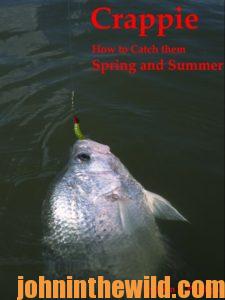 To learn more about crappie fishing, check out John E. Phillips' book, "Crappie – How to Catch Them Spring and Summer," available in Kindle and print versions at http://amzn.to/WGaJLT and Click here for the Audible link.
Tomorrow: How You Can Enjoy No Hassles and Plenty of Fish to Catch