Editor's Note: Three secrets will help you to consistently take turkeys – location, location, location. Probably hunters bag 90 percent of their turkeys by sitting in places turkeys want to walk to anyway. Now before turkey season starts is the time to scout and identify where turkeys are. The big mistake many turkey hunters make when scouting is using hen calls to make turkeys gobble. To solve this problems, don't take any calls with you when you're scouting except locator calls like those of crows, owls, pileated woodpeckers and hawks and a coyote howler.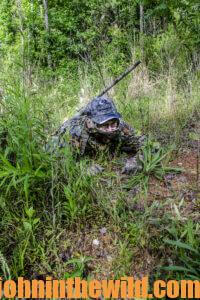 What do you do when you call to a tom, and you realize that either you're in the wrong place for the turkey to come to you or the turkey's in the wrong spot for you to get off a safe shot? Then you must move to a new location. But how do you move safely from one site to another without a turkey seeing you or someone mistaking you for a turkey? Some states have laws against moving on turkeys once you sit-down to call them.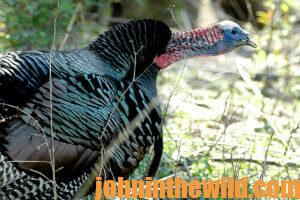 However, in most states, you can change position to get in the best place to take a shot and call a turkey to you. Most turkey-hunting experts say crawling to get close to a gobbler is taboo. Every magazine article you read, each seminar you attend, and every videotape you watch will convince you of the danger of crawling to get close to gobblers. However, I've never met a turkey hunter who hasn't crawled on his hands and knees or belly to get into position to take a tom at some time, after carefully scoping out the situation.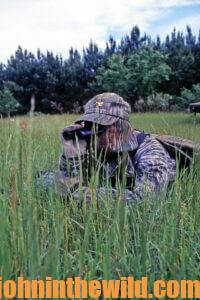 How do you avoid crawling into turkey territory during these extremely-dangerous times when you:
hunt public lands and have no way of knowing the positions of other hunters;
hear another turkey hunter calling the same turkey you're calling to;
have an exposed position on the same plane as the gobbling turkey; and/or
hunt unfamiliar territory by yourself when you don't know the property lines.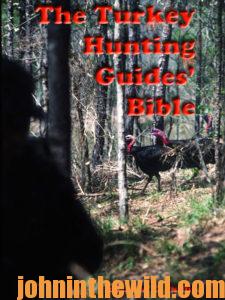 Although turkey hunting how-to books teach hunters to get within 100 yards of their turkeys before calling, these same books don't tell hunters how to get there. All the sportsmen I've interviewed agree that they rarely crawl-in closer to get shots, but they may crawl 10 to 20 yards to a better position themselves to call turkeys. The type of terrain determines whether you crawl on your hands and knees or your belly to get in position to call the bird. Let's take a look at tactics some of the best turkey hunters use to move on gobblers and the factors they consider before moving.
To learn more about hunting turkeys successfully, visit John E. Phillips' Amazon book page at https://www.amazon.com/John-E.-Phillips/e/B001HP7K6O. For even more information from many of the top turkey hunters, callers and guides, go to the book, "Turkey Hunting Guides' Bible," at https://www.amazon.com/gp/product/B01ITWYY2K/ref=dbs_a_def_rwt_hsch_vapi_taft_p5_i10
and available in Kindle, print and Audible. You may have to copy and paste this link into your browser. (When you click on the book, notice on the left where Amazon says you can read and hear 10% of the book for free). On the right side of the page and below the offer for a free Audible trial, you can click on Buy the Audible book.
Tomorrow: Learn Top Hunters' Methods of Moving on Turkeys