Editor's Note: One of the best ways to harvest a mature buck is to take that deer during bow season. Bowhunting's never been easier to learn and do than today because of the legalization of the crossbow. Not only can people with disabilities use this bow, but older people, younger people and everybody in-between also can shoot accurately with only a little instruction to be ready for bow season. Too, if you prefer to shoot a compound bow because of its sighting systems and the other advantages it offers, learning to shoot the compound bow is easier now than it's ever been. But what if you never have had the opportunity to learn how to bowhunt? How do you learn, and where can you find an instructor and/or a mentor if you're an adult? Many states' Departments of Conservation and Wildlife offer Adult-Mentoring Programs (AMP) on hunting like my home state of Alabama does. To learn more, go to https://www.outdooralabama.com/ and click on the tab that says "Hunting" (https://www.outdooralabama.com/hunting) to see another click for the "Adult Mentored Hunting" program (https://www.outdooralabama.com/hunting/adult-mentored-hunting-program).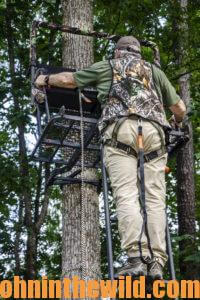 Many archers prefer to hunt from tree stands; however, before students are allowed to climb into a tree stand at Alabama's Adult Mentored Bowhunting Deer Program, nicknamed Bowhunting 101, they're taught the safety benefits of wearing a full-body harness, how to put these harnesses on, and how to attach these harnesses to the tree. So, if for some reason you fall, these fall-restraint devices can prevent serious injuries.
"We'll show the students the different types of tree stands available on the market and the advantages and disadvantages of each kind," Justin Grider, the R3 Coordinator for the State of Alabama, who heads up the Adult Mentoring Program (AMP), explains, "We'll also teach them how to wear a full-body harness, and what the importance is of wearing a full-body harness. We do this to help each student decide which type of tree stand they may want to choose for hunting. Some of the students may prefer to hunt from a ground blind, instead of a tree stand, so we'll have ground blinds available at the courses also to show students how to set them up and take them down, where and how to place them in the most-strategic places in the woods, and how to shoot from these ground blinds."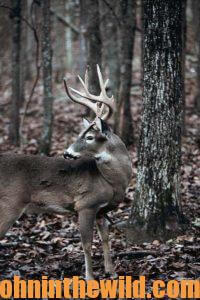 In recent years, thanks to full-body harnesses and tremendous safety standards built into tree stands, a large number of new bowhunters like to climb trees to get higher, see more game and shoot their bows from elevated platforms. Also today's ground blinds are lighter, easier to carry, quicker to set-up and simple to brush-up and place in a natural setting to cause them to become invisible. One of the advantages of this segment of the Bowhunting 101 Program is that you can learn not only to use elevated platforms – tree stands – to hunt from but also ground blinds. Sometimes when you're hunting, you may not be able to set-up a tree stand in the place where you want to hunt, but you most always can use a ground blind. Students learn the value of both tree stands and ground blinds, and why these hunting aids can help them become more concealed and more scent-free.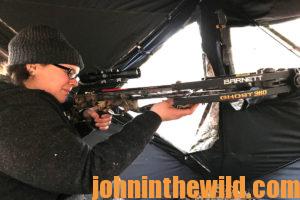 "Also, our students will be given an opportunity to actually climb into a tree stand with a safety harness, sit in that stand, realize they can see much further than if they're sitting on the ground, and understand why tree stand hunting is so popular," Grider reports. "They'll also be given the opportunity to sit in some modern ground blinds that prevent the animals from seeing them and learn why some hunters prefer to use ground blinds – especially if they're taking children, elderly friends or relatives and/or folks who just can't sit still for long periods – hunting with them. In this course, our students not only get to see and hear about the equipment that's available for them for deer hunting, they actually get to use the equipment to become more comfortable with it and more confident about the type of archery tackle they may want to purchase for themselves."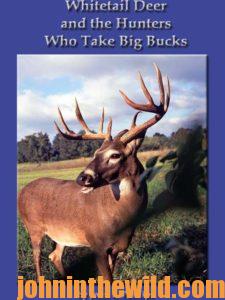 To learn more about hunting deer, check out John E. Phillips' book, "Whitetail Deer and the Hunters Who Take Big Bucks," available in Kindle, print and Audible at http://amzn.to/2bYwYOK. You may have to copy and paste this link into your browser. (When you click on this book, notice on the left where Amazon says you can read 10% of this book for free and hear 10% for free). On the right side of the page and below the offer for a free Audible trial, you can click on Buy the Audible book.
Bowhunting 101 starts at 8 am and ends around 4 pm. To learn more about how to become a bowhunter, classes and hunts available, go to the website: https://www.outdooralabama.com/ and click on the tab that says "Hunting" (https://www.outdooralabama.com/hunting) to see another click for the "Adult Mentored Hunting" program (https://www.outdooralabama.com/hunting/adult-mentored-hunting-program). You'll find there not only the Adult Mentored Bowhunting Deer Program but also an AMP Program for Deer, which is primarily a gun program, and AMP adult Turkey section. You'll get the times, dates and places these programs will be conducted, learn how to register and know all the information you need to participate in any of these programs. Many states' wildlife sections have these types of programs, so if you live in another state, you usually can call the Wildlife Division of that state to learn about their adult-mentoring programs.
Tomorrow: How to Shoot Bows for Deer