Editor's Note: Although I'd been driving hard for 8 hours and was worn out, I still couldn't believe I couldn't get the .308 equipped with night vision on target at 100 yards. I ask Mark McKenna of the McKenna Ranch in Pachuta, Mississippi, (https://www.facebook.com/mckennaoutfitters/), call 601-692-3224 or email at [email protected], if he would try to sight in the gun for me. At first, he wasn't on target either, but finally he announced, "Okay, the gun is about 2-inches high now," after he'd fired several rounds through the same rifle I'd been shooting. Mike Jones of Jackson, Miss., and I drove to the blind where we were to set-up and then we stared at two different feeders until about 9:00 pm but heard and saw nothing.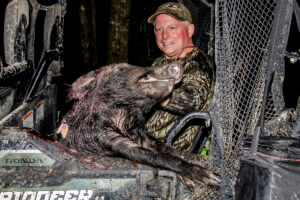 We were hunting feral hogs on the McKenna Ranch. Biologists name feral hogs and their high-reproductive rate as the worst critters in the woods for destroying ground-nesting birds' nests, like grouse, bobwhite quail and turkeys, eating their eggs, outcompeting deer for natural food, besides destroying crops, rooting-up green fields, eating supplemental feed intended for deer and turkeys, rooting-up roads, killing newborn fawns, threatening wetlands' habitat and destroying ecosystems. I'd written a lot about night vision and thermal-vision optics this past year, but this was my first chance to hunt with them.
I told Mike Jones, "Mike, you and your gun are shooting much-more accurately than I am with the gun I'm shooting that we've tried to sight-in. I need for you to be the shooter, if we see any hogs, and I'll use the thermal monocular to scan the edge of the woods and the feeders that are out in front of us."
Jones agreed and handed me the monocular. At about 9:30 pm, we spotted a hog at the feeder. I could see his heat signature and definitely could tell it was a hog. When Jones looked through the night-vision scope, he whispered, "It's a brown hog, that looks like he'll weigh 50-60 pounds, just the right size for eating. He's facing me head-on, so watch, and let me know when he turns broadside." I told Mike, "Take the shot; he's broadside now." At the sound of the .308, I heard Mike say, "I missed him." Right after the shot, I was as alert and excited as a 7-year-old the night before Christmas. This hunt was the coolest thing I'd experienced in a long time.
Night hunting for feral hogs has been growing rapidly throughout the South because of the increasing numbers of feral hogs that are expanding their ranges and the damage they're causing.
Both night-vision riflescopes and thermal monoculars eat batteries like two youngsters at a movie with free boxes of popcorn. So, on our McKenna Ranch hunt, we used the monocular to get a thermal signature and scan for the hogs, and then we turned on the night-vision riflescope to make the shot. When we went out to hunt that night, we were given several extra batteries for the monocular and for the night-vision riflescope.
When I first started writing about thermal imaging and night vision for hunting wild hogs at night, I didn't understand the differences between the two, and why hunters need to use both types of optics. Then I interviewed night-vision expert Chuck Rubac.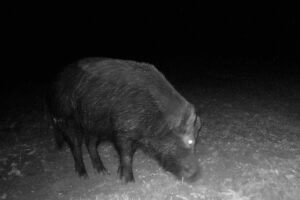 An American Sniper Tells Us Why a Nighttime Pig Hunter Needs a Night-Vision Riflescope and a Thermal Monocular:
Chuck Rubac, a military sniper who's worked with Homeland Security and ranchers with predator problems, is a spokesperson for Photonis, a company that creates night-vision systems.
"To take wild pigs at night, you must understand the terrain where they live and their habits," Rubac explains. "You have to be able to distinguish between a wild pig, a coyote and a fox, Study the regulations where you're planning to hunt to know where you legally can hunt nighttime feral pigs with permitted equipment. To successfully harvest pigs with night vision, you must take time to train with it, understand how to use it and recognize its limitations and benefits."
Rubac reports that night vision amplifies available light – the moon, the stars and artificial light. Thermal vision identifies anything that reflects heat. "I use both thermal and night vision together," Rubac says. "I'll have a night-vision device on my rifle and thermal vision to scan an area." According to Rubac, both nighttime optics have limitations and advantages, with temperature variations dictating which type of night-sighting system is most effective. "If the night's pitch-black dark or foggy with no ambient, reflective light, then night vision won't work well. Thermal vision can see through the fog to find a heat signature, even without light. But if the temperature around the critter you're hunting is about the same temperature as it, thermal imaging will have a hard time distinguishing the critter. Night vision on a moonlit night enables you to see 1,000 yards and distinguish the critters from the rocks."
Rubac mentions that thermal vision can't distinguish between a javelina and a feral hog of the same size, but a night-vision light and the atmosphere's reflected light gives you a much-better chance of identifying the species' differences. "If a small coyote and a grey fox are side by side, distinguishing the differences with thermal vision are difficult, due to their similarity in size and shape and giving off the same heat signature," Rubac emphasizes. "But night vision will show the difference in color too."
Rubac typically scans a region with a handheld monocular. Then he engages a target with his rifle's night-vision device. "If I make the shot, and the animal runs off, I'll be able to track it better with my thermal imaging because blood gives off a heat signature. I use both night vision and thermal vision, since each has a different purpose.
"If I had to select just one device for hunting wild pigs, I'd pick night vision over thermal. If I had the finances to own both types of night optics, I would. My favorite combination would be a thermal binocular or monocular and a night-vision riflescope."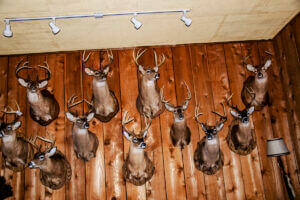 Some wildlife researchers have learned that deer tend to stay away from areas with wild pigs. To learn more about how to hunt deer, check out John E. Phillips' book, available in Kindle, print and Audible versions, "How to Hunt Deer Up Close: With Bows, Rifles, Muzzleloaders and Crossbows" at http://amzn.to/11dJRu8. You may have to copy and paste this link into your browser. (When you click on this book, notice on the left where Amazon says you can read 10% of the book for free, and you can listen to 10% for free). On the right side of the page and below the offer for a free Audible trial, you can click on Buy the Audible book.
Tomorrow: McKenna Ranch's History of Wild Pigs