Editor's Note: Jerry Clinton or "Skeeter" as he's known to family and friends lives in Oliver Springs, Tennessee, and has hunted feral pigs for many years. He says, "I hunt wild hogs year-round because I love turkeys. I hate wild hogs."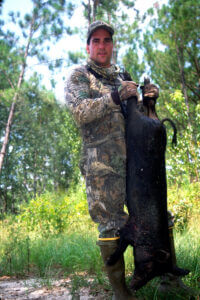 The Best Eating-Size Wild Hog:
I'm often asked, "What is the best-eating size hog?" I like to eat hogs that will weigh between 80 and 100 pounds. That size hog is really good table fare. Feral hogs probably produce the most-organic meat you can eat. They mainly feed on natural food in the wild, they don't get any steroids or antibiotics shots, and the meat is usually much leaner than the meat you buy in the store. Plus, they taste just like domestic hogs, if you prepare them properly.
When I catch a hog that weighs 40-60 pounds, after I field dress and skin it, I'll put the whole hog on my smoker. I can smoke whole hogs weighing up to 100 pounds. I like to keep the temperature in my smoker at about 200 degrees, and I'll let that hog cook until I can't pick the hog up without the meat falling off the bone. I have cut-up and smoked a 300-pound hog before. All our family and neighbors usually will come around when I start smoking meat. All that was left after we cooked that big 300-pound hog was about a gallon of meat.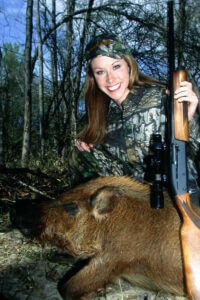 When my smoker starts up, we'll often have people I don't even know stop-by and get them some of that barbecued, wild hog meat. I had some people pull in the driveway one time when we were smoking some hogs, and when they left, I asked my wife, "Did you know those people?" She answered, "No. I thought you knew them!" We always have plenty of meat to feed folks.
Preparation of a 200-Pound-Plus Boar Hog:
Most people believe that a 200-pound-plus boar hog isn't any good to eat – and I did too. One time I decided to eat a big boar hog, took it into my kitchen and started cooking it. My wife ran me out of the house because she said that nasty thing was stinking up her whole kitchen, and if I ever did that again, I'd have to find me a new place to live.
Later I met an old wild-hog hunter who told me, "Most people who take a big boar try to field dress him just like they will a deer. They'll split him open, pull all his entrails out and then wonder why his meat tastes so terrible. But I've learned how to field dress a big boar hog, so that his meat is just as tasty as a young sow. Make a cut about 6-inches above the boar's penis. Don't cut through the stomach line. Then make another 6-inch cut on the left-hand side and the right-hand side of the center cut you've already made to make a T-shape. Then you skin the boar all the way back to his anus."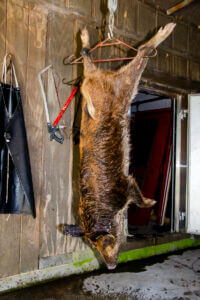 This hunter said there are two glands on either side of the hog's penis that he called, "Water sacs." He explained that if you skin the hog's belly from 6-inches in front of his penis, and 6- inches on the outside of his penis all the way back to his anus and take the penis and the testicles and those two glands out before you open up the stomach cavity, then you don't ruin the meat and put that terrible taste into the meat of a big hog."
I believe those two glands probably are musk glands and must be removed. So, be sure not to cut through the stomach wall of these big boar hogs. Get rid of those hog parts before you cut through the stomach wall and take his entrails out. Then you can skin that hog and cut him up to prepare to eat just like you will cut-up any other type of hog. I tried this procedure on a big boar, after my wife had threatened my life if I ever put boar meat in her skillet and stunk-up her house again. I tried cooking up some of that boar meat after learning from the old hunter. It did not stink up my wife's house, and the meat was really delicious.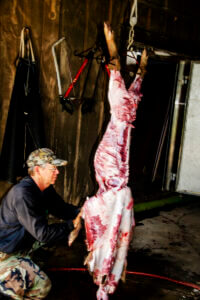 The biggest hog I've ever dressed and eaten this way was a 400-pound boar hog. Actually I ground-up most of that meat and made sausage. It did not have any off-flavor. I make my own sausage and I like a good bit of sage in my sausage. I like sausage that tastes like sausage. The local grocery store here in town makes up a sausage mix. I add that sausage mix to sage and mix that with my sausage meat and it's delicious. Before I package my wild pig sausage, I patty up some of sausage, fry it in the skillet and taste it to make sure that that batch of sausage is just like how I like it. That's what I suggest you do if you make sausage out of feral hogs.
John E. Phillips' Favorite Wild Hog Recipe:
The Best Barbecue Wild Pork Without the Grill
You can't beat this recipe for ease of preparation. Even connoisseurs of barbecuing have enjoyed this dish, although they've been skeptical at first. The use of root beer always fascinates our grandchildren, who love root beer.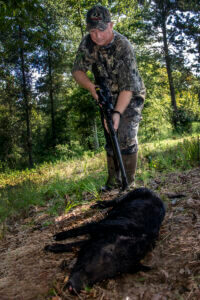 Ingredients:
2-pound boneless wild pork roast
1 medium onion, sliced
2 tablespoons dried, minced garlic
3 cups root beer, divided
12-ounce bottle of chili sauce
1/8-teaspoon hot pepper sauce
8 Kaiser rolls, split, or hamburger buns
Preparation:
Place wild pork roast in a 3-quart slow cooker. Add the onion, garlic and 1 cup of the root beer. Cover, and cook on low for 9 to 10 hours, or until the meat is tender. In a small saucepan, combine the chili sauce, hot pepper sauce and remaining root beer. Bring to a boil, and reduce the heat. Simmer uncovered for 20 to 25 minutes, or until the sauce is thickened. Remove the meat from the slow cooker, and cool slightly. Discard cooking juices. Shred the pork and return to slow cooker. Stir in barbecue sauce, cover, and cook on low for 30 minutes or until heated through. Serve on rolls.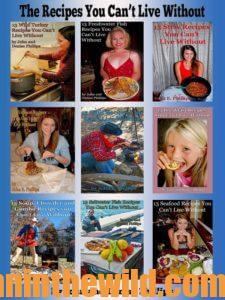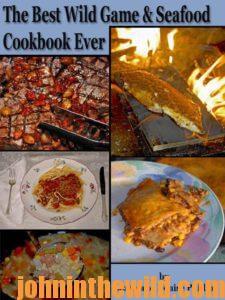 To learn delicious recipes for wild pigs, check out John's cookbook, "Recipes You Can't Live Without," available at https://www.amazon.com/ in Kindle and soon to be available in print. Also, "The Best Wild Game and Seafood Cookbook" in Kindle and print at https://www.amazon.com/. To see John's hunting books, go to https://www.amazon.com/John-E.-Phillips/e/B001HP7K6O.