Editor's Note: Hunters who consistently bag turkeys each season and have the greatest chances of success spend more time scouting and studying the birds than they do hunting them. You can take non-gobbling turkeys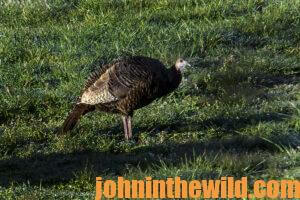 After Don Taylor's and my morning of hunting turkeys that wouldn't gobble in the rain, Taylor told me, "Don't worry about that bird, John (see Day 1). I know where there's a field the birds usually strut in after they fly-down. Maybe we can sneak-up on a gobbler there." We followed an old logging road off the mountain and walked a firebreak until we came to a woods road that led to a pasture. We spotted a hen feeding down the road in front of us. Taylor whispered, "Let's flush her. Then if there's a gobbler on the field, she won't go to him and prevent him from coming to us." So, we flushed the hen. After another 1/4-mile, we saw the field at a distance. We moved cautiously and quietly to a small, open hardwood bottom just below the clearing. Taylor took out his binoculars and studied the area.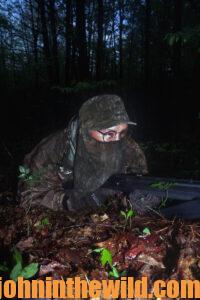 "There are two longbeards and three hens in the field," Taylor reported. "No, wait a minute. One of the longbeards and the hens are walking out of the field. If that other gobbler will leave, we may have a chance to move to a better calling position without the birds seeing us and call one or both toms to us." But after 45 minutes of watching and waiting, we decided that the longbeards planned to set-up camp in the field. The hardwood bottom was so clear that if we moved, the turkey would spot us. There was no tree to lean up against to try and take a shot if the turkey did come in to where we were.
"Would you agree that anything we do from this point on will spook the turkey?" I asked Taylor. "Yep," was his response. "Okay, I'm going to try and crawl on the turkey," I explained. "If I can reach that big beech tree 50 yards out in front of us, then you can call, Don. If the turkey comes in, I'll bag him." "I've got a better idea," Taylor commented. "You crawl, and I'll tell you when the turkey's head is down. I'll try and move from tree to tree behind you. If we can both make it to the beech tree, we may have an opportunity to bag that tom."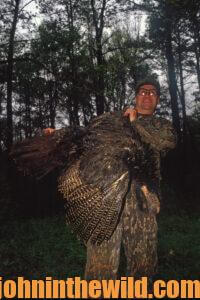 The hardwood bottom was filling up fast with water. As I crawled, I felt icy, wet fingers running down my shirt and into my pants' legs. At one place where I had to crawl across a run-off, I had to roll on my back and squirm to keep my gun from going underwater. Finally Taylor and I both arrived at the beech tree. While I got into a shooting position, Taylor pulled out his diaphragm call and began to talk to the gobbler. After 20 minutes of calling, we watched the drenched bird walk into my gunsights. I squeezed the trigger. Then the wet turkey, Taylor and I went home to lunch. Although we had been in turkeys all morning long, none of the birds gobbled. Yet we were successful, because Don Taylor knew where the turkeys were and where they wanted to go, even though they didn't gobble.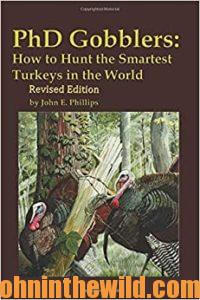 To learn more about hunting turkeys successfully, visit John E. Phillips' Amazon book page at https://www.amazon.com/John-E.-Phillips/e/B001HP7K6O. For even more information from many of the top turkey hunters and callers, go to the book, "PhD Gobblers: How to Hunt the Smartest Turkeys in the World" at https://www.amazon.com/gp/product/B083V83RLG/ref=dbs_a_def_rwt_hsch_vapi_taft_p4_i11
and available in Kindle, print and Audible. You may have to copy and paste this link into your browser. (When you click on the book, notice on the left where Amazon says you can read and hear 10% of the book for free). On the right side of the page and below the offer for a free Audible trial, you can click on Buy the Audible book.
Tomorrow: Learn to Take Non-Gobbling Turkeys