Editor's Note: J. Wayne Fears first learned survival training from his father who was a trapper. He later received survival training from both the U.S. Army and the U.S. Air Force. He's been responsible for running hunting operations in Alabama, Alaska, British Columbia, and Colorado. His new book "The Scouting Guide to Survival" is his 34th book on outdoor subjects and tells what Fears has learned from his decades of survival experiences.
A survival kit offers excellent insurance for anyone who travels in the backcountry. The kit must provide the basic life-saving functions for at least 72 hours, and here's what a survival kit weighing only 2 pounds should contain. The items in your survival kit should enable you to do the following things: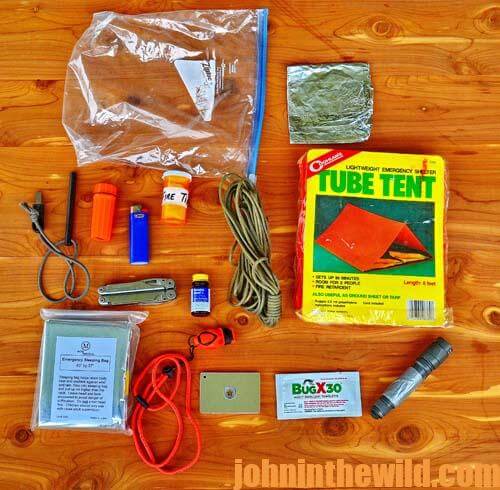 * Provide Shelter. The first item necessary for a survival camp is shelter. Few shelters are quicker to erect and give as much protection, especially in rain and wind, as an orange Coghlan's https://www.coghlans.com/ plastic tube tent. You simply tie a length of paracord between two trees, stretch the tube to its full 8-foot length, and crawl in out of the weather.
* Sleep Warm. To stay warm in your tube tent, you will want one of the 36X84-inch MCR Medical https://www.mcrmedical.com/product/SB-1011.html emergency sleeping bags. This bag folds up to 5.5X3.5 inches and weighs only 4-ounces. It will retain 90 percent of radiated body heat.
* Have a Fire Source. To build a fire, you will need fresh strike-anywhere kitchen matches in a waterproof match box (safe). For backup, keep a FireSteel https://firesteel.com/ ferro rod in your kit as another method of starting a fire.
* Have Fire Tinder On-Hand. Since starting a fire can be difficult, especially in wet conditions, a package of man-made tinder is a must. Make your own by rubbing petroleum jelly into 100% cotton balls and storing them in waterproof medicine bottles.
* Signal for Help. Two methods of signaling should be carried. With practice, the StarFlash Floating Signal Mirror https://www.ustbrands.com/product/starflash-floating-signal-mirror/ is easy to use and can be seen up to 60 miles or more. Fox 40 https://www.fox40world.com/ and WindStorm http://www.stormwhistles.com/windstorm.html whistles require very little energy to use, can be heard much further than the human voice and last much longer.
* Control Insect Problems. For protection against mosquitoes, carry small packets of BugX https://coretexproducts.com/bugx/ insect repellent towelettes. They take up very little space in the survival kit, and during warm weather, they are very valuable.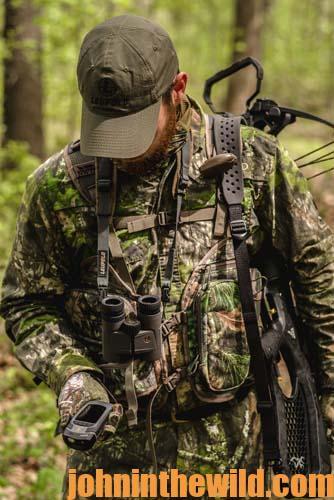 * Have Light. Light is important in the survival camp and for signalling. Include a small flashlight in your kit. Get a flashlight that uses LED bulbs. Keep the batteries fresh.
* Have Safe Water. While food need not be a concern for a 72-hour ordeal, water will be necessary. Since safe drinking water has become scarce, even in the most remote wilderness areas, it is a good idea to take along either a personal water filter such as Sawyer MINI Filter https://sawyer.com/products/mini-filter/ or a small bottle of Potable Aqua tablets https://www.potableaqua.com/ to treat drinking water. One of the most versatile items you can carry in your survival kit is a 24" X 24" piece of heavy duty aluminum foil folded up to about 3" X 3". It can be used to make a vessel for boiling water, cooking food, making a reflector for a fire, and as a signal mirror. Pack your survival kit in a 1-gallon Ziploc bag, and the bag can be used to hold water while treating it.
* Have Duct Tape. Duct tape can be used for many purposes in a survival situation. Wrap a three foot length of duct tape to your flash light to have on hand when it's needed.
* Have a Knife. A knife is one of the most valuable survival tools to have on hand. Carry a high quality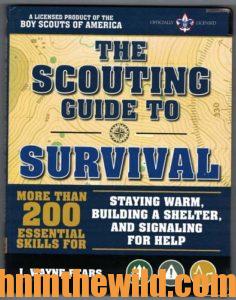 folding knife in your survival kit.
These items make up your personal survival kit and will give you the edge you need to survive when combined with your map, compass, GPS, and cell phone.
To learn more, you can buy a copy of the new book, "The Scouting Guide to Survival," by going to www.amazon.com/J.-Wayne-Fears/e/B001HOIFOQ.
Tomorrow: Understand the Need for Shelter to Survive in the Outdoors