John's Note: At this writing, Mark Rose of Marion, Arkansas, is preparing to fish the FLW Tournament www.flwoutdoors.com on the Red River the last half of July, 2013. The weather will be extremely hot, and the fishing pressure, during the tournament, will be extremely high. Under these conditions, catching any bass can be very difficult, but Rose is a veteran tournament bass fisherman with secret tactics he believes will give him the best chance to win the $125,000 prize. Let's look into the mind of Rose, as he prepares to try and earn in 3 days what most of us won't earn in 2 years.
If there are some deep areas, deep holes, creek channels, underwater ledges or ditches where you're fishing for bass in hot weather, the Carolina rig and the football head jig really can pay some good bass dividends for you.
A great place to fish the Carolina Rig is where you have a creek channel that comes out and extends all the way out to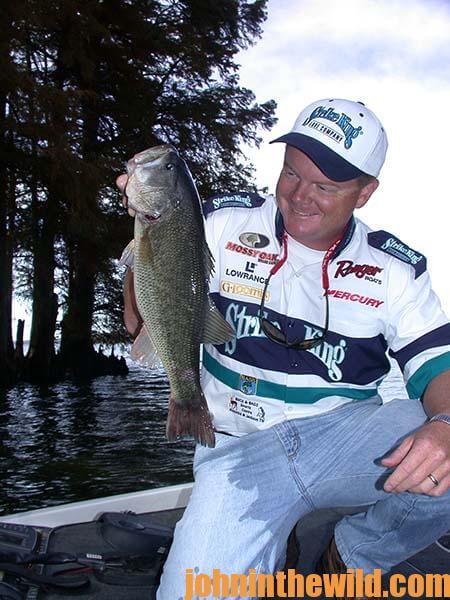 the main river channel; or, where you find a ditch that comes-off the main river channel, where the bottom break is a foot or more. When the water gets so hot in the backwater areas, many times the bass will use those ditches and creek channels to move out to deeper water and hold in those ditches where the water is some cooler, and the current will bring oxygen and bait to them. I like to fish Carolina-rigged plastic worms when I find bass in these ditches and creek channels running out to the main river in hot weather. I use a 2-foot leader of fluorocarbon tied to a barrel swivel, with a bead above the barrel swivel, and a 1/2-ounce egg-shaped slip sinker up the line. My favorite slip sinker is the new Tungsten Sinker produced by Strike King (www.strikeking.com/). I fish this Carolina rig in the mouths of ditches and creek channels and along the drop-offs. I like to use the 3.0 offset worm hook. I use 15-pound test for my main line, and 12-pound flourocarbon for my leader.
I also like the new 5-inch long Strike King Fat Baby Finesse worm for hot-weather Carolina rigging. Too, I'll fish the 5-inch Strike King Game Hawg on a Carolina rig. During the hot summer months, I've found a plum-colored plastic bait produces best for me on a Carolina rig. If the water isn't clear, I will use green pumpkin. If the water is not clear, besides plum, I like the redbug color.
A bait I never will leave at home, during the hot summer months, is the Strike King football head jig. I primarily like to fish this lure in large reservoirs like the ones you find on the Tennessee River. I like to fish it over mussel beds, on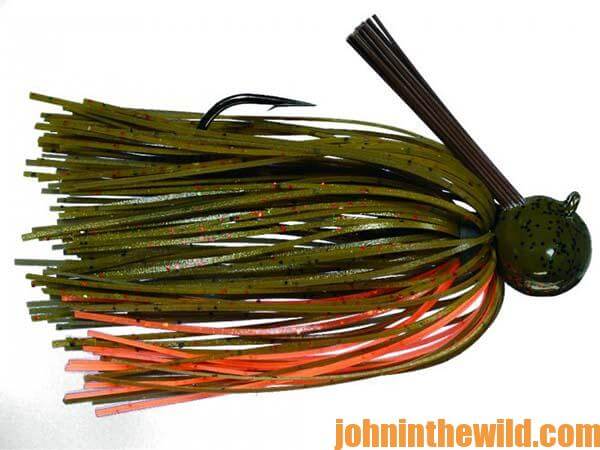 drop-offs and ledges. My favorite color is a 3/4-ounce green-pumpkin football head jig, with 15-pound-test flourocarbon line and a Strike King Rage Craw Trailer. Often, I will tip the pinchers on the Rage Craw with chartreuse dye. I believe this helps the fish to see the bait better. I like to drag the football head jig down ledges and drop-offs. I prefer to fish on rock bottom when I am fishing this lure. I never hop this jig. I want it to always remain in contact with the bottom. Sometimes, when the bass inhales this jig, you'll feel a subtle soft strike. Your line just feels kind of mushy. If the bass are really aggressive, they will hit and try to jerk your rod out of your hand, depending on the mood of those bass. I like to fish this jig in 15 to 20 feet of water, and I will fish it all the way down to 30-feet deep. When the bass are really deep, and the water is very clear, I'll use a 1-ounce football head jig to go to the bottom. I have used a football head jig in several turounaments that I have won. In one tournament I caught most of my bass on a football head jig. I never have won a tournament just using the football head jig, but this jig has played a major role in many of my offshore tournament wins.
As I've mentioned earlier, at the time of this interview, I am fishing the Red River at Bossier City and Shreveport,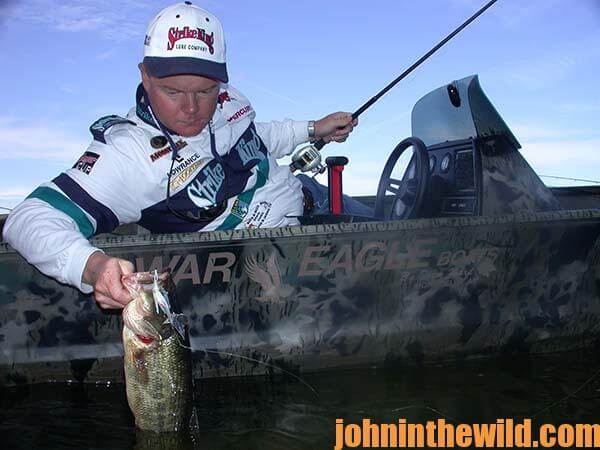 Louisiana. There's a very-good chance I'll be fishing the football head jig in some of the same areas that I will be fishing the Carolina rig. If some of those ledges and creek channels are 7-feet deep on the Red River, I will use either a 3/8-ounce or a1/2-ounce football head jig, instead of the 3/4-ounce football head jig. I will use either crawfish or bluegill colors. The bass will think that the crawfish or the bluegills are migrating out of those backwater areas and moving to cooler and deeper water, out near the river. I like the green-pumpkin Rage Craw tipped with chartreuse on the pinchers, since it imitates both crawfish and bluegill colors.
I am often asked, "How have you done in the FLW this year?" Right now, I am 12th in the point standings. I've had an above-average season this year. I haven't had a win this year, but I am hoping my luck will change on the Red River this week.
To learn more about Mark Rose's bass fishing, get John E. Phillips' Kindle ebooks, "How to Bass Fish Like a Pro" and "How to Win a Bass Tournament."  "Click here to get these books."
About the Author
John Phillips, winner of the 2012 Homer Circle Fishing Award for outstanding fishing writer by the American Sportfishing Association (AMA) and the Professional Outdoor Media Association (POMA), the 2008 Crossbow Communicator of the year and the 2007 Legendary Communicator chosen for induction into the National Fresh Water Hall of Fame, is a freelance writer (over 6,000 magazine articles for about 100 magazines and several thousand newspaper columns published), magazine editor, photographer for print media as well as industry catalogues (over 25,000 photos published), lecturer, outdoor consultant, marketing consultant, book author and daily internet content provider with an overview of the outdoors.