Editor's Note: Avid, longtime deer hunter 44-year-old Alan Benton of McDonough, Georgia, enjoys bowhunting and has learned that using trail cameras, watching his odor, hunting small properties and understanding the importance of nuts to deer are all factors making him a better deer hunter.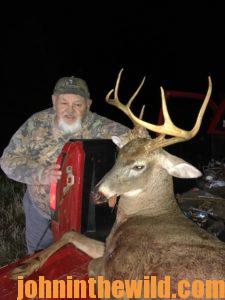 The biggest buck Benton's taken with his rifle scored 143 inches. "This hunt was simple," Benton recalls. "I was hunting a food plot during the pre-rut and climbed up in my stand. Then does came out into the field. A big buck walked up to the does in the food plot. I didn't have any pictures of this buck – I just got lucky. To take that nice buck, I just happened to be in the right place at the right time.
"I don't mind getting lucky, but I really enjoy taking a buck that I've struggled to find and to take. I feel I've accomplished something if I have to work hard to take a larger buck. When you know you've planted the right food for the deer, you've watched them grow for 2-3 years, and you understand that you can't hunt the stand you want to hunt due to having a wrong wind, then you feel bad when the next time you check your trail cameras you see that buck was within easy bow range on the day you couldn't hunt him due to bad wind. Once a buck beats me like that, I feel more a sense of accomplishment when I finally take that buck than I do if I'm just lucky taking a buck.
"For instance, one deer season my dad took Captain Hook, a buck that had a brow tine that went straight up before making a 90-degree angle, so that his brow tine looked like a hook. That's how he got his name. We'd been watching Captain Hook throughout the early bow season, but when that buck lost his velvet, he broke the hook off the end of his brow tine. The first week of gun season, we put my dad where we'd been seeing this buck, and he took the buck. Captain Hook had been coming during daylight hours more frequently each day. As the rut approached, Captain Hook began appearing on green fields at 8:30 or 9:00 am and often an hour before dark in the afternoons. Before the rut started, our section of Georgia received a little cooler weather. I think the combination of the cool weather and the timing of the rut helped put Captain Hook in front of my dad's rifle.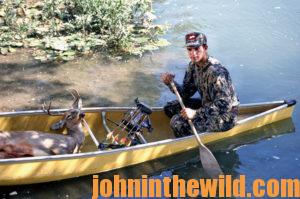 "A couple of years ago, I passed up a good buck that I'd have been proud to shoot. He was what we call a good picture buck. However, I aged him at only 3-1/2 years old. I knew if he survived to 4-years old, he'd be a really nice buck. We often spot numbers of bucks during bow season that we don't take. We realize those bucks will be much bigger next year.
"I'm often asked, 'Aren't you afraid that if you let a nice buck walk to get another year of age on him that a hunter on a neighboring property may take him?' Well, every time a nice buck gets out of my sight, I do worry about someone else taking him. However, one thing I know for sure, if I don't shoot that buck, I know he didn't die that day, however, if I shoot him, then I know he's dead, and he doesn't have a chance of putting on more antlers and more body weight. I do realize that some of the deer I let pass are harvested by my neighbors. Here's how I look at that – that hunter on a neighboring property bought a hunting license just as I did. Those deer are not my deer – I don't own them. Just because I don't harvest a certain size of buck doesn't mean that I won't harvest a buck that one of my neighbors hasn't taken, hoping that buck will get another year of growth.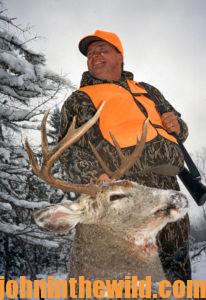 "I've been able to photograph and watch one buck for 6 years. I haven't taken that buck due to my not having had a chance to take him. I know for certain that none of my neighbors have taken that buck either. Some of the first photos I got of this buck he was an 18-inch wide, 4-point. The following year he had 5 points, and the next year he had 7 points. Then his antler development started going down, and the last year I spotted him, he was a 6 point, about 22-inch wide antlers with 6-inch bases, but very-small points. He never did have very-long tines, and that's probably why he survived so long."
To learn more about hunting deer, check out John E. Phillips' book, available in Kindle, print versions and Audible, "Whitetail Deer and the Hunters Who Take Big Bucks," (http://amzn.to/2bYwYOK). You may have to copy and paste this link into your browser. (When you click on this book, notice on the left where Amazon says you can read 10% of this book for free).