Editor's Note: There's no question that tackle does make a difference. New innovations, depth finders, lures, rods, reels and other equipment are allowing professional fisherman to catch as many or more bass than they have in the past. One of the most-consistently successful pros is Ott DeFoe, winner of the 2019 Bassmaster Classic and ranked third in the world, with earnings of $2.7 million according to BassFan (http://www.bassfan.com/). Ott DeFoe explains that, "The equipment that bass fishermen use are tools. To be the best you can be, you've got to use the best tools for every fishing condition that you'll face when on the water. A carpenter won't use a tack hammer to drive a tenpenny nail or a big hammer to drive a finishing nail. So, over the years, fishermen have learned which equipment is best to use when fishing certain lures under specific conditions to get bass in the boat. This is the reason different lengths and types of rods are needed for various kinds of lures and places where we fish those lures." To learn more about Ott, visit his Facebook page at https://www.facebook.com/ottdefoe/.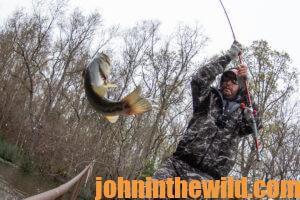 Today's tournament anglers are running four to five depth finders on their tournament bass boats, although depth finders can be very expensive. Most weekend fishermen may not be able to afford that many depth finders and probably don't want to spend the time to learn how to use that many depth finders at the same time. So, for the angler who wants the best buy for their money with the most features, I'd suggest a Humminbird Helix 12 depth finder (https://www.humminbird.com/). I think the Humminbird depth finder has the best side imaging of any depth finder on the market at this writing. And that's the feature I probably use the most when I'm scouting for places to fish. Humminbird also has 360 imaging, which I use in the bow of the boat to look not only in front of the boat, but all the way around it. Also, I feel that the mapping system – LakeMaster – that Humminbird has is also one of the best on the market, and it can only be used on Humminbird depth finders. I feel like the down-imaging feature, again, is one of the best on the market. At this writing, Humminbird has a touch screen depth finder called SOLIX too that I could use on my boat. However, I like the Helix units because I believe they are easier to learn and use. I can understand all the features on the Helix unit and to use it efficiently doesn't require much time.
Although some tournament anglers are running five depth finders by different companies on their boats, I've found that I can be very-efficient running only four units on my boat. At the console of my boat, when I'm searching for bass, I have a depth finder on my right with a split screen with mapping and either down imaging or 3D sonar. The unit on my left I use to run side imaging. On the two units on the front of the boat, I have my 360 imaging on one screen, and the other unit has a split screen with 2D and mapping. I have the four units set-up the way I do to make me more productive and save time.
If I only had one unit on the front and one on the back of my boat, I'd have to go to my back unit to look at my mapping feature and possibly drop a waypoint where I'd found the place I wanted to fish. I'd also want to be looking at my side imaging to search for bass and other structures that might be close by and looking underneath the boat too. So, I'd be running back and forth from the front unit to the back unit.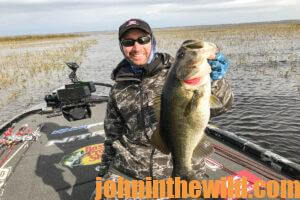 1) The 360 Screen – I'm often asked, "Which screens on your depth finders do you use the most?" and, "What screens in order of importance do you use the most?" When I'm actually fishing, the 360 screen is the one I'm using most often; I call it my primary screen. One of the biggest advantages it gives me is being able to see in front of the boat before I reach the structure where the bass are. Then I don't run over the top of the fish with my boat. Also, I can look all the way around the boat at any time with that screen. Besides seeing bass, I can spot a stump, a brush pile, a boulder, a log or any other type of structure where bass may be holding.
2) The Side Imaging Screen – The second screen that I use the most is the side-imaging screen. Now, I won't be fishing when I'm using the side-imaging screen, but will be back at the console using my big engine idling, looking for places and bass to fish. Or, I'll be running up and down the lakes and creeks searching for sites to fish at idle speeds. For me, side-imaging is a major tool I use to eliminate water that I don't need to fish. I consider side imaging to be my eyes under the water. If I'm looking at a grass line above the water, and it all looks the same, that side imagining will allow me to find those little details under the water where there's holes in the grass, creek channels coming in or other little odd structures where bass will be holding.
3) The Mapping Screen – My third screen, in order of priority, is my mapping screen. I'm using my mapping screen on a depth finder with split imagining, usually with down imaging on the other side of the screen. The mapping on my Humminbird unit is so exact that I can tell the depth of water where I'm seeing bass. For instance, if I spot bass holding in 8-12 foot water, then I can use a function on my depth finder to mark all the 8-12 foot deep water in the lake, and often those are the places where I'll spend most of my time fishing in tournaments. This feature on the mapping screen allows me to quickly pick-up a bass pattern and find the depths in the lake where most of the bass are holding.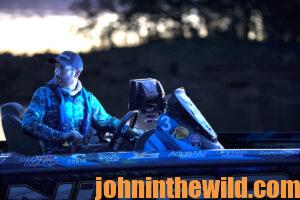 4) 2D Sonar – Lastly, is my 2D sonar which I use not only on the screen of the console, but also on the screen on the bow of the boat, especially when I'm fishing in deep water. I want this screen to help me see the bass holding in deep water. In some events I fish, most of the bass I catch will be right under the boat. The screen either will be on down imaging or 2D sonar. The difference between the two is down imaging sends down a cone-shaped signal much like a flashlight. With down imaging, you can see structures and fish, but they may not be clear. A brush pile may show-up as a blob. With 2D sonar, you see more of a slice of the bottom, and that slice will give you a much-more-defined image than down imaging does, especially when you're moving at a slow speed. You can get much-better separation between the structure and the fish than you can with down imagining. Once I see fish and/or structure I want to fish, I'll drop a waypoint.
5) Waypoints – Another question I'm asked is, "Ott, when you find structure and fish that you want to try and catch, where you drop your waypoint? Do you drop it on your bass, or do you drop it where you want your boat to be when you start fishing?" I always drop my waypoint on the fish, and that waypoint is shared to all the units on my boat. However, one of my screens shows me where my boat is in relationship to that waypoint where the bass are. For instance, when I'm fishing in northern lakes with deep water and primarily smallmouth bass, I may want to place my boat right on top of the fish and fish vertically.
A classic example of this kind of fishing will be on Sturgeon Bay in Wisconsin. Most smallmouths don't seem to mind if the boat is right on top of them, but when I'm fishing lakes in my home state of Tennessee, the bass don't like for the boat to be right over the top of them, especially if they're in relatively-shallow water. They don't like to see that shadow of the boat, probably due to the bass in Tennessee receiving more fishing pressure than the bass do in Sturgeon Bay. The boat being on top of the fish in Tennessee often will spook those bass, and they'll move away from the spot where we've found them. In this situation I want my boat to be 20-30 feet away from the spot that I've found my bass. So, if my waypoint is in 15 feet of water, I may want to hold my boat in 30 feet of water and cast to those fish in the 15-foot region.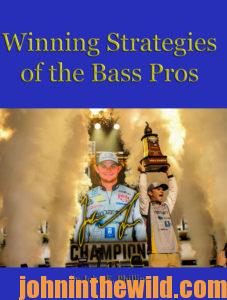 To learn more about bass fishing, check out John E. Phillips' book, "Winning Strategies of the Bass Pros," available in Kindle, Audible and print at https://www.amazon.com/gp/product/B074SWT6HR/ref=dbs_a_def_rwt_hsch_vapi_taft_p2_i7. You may have to copy and paste this click into your browser. When you click on this book, notice on the left where Amazon says you can read and hear 10% of the book for free. On the right side of the Audible page for this book and below the offer for a free Audible trial, you can click on Buy the Audible with one click.
Tomorrow: Ott DeFoe on Bass Fishing Line