Editor's Note: There's no question that tackle does make a difference. New innovations, depth finders, lures, rods, reels and other equipment are allowing professional fisherman to catch as many or more bass than they have in the past. One of the most-consistently successful pros is Ott DeFoe, winner of the 2019 Bassmaster Classic and ranked third in the world, with earnings of $2.7 million according to BassFan (http://www.bassfan.com/). Ott DeFoe explains that, "The equipment that bass fishermen use are tools. To be the best you can be, you've got to use the best tools for every fishing condition that you'll face when on the water. A carpenter won't use a tack hammer to drive a tenpenny nail or a big hammer to drive a finishing nail. So, over the years, fishermen have learned which equipment is best to use when fishing certain lures under specific conditions to get bass in the boat. This is the reason different lengths and types of rods are needed for various kinds of lures and places where we fish those lures." To learn more about Ott, visit his Facebook page at https://www.facebook.com/ottdefoe/.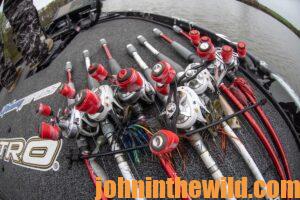 I think an angler should use the most-versatile rod available but probably will get the most benefits from using a wide variety of baits. I suggest a 7-foot, medium-heavy action rod. My favorite is a Bass Pro CarbonLite 7-foot medium heavy-action rod (https://www.basspro.com/). I'll match that rod with a 7.5:1 gear ratio CarbonLite reel. This reel isn't extremely fast, but it's definitely not slow. For line, I'll suggest fluorocarbon 14-pound-test XPS. If a fisherman only can have one rod, reel and line to fish all of his lures with, this is my bait-casting pick. I think this combo from Bass Pro Shops is roughly $200. Because of the bass-fishing pressure on most popular lakes, I believe that a serious bass fisherman also should use spinning tackle as well as bait-casting tackle.
If an angler only can fish one spinning rod, reel and line, I'll choose a Johnny Morris Platinum 7'1" medium-action rod and a size 30 Johnny Morris spinning reel. I'll use 10-pound-test Bass Pro XPS Hyper Braid line, but I always put a leader onto the line – either an 8- or a 10-pound test fluorocarbon leader. Any kind of lure you'll use on a spinning rod will perform properly on that spinning-tackle set-up.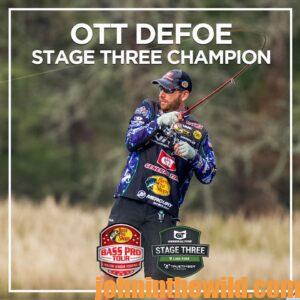 To learn more about bass fishing, check out John E. Phillips' book, "," available in Kindle, print and Audible versions at
https://www.amazon.com/gp/product/B008BVVO8M/ref=dbs_a_def_rwt_hsch_vapi_taft_p4_i6.
You may have to copy and paste this click into your browser. When you click on this book, notice on the left where Amazon says you can read and hear 10% of the book for free. On the right side of the Audible page for this book and below the offer for a free Audible trial, you can click on Buy the Audible with one click.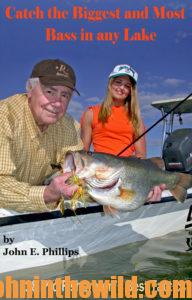 Tomorrow: Ott DeFoe Talks Depth Finders