Bucky Hauser from Claudville, Virginia, is a longtime deer hunter who primarily bowhunts.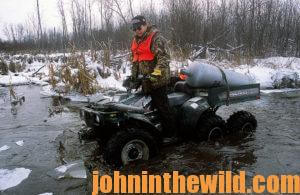 Every morning while in Canada, I walked those 1-1/2-miles from where I was dropped off to my stand in below-zero weather. One morning a fog came in, and the temperature was so cold that everything that the wet fog touched turned to ice. My bow and all my outer clothing were covered in ice crystals. As I walked to my stand, I could hear deer get up out of their beds in the darkness. The deer ran off in the opposite direction from the direction where I'd come. So, I decided I must be spooking the deer I was trying to take. To solve the problem, I determined to bite the bullet and go to my stand earlier than I had gone to it on the 2 previous days. On Wednesday morning, I was sitting in my fixed-positon stand 2 hours before daylight in a very small tree. I was only 8-10 feet off the ground. Luckily, the stand had a seat on it.
A small buck came in about the middle of the day and bedded down behind my stand. Although about a foot of snow was on the ground, snow was still falling during the day. Just at last light, I had a doe walk out in front of my stand where I had two shooting lanes through which I could shoot. The shooting lanes went from the stand to two scrapes – each scrape right at the end of each shooting lane. As the sun continued to fade into the night, I heard what sounded to me like a deer 15-20 yards behind the doe. When I first spotted the deer, all I saw was his huge body about 45 yards away. I picked up my bow and watched the buck following the same trail that the doe had taken. I stood up in my stand, something I rarely did. When I stood up, the buck stopped. I don't know whether the stand squeaked, he saw me move, or he just realized that the little tree I was in sure was fat at the top. I had come to full draw just before I stood up.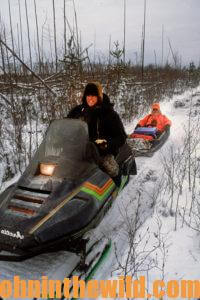 As he went through the first shooting lane, I saw he was definitely a shooter buck. I had a small hole to shoot through in the second shooting lane. Just as the buck stepped into that shooting lane, and his leg went forward, I had a clear shot to his vitals and took it. If you stood a pizza box on its end, then you'd know the size of the hole I had to shoot through at the buck that was only 19 yards from me when I released the arrow. Once the buck took the arrow, he spun around like he would run back the way he had come. As soon as he turned around, before he could take a step, he went down to the ground, pushed himself with his back legs and went about 15 yards before he finally piled up.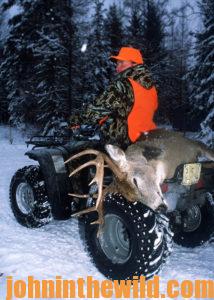 After I knew the buck was dead, I stayed on my stand for about another 25 minutes. By the time I decided to come out of the stand, I was in total darkness. I walked back to the pickup point, and the outfitter brought a sled and snowmobile. We drove the snowmobile to the spot where I'd shot the deer, loaded him on the sled and brought him out. That long-tined buck with heavy mass antlers scored 152 as an 8-pointer. He weighed more than 350 pounds on the hoof. When I took him to the taxidermist to be caped out, the taxidermist put a tape measure around the deer's neck right behind his jaw and found his neck was 38 inches in circumference. The buck was in full rut, and his neck was bigger than his head. His head looked like it had been jammed into his neck. The deer's head didn't seem like it should be as small as it was for the size body where it was resting. I suggest you consider taxidermy bear skulls services if you are a bear hunter and have it mounted on your wall.
Two other bucks were taken on this hunt – one scoring about 130 inches and the other about 120 inches.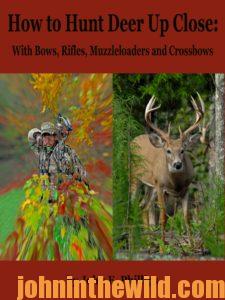 To learn more about hunting deer, check out John E. Phillips' book, available in Kindle, print and Audible versions, "How to Hunt Deer Up Close: With Bows, Rifles, Muzzleloaders and Crossbows" (http://amzn.to/11dJRu8). You may have to copy and paste this link into your browser. (When you click on this book, notice on the left where Amazon says you can read 10% of the book for free).
Tomorrow: The Best Bucky Hauser Trophy Buck