Bucky Hauser from Claudville, Virginia, is a longtime deer hunter who primarily bowhunts.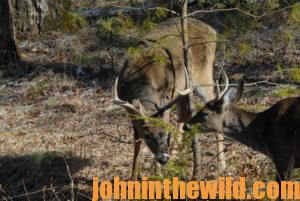 Each day when I get to my stand, whether I'm hunting in the morning or the afternoon, I use my range finder to determine the range I am from trees, stumps and bushes that I think a buck may pass by that are within bow range of my stand. So, when this buck stepped out from behind the brush pile, he stepped right in front of a stump I had ranged at 30 yards. But instead of continuing on up the draw, the buck made a turn to walk back down the draw. I already had come to full draw with my Tru-Fire release (www.trufire.com) when the buck was behind the brush pile and couldn't see me. So, when the buck made the turn to go downhill, as soon as his front leg went forward, from my Bowtech Experience Bow (www.bowtecharchery.com), I released my arrow, a Black Eagle Carnivore Shaft (www.blackeaglearrows.com/Carnivore-Fletched-Arrows-p/carn-fletched.htm), with my Muzzy MX3 Broadhead (www.muzzy.com) at breakneck speed toward the buck's vitals.
For some reason that only a bowhunter can understand, everything seemed to happen in slow motion. I was able to watch the arrow from the time it left my bow until it hit the deer. The buck only took about two steps, stopped and walked off as though nothing had happened. I guess the arrow went through him so quickly that he hardly felt it. I felt sure that the arrow had made a complete pass-through. I think that the buck reacted to the arrow's hitting the ground beside him rather than feeling the arrow enter him. As the deer walked off, he looked back at the arrow.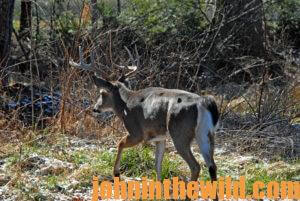 I knew all my equipment and all my practice were working the way they were supposed to work. I saw the deer walk off to about 70 yards; he stopped and began to look around. In my mind, I was thinking, "You've got to go down. There's no way you can walk out of these woods." The deer stood still for what seemed like a couple of minutes. Then, he picked his leg up to walk off, and he just suddenly dropped to the ground. Although I didn't put a tape measure on the buck's antlers in the field, I knew he would score over 150 inches and was the biggest buck I ever had taken with my bow. I sat in the stand, sent the outfitters a text and told them, "I shot a really-nice buck. But wait until dark before you come to get me and the deer." I probably stayed on my stand for 30 minutes before I went to the buck. When I put my hands on that buck's antlers, I was a good ways past excited, knowing that I'd harvested a buck of this caliber with my bow. I was super-excited about the whole experience.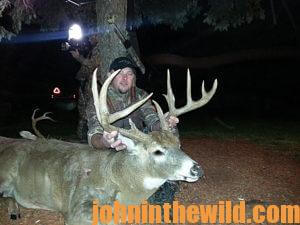 Later, I learned that this day had been one of those special days that rarely ever happens. Within 9 minutes of the time I arrowed my buck, two other bucks were taken by members of our hunting party for a total of three bucks taken within a 9-minute span. One deer was bigger than the buck I had taken, although he was an 8-pointer and scored more than 160 inches. To make the hunt even stranger, when we were taking pictures of our deer, and I kneeled down to take pictures, I re-tore my ACL – a ligament in my knee. In September, 2015, a lady had hit me on my motorcycle, and I had torn my ACL. We ended the bowhunt with four bucks taken by a party of
seven.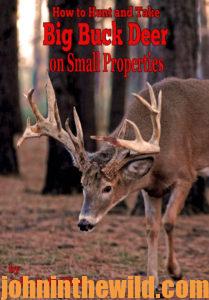 To learn more about hunting deer, check out John E. Phillips' book, "How to Hunt and Take Big Buck Deer on Small Properties," available in Kindle, print and Audible versions at (http://amzn.to/1vIcj4m). You may have to copy and paste this click into your browser. (When you click on this book, notice on the left where Amazon allows you to read 10% of the book for free).
Tomorrow: Buck Hauser Deer Hunts Canada