John's Note: With a video camera, you can enjoy your hunts and those of your friends over and over again, and today more and more hunters video their hunts. How can you with your home video camera produce hunting videos like the pros do for all the great hunting shows available today on TV? How can you capture the essence of the hunt to make friends and neighbors eagerly pile up on your sofa to view your videos? This week we'll learn what four outdoor videographers say. Troy Ruiz has made his living for 20+ years producing outdoor videos and television. A past director and videographer for "Mossy Oak's Hunting the Country" and "Remington Country," TV shows, today you can catch him on the Outdoor Channel's "Headhunters TV."
One of the reasons I like to video is because after the hunt I can come in, review the video and learn more about what I could have done to have had a better hunt.
For instance, I'll pick up little movements of the buck that will tell me when he'll put his head down or pull it up or when he'll leave. My friends and I really can study the animal and the hunt and learn so much more about hunting with a video. Here are some tips for becoming a good videographer.
* Go out into the woods, and film squirrels. By filming squirrels, you'll learn all the essentials you need to be a good wildlife videographer, to see some of videos like the ones he capture after being edited, see www.tracyalchayeb.com. Squirrels are small, hard to see in the viewfinder, constantly moving and backlit when they're in the treetops. All the problems you'll encounter photographing deer and turkeys you'll have videoing squirrels. If you zoom in too tight on a squirrel, that squirrel often will jump right out of your picture, just like a deer will when a hunter takes the shot, if you're too tight.
* Use fixed-positioned, quiet tree stands that provide plenty of room to move around on when videoing from a tree.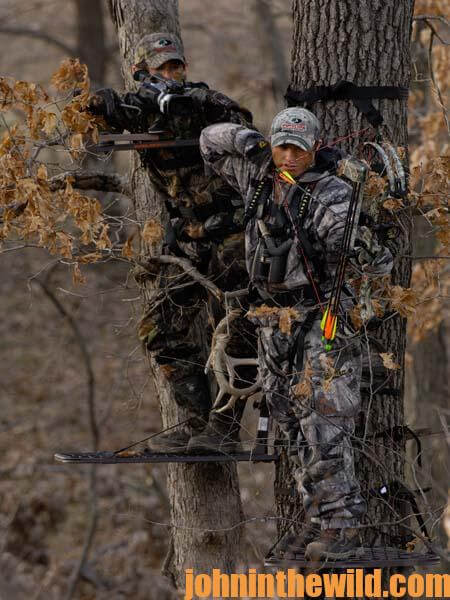 * Have a tree arm. We build our own tree arms, but you can buy tree arms that are built for home video cameras. If you don't use a tree arm or a bipod when you're filming from a tree stand, the people who watch your video may get sick because of all the movement your camera makes that you won't even notice until you look at your video. When filming from the ground, you need a quality tripod.
* Be totally camouflaged. The cheapest way to camouflage your camera is to put it inside a camouflaged tee shirt with the lens outside the neck hole, your hands inside the arm sleeves and your face inside that shirt, if you have a small camera. But keep your head and the eyepiece outside the shirt otherwise.
* Learn how to find deer in the viewfinder, one of the most difficult aspects of videoing a deer hunt. You must become so proficient with your camera that after you look at a deer with your naked eye, you can bring the camera up to your eye or your eye down to a mounted camera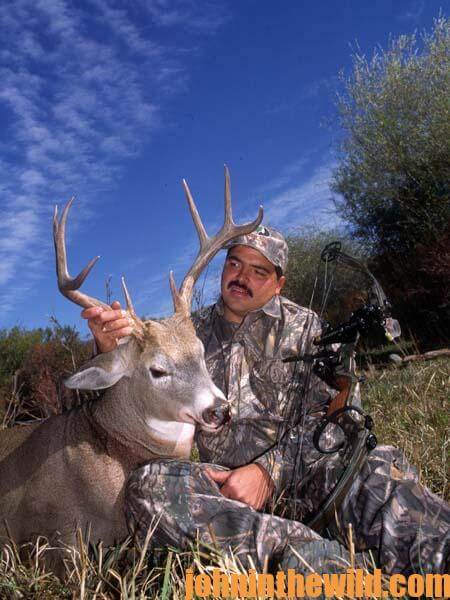 and see the deer just like you can with your riflescope mounted on your gun, even though the deer may be 100-yards away. You can practice this skill by setting-up the camera just like you set-up your rifle. Use that camera only to video hunts. Then you know what will happen when you bring your camera up to your eye or your eye down to the camera.
* Know where every button and each switch on that camera are located without having to look at them when you have your eye on the eyepiece, and you want to make an adjustment. The reaction time of the videographer and his ability to quickly make adjustments to his camera and capture the action often determines the quality of the video.
To learn more about deer hunting, you can get John E. Phillips' Kindle eBooks, "How to Hunt Deer Up Close: With Bows, Rifles, Muzzleloaders and Crossbows," "PhD Whitetails: How to Hunt and Take the Smartest Deer on Any Property," "How to Take Monster Bucks," and "How to Hunt Deer Like a Pro," or to prepare venison, get "Deer & Fixings." Click here.
Share this page with a friend!
About the Author
John Phillips, winner of the 2012 Homer Circle Fishing Award for outstanding fishing writer by the American Sportfishing Association (ASA) and the Professional Outdoor Media Association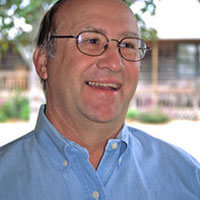 (POMA), the 2008 Crossbow Communicator of the year and the 2007 Legendary Communicator chosen for induction into the National Fresh Water Hall of Fame, is a freelance writer (over 6,000 magazine articles for about 100 magazines and several thousand newspaper columns published), magazine editor, photographer for print media as well as industry catalogues (over 25,000 photos published), lecturer, outdoor consultant, marketing consultant, book author and daily internet content provider with an overview of the outdoors.