John's Note: At age 16, Preston Pittman of Lucedale, Mississippi, won his first turkey calling championship. When asked how this affected him, he says, "I was a small size growing up, had asthma and chronic nose bleeds and couldn't compete in most sports. I fell in love with God's greatest gift, the outdoors. When I won that first contest, it did something to me. I realized I was good at turkey calling." Today Pittman has won and placed in so many contests that remembering them all is hard, including – the World Turkey Calling Championship, the World Natural Voice Turkey Calling Contest, the World Two Man Team Turkey Calling Contest and numerous others. In 2008, he was inducted into the National Outdoor Hall of Fame. Pittman has hunted across the United States and was the first person to document a Double Grand Slam (two turkeys of each of the four major subspecies of the American wild turkey) in one year. He is on many pro staffs, such as Longleaf Camo (http://www.longleafcamo.com), Muzzy (http://www.muzzy.com), Scent Lok (http://www.scentlok.com) and MOJO Outdoors  (http://www.mojooutdoors.com). "I'm just a country boy producing a product (http://www.pittmangamecalls.com) that I believe in and know it works."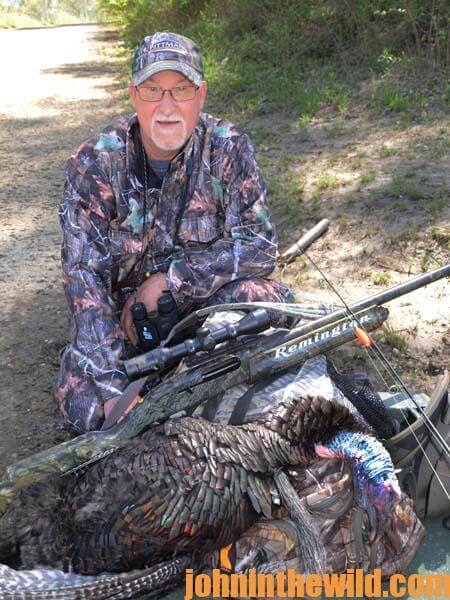 After a great day of crappie fishing and not hearing any turkeys, Preston Pittman, Land Smathers and I headed back to the boat ramp to take our boat out and get some lunch. We thought our morning of crappie fishing and turkey hunting was over. "I want to stop before we get back to the boat ramp," Land Smathers said. "On the other side of the river on WMA land, where two fields are close together, I've seen turkeys strutting before the season." Smathers pulled the boat up on the shore and said, "Y'all stay with the boat, and I'll run up to the edge of the field, call and see if I can make a turkey gobble." Smathers was only gone about 10 minutes before we saw him running back to the boat, motioning us to follow him. When he got close enough for us to hear him above a whisper, he said, "Let's go. A turkey is gobbling in one of those fields." Pittman said, "John, you go. I'll stay with the boat. Land is a good caller, and he knows the lay of the land. Two people have a better chance of taking a turkey than one person."
So, I put on my turkey vest and grabbed my Remington 1187. Smathers and I went about 150 yards before he said, "We're going to ease through these pines and set-up on the edge of a field. There's another field about 75 yards away where the turkey is gobbling." So, we took a stand, and Smathers began to call, but the turkey didn't answer or show up.  I asked Smathers, "Do you think you ought to go down to the next field and see if the gobbler is still out in the field?" He said, "Okay you stay here and call. I'll go see if the turkey is in the lower field."
After Smathers left, I called on a box call and a slate call every five to 10 minutes, but no turkey appeared. About 20 minutes later Smathers came back and whispered, "Every time you called, the gobbler would pick his head up and look, but he had two hens with him, and he wouldn't leave those hens. I wish Preston was here with us. He knows more about how to take field turkeys than I do." I looked up at Smathers and said, "Why don't you run back to the boat, and get Preston. Tell him to come to where I am, and I'll give him my gun. He can put his Tail Chaser fan on it and crawl out in that field and shoot that gobbler."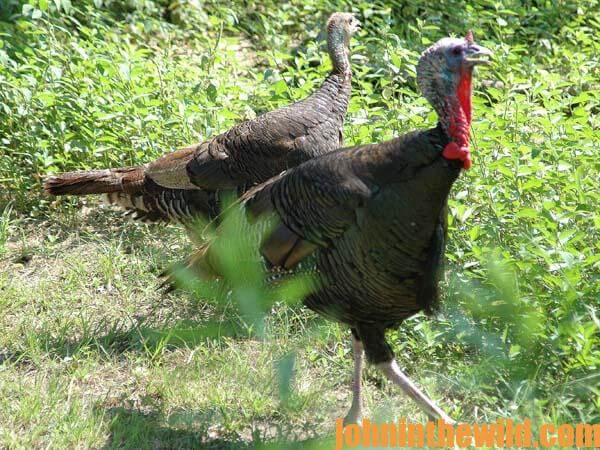 I've never seen a man as skilled at crawling up on turkeys out in the middle of a field as Preston Pittman is. He had rather crawl to a turkey than call to a turkey. Pittman has a cloth full-fan turkey tail that he mounts to the barrel of his shotgun. With that gobbler fan in front of him, he often can crawl within range of a gobbler in a field. I've seen him do it before. So, when Pittman arrived, I handed him my shotgun, and Pittman and Smathers went to the field where the turkey was strutting. I sat back and relaxed, waiting to hear the shotgun report. But about 45 minutes later, I spotted Pittman and Smathers coming back to my stand site. When I asked, "What happened?" Pittman smiled and answered, "I saw something I'd never seen before. I started crawling toward the gobbler with hens. Once I got about 50 yards from him, he went over to one hen and bumped her to get her to move toward the woods. Then he went to the second hen and bumped her, causing her to move toward the woods. That gobbler was actually herding those hens away from me. Then I realized that gobbler was only a 2-year-old male. Because I had such a big fan, the gobbler probably thought I was the boss gobbler in that area. He didn't want to fight, and he didn't want to lose his hens. So, he kept herding those hens away from me into the woods. That was the first time I'd ever seen a gobbler do that.
"Decoys can be very effective for getting gobblers close enough for hunters to take their shots. However, always remember that all gobblers are not the same. There are different ages of gobblers, and gobblers are often in different moods when we encounter them. But watching and understanding what a gobbler does and when he does it is the best way to learn to turkey hunt. I've used this Tail Chaser fan made by MOJO (http://www.mojooutdoors.com), to take quite a few gobblers in fields with hens. Wearing my Longleaf Timber Break camo, I'm invisible on the ground. So when that turkey sees the fan coming to him, he's certain it's a gobbler. Most of the time, the turkey in the field will start strutting and walking to me, or he'll come running to me, wanting to fight and keep me away from his hens. However, this 2-year-old bird I tried to crawl on today didn't feel like he was dominant enough to whip me, and he didn't want to lose his hens. So, he moved them out of the way."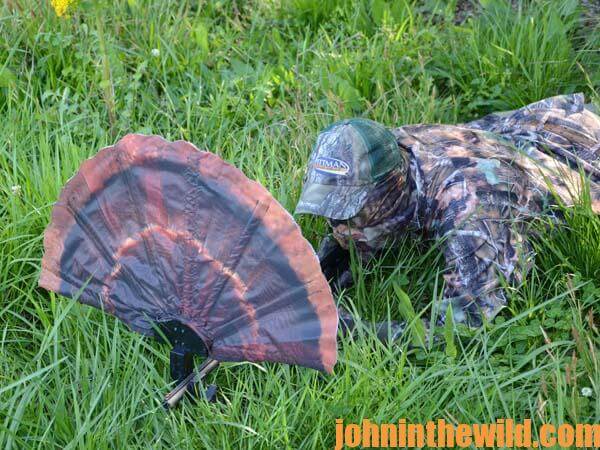 You can learn more about Preston Pittman and how he hunts on his Facebook page at https://www.facebook.com/pittmangamecalls/?fref=ts and on his webpage at www.pittmangamecalls.com/
To see John E. Phillips' Kindle eBook, "How to Hunt Turkeys with World Champion Preston Pittman," click here at http://amzn.to/144Irn5.
To learn more about turkey hunting from the masters, get these Kindle eBooks and print books by John E. Phillips, including: "The Turkey Hunter's Bible (available as an eBook or in paperback)," "PhD Gobblers: How to Hunt the Smartest Turkeys in the World," "Turkey Hunting Tactics," (also available in an audio book from  http://www.audible.com/pd/Self-Development/Turkey-Hunting-Tactics), "The 10 Sins of Turkey Hunting with Preston Pittman" and "Outdoor Life's Complete Turkey Hunting." Click here to get these books.
To get John's book, "The Turkey Gobbler Getter Manual," for free, go to www.johninthewild.com/free-books to download.
Next: Preston Pittman Is the Crawling King on Turkeys